This swirled, sun dried tomato bread recipe is a beautiful loaf that I've updated from one of my old favorites. Buttery white bread is swirled with a tangy, tomato-y dough and produces beautiful slices for sandwiches.
It's so perfect for toasted cheese, BLT's, and tomatoes on toast — you won't believe it!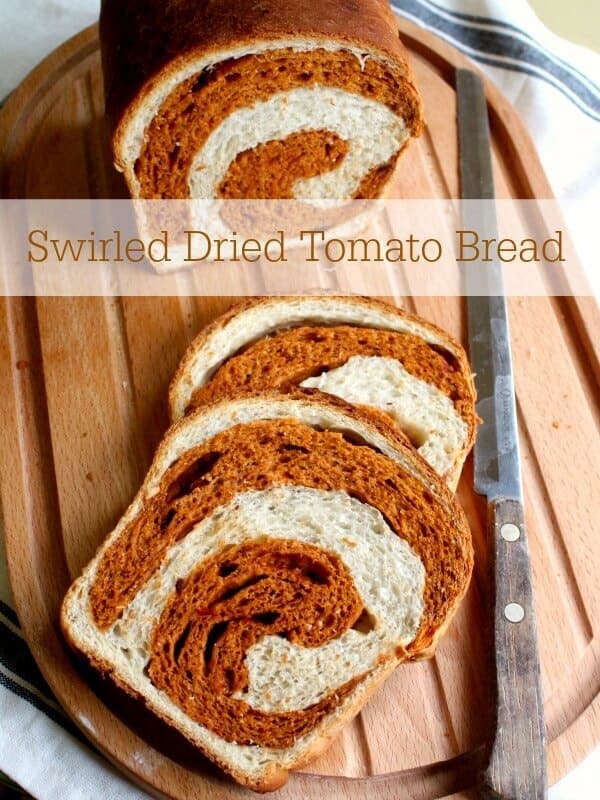 This is a remake of a homemade bread recipe I made years ago. You'll find the tomato swirl bread right here in my 2010 file. The big difference is the flavor of the tomato. While the other bread recipe is more delicate, sweeter, and has more of a tomato soup flavor this loaf is bright, tangy, and in your face because of the dried tomatoes and smoked paprika that I've added. Imagine it with a chipotle mayo and sliced turkey. So good. The dried tomatoes are also why the holes are bigger in these slices — it's ok, I promise.
The swirled dried tomato bread recipe makes two loaves and is pretty straight forward. You'll want to roll the white dough out just a little bigger than the tomato dough so that it encases it completely. It will be prettier that way. I think next time I make it I am even going to add just a little chipotle in adobo as well.
When I was growing up we always had a vegetable garden and there were always tons of tomatoes. My mom and I would spend long days making chili sauce, catsup, and stewed tomatoes — it was a lot of fun and made so many good memories! I look back on that and realize that it was a big part of my favorite times growing up. It gave me an appreciation for fresh flavors, too. I have been so disorganized over the past few years that my own gardening has gone by the wayside. I tried last year and did get a few things but I spent more on supplies than I saved in produce! I will try again this year and hope that I can focus a bit better. I really do love big, ripe, warm-from-the-sun heirloom tomatoes!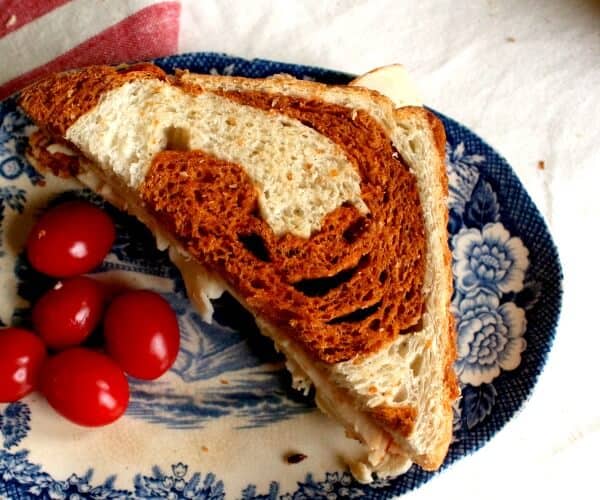 Homemade bread doesn't keep long — it goes stale pretty quickly. I like to slice it, push the slices back into a loaf with waxed paper between the slices, then wrap and freeze. When I want a couple of slices I just need to get them out of the freezer and they are always fresh and good. If this does happen to go stale on you, God forbid, it does make excellent croutons.

The following are affiliate links. Basically, if you click through and buy products I get a small commission which helps keep the blog up and running. Thanks so much!
I like buying yeast in bulk from Amazon. It is WAY less expensive and if you are going to be making bread even once a week it will save you a ton of money to do it this way… Keep it tightly sealed in your refrigerator and when you are ready to use it measure out your yeast and let it come to room temperature.
Red Star Active Dry Yeast, 2 Pound Pouch
And these are really good dried tomatoes if you can't find them locally.
Trader Joe's California Sun-Dried Tomatoes (Julienne Cut)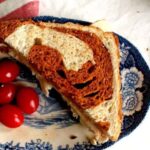 Swirled Dried Tomato Bread
Print
Add to Collection
Go to Collections
Buttery loaves of bread swirled with tangy, smoky tomato dough make great sandwiches!
As an Amazon Associate I earn from qualifying purchases.
Ingredients
Tomato Dough
1

cup

tomato sauce

2

tablespoons

butter

2

tablespoons

brown sugar

1/2

teaspoon

salt

1/2

teaspoon

smoked paprika

2

Tablespoons

ketchup

1/2

cup

chopped dried tomatoes

1

active dry yeast,

, 21/4 teaspoons

1/4

c

warm water

4

cups

bread flour
Plain Dough
11/2

cup

warm water

2

tablespoons

butter

2

tablespoons

sugar

1

teaspoon

salt

1

active dry yeast,

(or 21/4 teaspoons)

4

cups

or so bread flour
Instructions
Tomato Dough
Soften yeast in water.

Heat tomato sauce, butter, and ketchup together and mix well.

Let cool to lukewarm.

Add sugar, paprika, salt, dried tomatoes, and yeast mixture to tomato mixture.

Mix in enough flour to make a soft but kneadable dough.

Turn out and knead until smooth and elastic.

Rub lightly with oil and and place in an oiled bowl.

Allow to rise until double, about 1 1/2 hours.
Plain Dough
Soften yeast in 1/4 c water with sugar.

Microwave the 11/2 cups water until very hot.

Add butter to the 11/2 cups water, stirring until butter melts.

Let cool to lukewarm.

Add salt and yeast mixture.

Add flour until you get a soft, kneadable dough.

Proceed with the dough as you did with the tomato dough.
Assembly and Baking
Punch down and knead lightly

Cut each ball of dough into 2 equal pieces.

Let rest 10 minutes.

Roll each ball out into a rectangle, making the white dough a little larger.

Place a tomato dough rectangle on top of a plain rectangle and roll up tightly pinching dough together at bottom to seal.

Repeat with other loaf.

Butter the tops of the loaves.

Let rise in greased bread pans for 1 hour or until double.

Bake at 375 for 30 minutes or until loaves sound hollow when tapped.
Notes
Nutrition info is based on 8 slices per loaf of bread. Adjust accordingly.
Sign up for the emails and never miss another recipe!!
We'll never share your email or send you spam. Pinkie swear.
If you liked Swirled Dried Tomato Bread you may also like…
Rustic Farmer's Bread Let the Baking Begin!
Pita (Pocket) Bread Under the High Chair