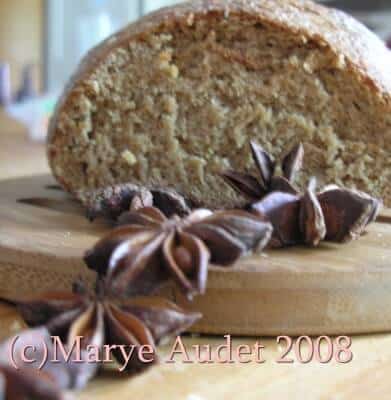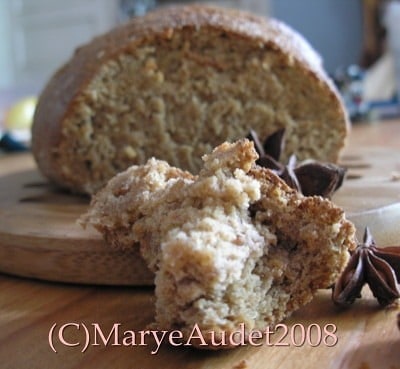 Swedish Limpa
2 loaves
1/3 c brown sugar
1/4 c molasses
2 tbs oil
1 tbs salt
1 1/2 c hot water
1 pkg yeast
1/4 c lukewarm water
2 1/2 c rye flour
1 tsp fennel seeds, crushed
1 tsp star anise crushed
2 tbs grated orange rind
3 cups, more or less, white flour
Instructions
Combine brown sugar, molasses, oil, salt, and hot water; cool to lukewarm
Sprinkle the yeast over the 1/4 c water to soften.
Let stand 5 minutes.
Add the brown sugar mixture to the yeast mixture, along with the rye flour, orange rind, and spices.
Mix until smooth. Add white flour, a little at a time until dough leaves the sides of the bowl.
Turn out on a lightly floured surface and knead for ten minutes.
Rub with oil and place in an oiled bowl.
Cover and set in a warm place for 1 1/2 -2 hours, or until it doubles.
Divide dough in half.
Form into balls. Let rest 10 minutes.
Shape each ball into a round loaf, place on baking sheets, and flatten slightly with the palm of your hand.
Let rise 1 hour.
Cut three slashes in the top of each loaf and bake at 375 for 25-30 minutes or until loaves sound hollow when tapped.
Allow to cool.