Southern Creamed Corn is flat out comfort food. Sweet, salty, and soothingly creamy this dish is one that your family will love. Use frozen corn so that you can have it all year long. 
We love this creamed corn recipe so much! I will forget about it for awhile and then one of the kids will just kind of remind me that we haven't had it lately and I throw it together. It's super quick, super easy, and super good. I usually make it from frozen corn (oh the horror!) because fresh corn isn't available all year long. I have made it both ways and I don't see that much of a difference in the finished product. If you've got access to fresh corn then by all means use that. I also add just a little Texas touch to the recipe. I add a can of Hatch chiles to it and toss in a guijillo pepper while the corn is simmering. If you don't like things that are the least bit spicy than leave it out -- really this dish is quite mild.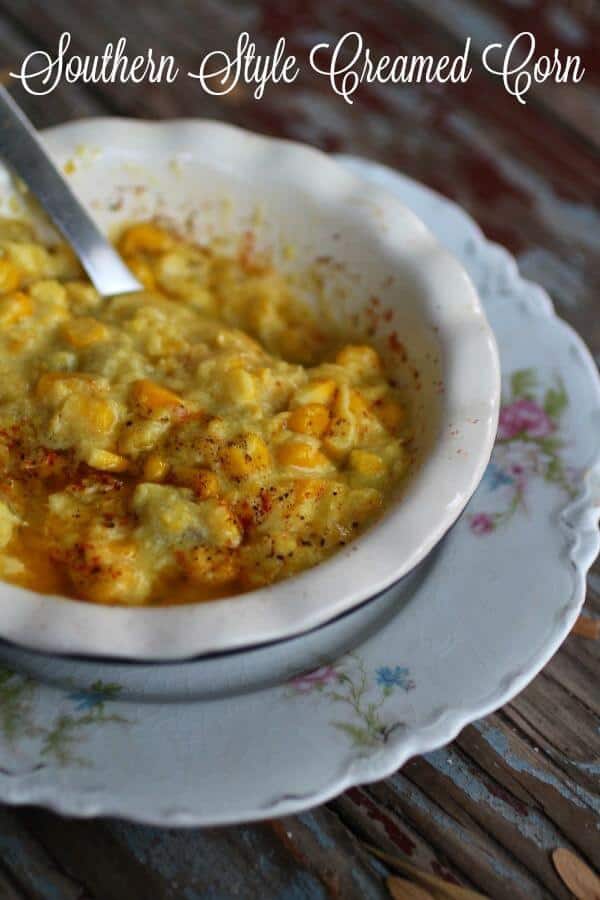 The majority of my aunts and uncles had farms when I was growing up. My  mother was the rebel of the family and married a businessman. Anyway, I spent many happy days on those farms visiting relatives and soaking up country life. All of them grew huge gardens of vegetables and fruit of all kinds. My favorite was corn. It grew in thick, tall patches and produced an abundance of corn -- which was good because I was rather good at eating it by the bushel. I didn't even wait for it to be cooked sometimes. If you've ever had really good, really fresh corn you'll know that it's tender enough to eat raw.
One day my cousin and I were left alone -- always a somewhat dangerous thing. We decided that it would be fun to ride one of the new horses, a young one that hadn't been completely saddle broke. I had been reading the Little House books and was in the chapter about Laura and her cousin riding bareback across the prairie. It sounded good to me and my cousin (bless her heart) went along with it.
So we stood on the fence and coaxed him over to us. He was quite friendly so that wasn't a problem. I decided that I'd swing on to his back and grab hold of his mane and just let him run across the pasture. I failed to make a plan for my dismount. The minute he felt me on his back his back end when high up in the air and I sailed off of him with the incredible timing that allowed his back hooves to connect with my upper chest... hard. Obviously there was no need for a dismounting plan.
My lovely cousin was smart enough to not even try.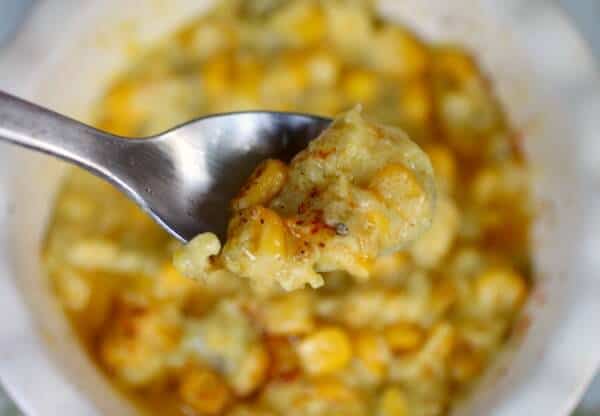 I was pretty sore for a couple of days but it didn't stop me from eating my weight in corn, freshly picked from the garden. When I think of my aunt's house I think of raspberries and fresh corn -- not a bad way to be remembered, right?
On to the recipe. It's really simple and straightforward. I like to melt a small pat of butter on each dish before it's served. There's something about pulling the creamy, sweet corn up through that puddle of salty butter that just makes life feel right.
The following is an affiliate link. If you click through and buy I'll get a small commission which helps to support the blog. Thanks so much for being a part of Restless Chipotle!
I don't know about you but I hate vegetable side dishes that run all over my plate. While I'll be the first to say I hate doing more dishes than I have to, I hate goopy bread more. I like to use small dishes like these to keep everything contained. 🙂 I know it says just desserts but trust me ... it works great for goopy side dishes!
Libbey 56161 Just Desserts Square Bowl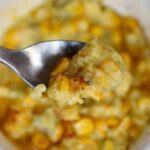 Southern Creamed Corn Recipe
Print
Add to Collection
Go to Collections
Sweet corn is combined with honey, cream, and chiles to make a comforting, family friendly side dish any time of the year.
As an Amazon Associate I earn from qualifying purchases.
Ingredients
1/2

cup

heavy cream

1

cup

half and half cream

1

dried guijillo pepper

1/4

cup

butter

1

tablespoon

honey

3

cups

of frozen corn kernels

1/2

teaspoon

salt

1 4-

ounce

can of chiles

Pepper to taste

Smoked paprika to garnish

Butter for the top of each serving
Instructions
Add the half and half cream and the heavy cream to a saucepan.

Drop in the guijillo pepper, butter, and honey, then bring to a simmer.

Add the corn, salt, and chiles and simmer for about 10 minutes on very low heat, stirring to make sure the bottom doesn't scorch. (you may need to add a little more cream to keep it from going dry)

Take out about 1 cup of the mixture and place it in the blender.

Blend until smooth.

Add back into the pan with the rest of the corn.

Taste and adjust seasoning.

Add the pepper to taste and dust with the paprika for color.

Add a little butter to each dish before serving.
Sign up for the emails and never miss another recipe!!
We'll never share your email or send you spam. Pinkie swear.
If you liked this Southern Creamed Corn Recipe you may also like...
Bourbon Sweet Potatoes with Praline Topping
Mexican Corn Dip Damn Delicious
Country Fried Skillet Corn  Spicy Southern Kitchen