This s'mores brownies recipe is as good as it gets. Rich chocolate brownies are layered with graham crackers and chocolate chips then topped with golden brown, toasted marshmallows that are perfectly gooey with a delicate crispy crust. Every bite is a symphony of textures and flavors. Best of all you can have them anytime — no need to wait for summer campfires!
For this recipe you'll need: Butter, sugar, eggs, vanilla, flour, dark cocoa, salt, graham crackers, chocolate chips, flat s'mores style marshmallows
If you're in a hurry click to go straight to the brownie recipe.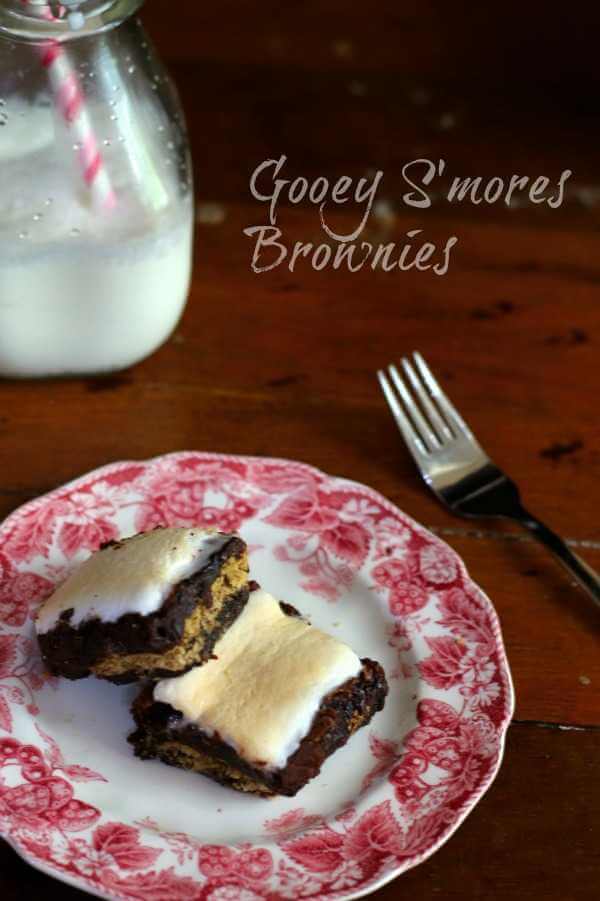 Do you remember the first time you had s'mores?
I do.
My mom was a Girl Scout leader and we had gone on a camping trip. I got to go along even though I was really too young — I may have been a Brownie at that point but definitely not a Girl Scout. I can't remember much about the trip but I can remember the charred marshmallow on melted chocolate that was tucked between two graham crackers and thrust into my pudgy, grimy hands by one of the older girls. I remember the instant burn on my tongue that was soothed by the chocolate and how the flavors melted together with the aroma of a smoky fire and damp, Pennsylvania woods.
Someone should make a candle with those scents!
From that point on we made s'mores every time we cooked out. I had no shame when it came to asking my dad to keep the charcoal going after the meat was cooked so that I could have s'mores after dinner. We've had some special s'mores times with the kids and now we have a fire pit on our deck and we've had some wonderful s'mores times with the grandkids, too. My husband has a telescope which the kids and I fondly refer to as "The Hubble" because it is huge compared to most of the personal telescopes I've seen. During the summer we'll cook out then light a fire in the fire pit and wait for the stars to come out — or better yet, the planets. I can't begin to tell you how excited I was when I saw the red spot on Jupiter for the first time! SO cool.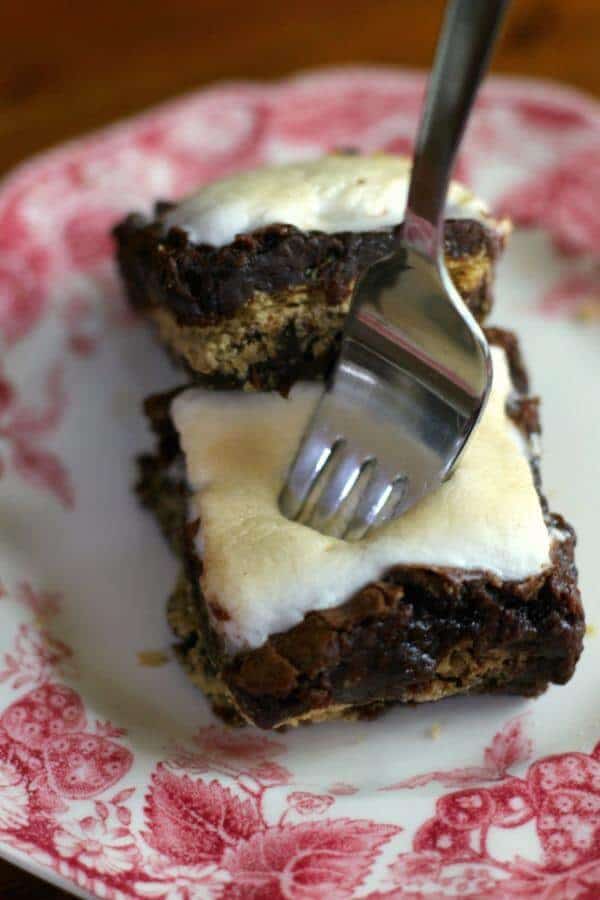 Anyway, it's all about memories, isn't it?
S'mores make memories.
Brownies are a natural vehicle for almost all kinds of interesting, sweet toppings. This s'mores brownies recipe makes a moist, rich bar with a layer of graham crackers and melted chocolate in the center and marshmallows melted on top. So much fun — and you can have them any time of year!
The following contains affiliate links. If you click through and buy then I get a small commission which doesn't affect your cost. This money is used to keep Restless Chipotle up and running smoothly. Thank you so much for being a part of Restless Chipotle!
These flat S'mores Mallows by Kraft are perfect for this recipe because they are flat! They work great in regular s'mores, too!
Here's the s'mores brownies recipe! Enjoy!

S'mores Brownies
Print
Add to Collection
Go to Collections
Gooey, dark chocolate brownies with graham crackers in the center and toasted marshmallows on top will have you thinking you're back at the campfire. So good!
As an Amazon Associate I earn from qualifying purchases.
Ingredients
3/4

cup

unsalted butter-melted

1 1/2

cups

sugar

2

eggs

1 1/2

teaspoons

vanilla

3/4

cup

flour

1/2

cup

dark cocoa

1/4

teaspoon

salt

5

graham crackers

,

, or enough to cover a 13 x 9 -inch pan in one layer

1

cup

chocolate chips

1

bag flat s'mores style marshmallows
Instructions
Preheat the oven to 350F.

Grease a 13x 9-inch pan.

Melt the butter and add it to the sugar.

Stir well and let cool to room temperature.

Beat the eggs and add to the cooled butter mixture with the vanilla.

Blend the flour, cocoa, and salt.

Add the dry ingredients to the butter mixture, stirring to blend.

Spoon half the brownie mixture into the prepared pan.

Carefully lay 4 of the graham crackers over the top.

Break the remaining graham cracker into 4 rectangles and use it to fill in the strip that is not covered by graham cracker.

Sprinkle the chocolate chips over the top.

Carefully add the remaining brownie batter.

Cover the top with the remaining marshmallows.

Bake for 30 minutes, or just until done.

Let cool before cutting.

Brownies will cut more easily if you use a knife dipped in hot water.
Sign up for the emails and never miss another recipe!!
We'll never share your email or send you spam. Pinkie swear.
If you liked this S'mores Brownies Recipe you may also like…
Fudgy M&Ms Brownies with a Peanut Butter Swirl
Reese's Peanut Butter Bars Inside Bru Crew Life
Graham Cracker Toffee Bars Tastes Better From Scratch