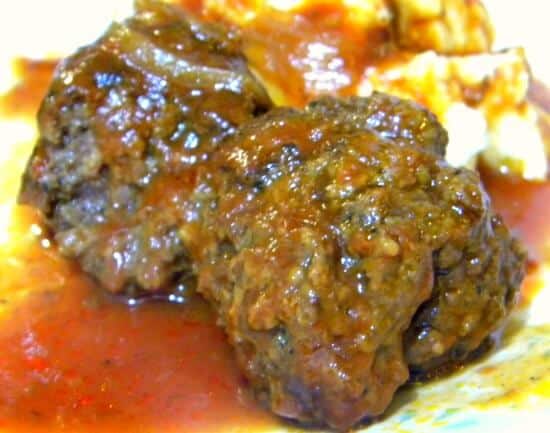 Every once in awhile I post a recipe that seems so easy that it is almost embarrassing to post. Sort of like posting a recipe for a bologna sandwich, you know?Slow Cooker Ginger Ale Meatballs is that kind of recipe. It is the kind that is so good everyone will want it but so easy you will want to tell them that it is a secret family recipe, handed down from generation to generation.
O.k. This is actually a family recipe. My mom made these for Christmas Eve almost every year. They are tangy, sweet and delicious. Best of all they are simple to make and won't break the bank. You can use any ginger ale you want to. My mom preferred Vernors. I use Reeds Jamacain Extra Ginger ginger ale that I get at the health food store. Use what you like.
The image could have been much better, I know. I was taking it at the end of a long day..it was dark..and I was tired. It is that kind of recipe...the kind you will make because it is easy, forgiving, and delicious...no one said anything about beautiful.
You can use sugar free ginger ale in this if you like but if you want the flavor without the sugar I would suggest a strong infusion of ginger tea...that way you get to skip the chemical sugar substitutes.
Slow Cooked Ginger Ale Meatballs
1 ½ lbs lean organic ground beef
½ pound ground pork
½ cup onion, grated
1 teaspoon kosher salt
½ teaspoon pepper
1 cup Panko or whole grain bread crumbs
⅔ cup ginger ale
3 cups catsup
3 cups ginger ale
Mix the pork and the beef until totally combined (you can use all beef if you like)
Mix all ingredients except the 3 cups catsup and 3 cups ginger ale in a bowl
Mix well but lightly with your hands
Gently form into meatballs
Brown in a little oil in a pan
Add to the slow cooker
Pour the catsup and ginger ale over the meatballs and cook on low for 8 to 10 hours.
Serve with mashed potatoes.
Serves 8 (3 -4 meatballs each)