Fruity sangria meets orange juice in this twist on a tequila sunrise.
While Marye is away the mice will play! I'm Jennifer and I blog over at "Take Two Tapas" where I share appetizers and party food as well as tapas-portioned dishes. Marye has graciously allowed me to share a recipe with you today!
I'm a wine drinker. Let me clarify that. I am a wine guzzler...
I started out my drinking journey with the typical college cocktails of amaretto sours and wine coolers. You know, classy stuff. I quickly evolved into the sweet white wines like Riesling and Gewürztraminer. Good, but oh so sweet. That didn't last long as I wanted something with a more fruity flavor. Pinot Noir was the next logical step. I have found a few that I really like and they are now my go-to bottles. Ropiteau is my favorite and is relatively inexpensive.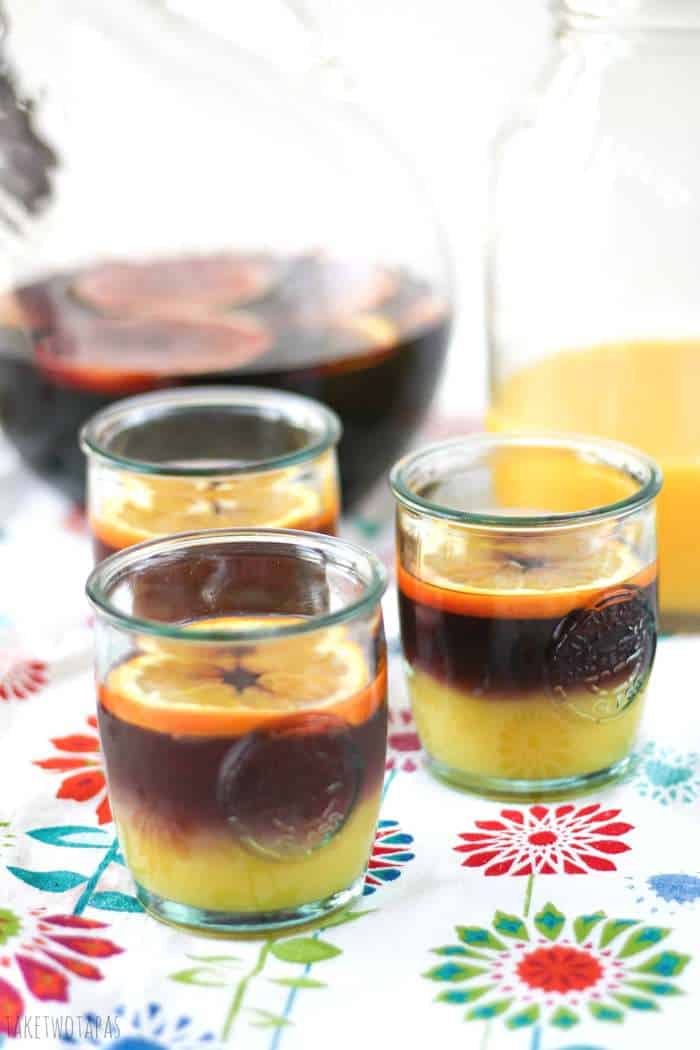 When I want to go extra fruity I turn it into sangria. I love the addition of other fruits to the wine because it accentuates the flavors of original wine and makes them more pronounced. I think it also allows you to pair the drink with other dishes that you wouldn't normally drink with red wine.
A stop over to one of my favorite taco joints brought me face to face with a twist on sangria that got me thinking. It was a delicious combination of a margarita and sangria called the "sangriarita." Delicious does not even being to describe it. Cool, refreshing, slightly frozen and brimming with wine AND tequila.
What other drink can I transform with sangria? Looking around at their abundant tequila collection, my mind started running through all the tequila cocktails I know. It didn't take long because I only knew margarita, tequila sunrise (because it has tequila in the name), and tequila shots.
Tequila sunrise it is. If you are not familiar with a tequila sunrise, it is a combination of tequila, orange juice, and Grenadine syrup. Throw a cherry on top too! My sangria already has oranges in it so the addition of orange juice seemed the next logical step.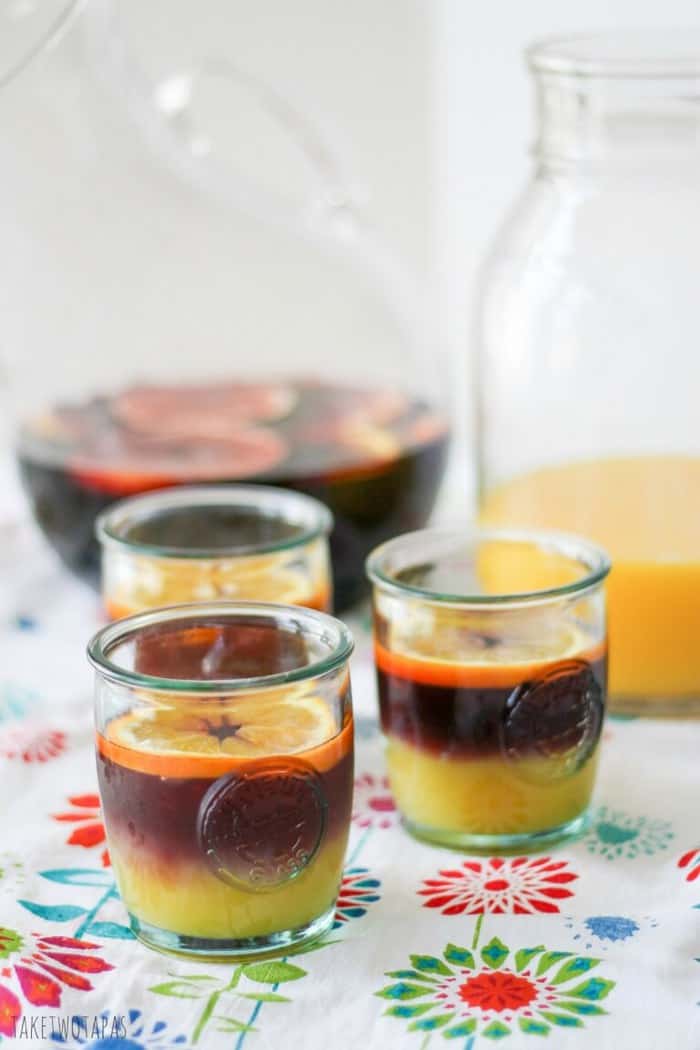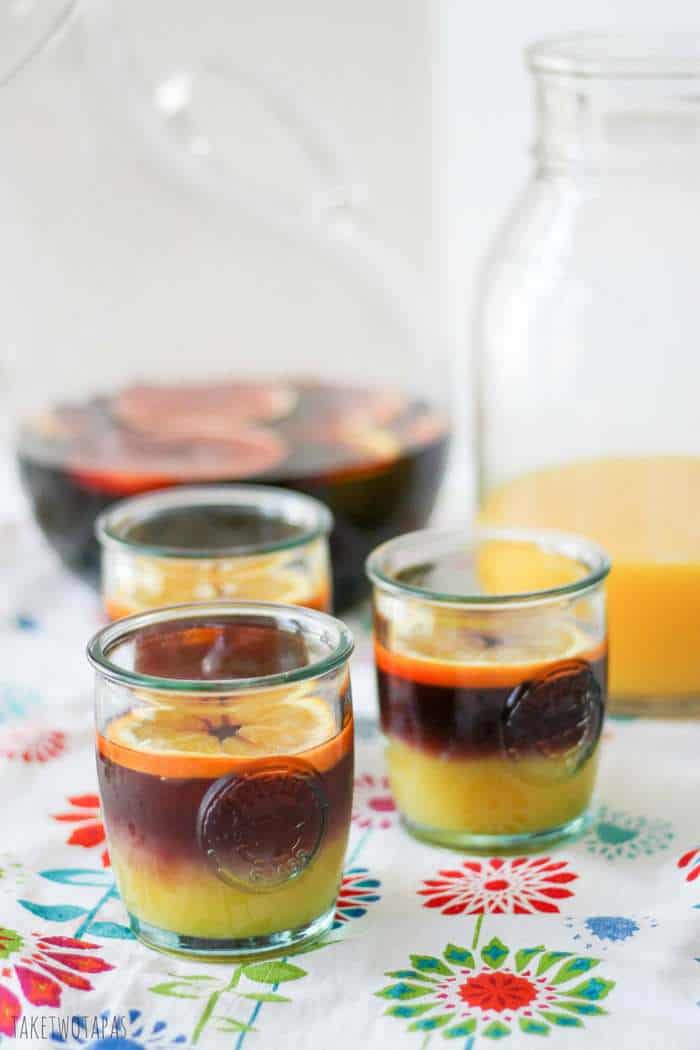 It started out being a little too orangey and sweet so I wanted to tart it up a bit. Some grapefruit juice did just the trick! I hope you enjoy this new twist to a classic. It is perfect for the Spring and Summer party season.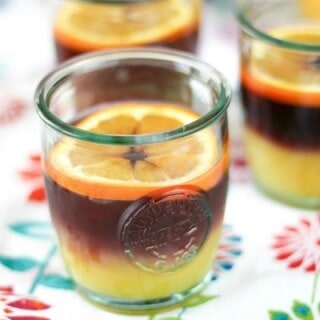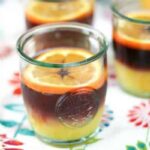 Sangria Sunrise
Print
Save
Go to Collections
Fruity sangria meets orange juice in this twist on the Tequila Sunrise. Sangria Sunrise Recipe
As an Amazon Associate I earn from qualifying purchases.
Ingredients
1

bottle of red wine

,

750 ml or 3 cups

2

cups

Sprite or lemon-lime soda

1 ½

cups

orange juice

1 ½

cups

grapefruit juice

1

grapefruit

,

sliced thin

1

orange

,

sliced thin

1

lime

,

sliced thin
Instructions
Mix your grapefruit and orange juices together.

Mix your wine and soda together in a separate jar and add your fruit, saving a few slices for your garnish.

To assemble the Sangria Sunrise, pour ⅓ cup of the juice mixture in the bottom of your glass.

Add a few ice cubes.

Slowly pour ⅔ cup of your wine and soda mixture over the top. I like to drizzle mine down the side of the glass to keep the layers.

You can mix it all up if you like!

Garnish with a slice of fruit and enjoy.

You can also just mix all the ingredients together and keep in a large pitcher with some sliced fruit on the side.

Any way you drink it is fine by me:)
Sign up for the emails and never miss another recipe!!
We'll never share your email or send you spam. Pinkie swear.
If you like this Sangria Sunrist check out these other cocktail ideas from Take Two Tapas.
Basil Martini with Lime and Black Pepper