BOOK + Cute Kitchen Printables!!!
Back to school is upon us, with all of the chaos that it brings with it. Only this year who knows what's going to happen!
Maybe they'll go back to school - maybe they'll be home and you'll be trying to manage Zoom meetings, math lessons, and the laundry all at the same time.
And at some point someone is going to say, "Hey, what's for dinner?"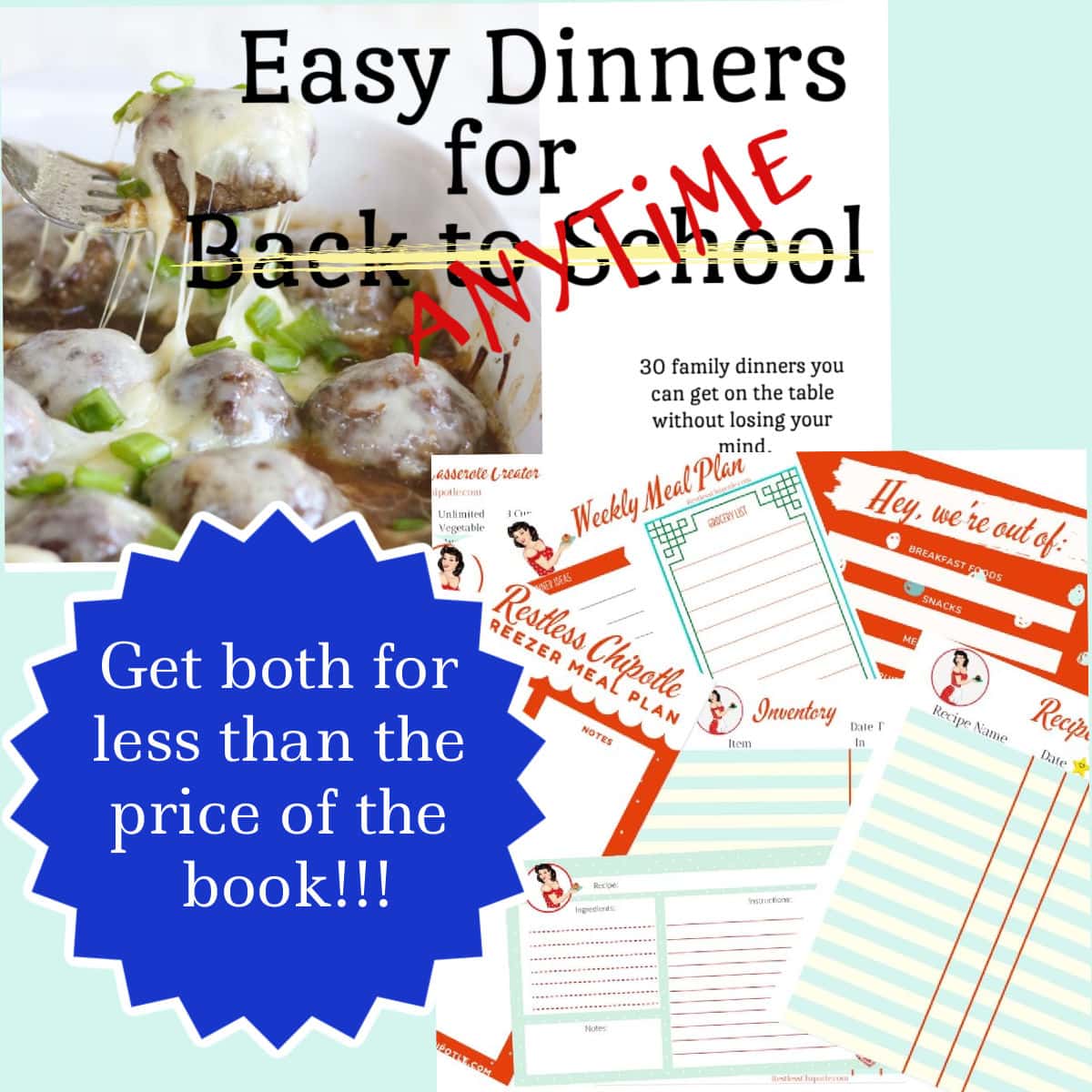 Easy recipes that take 30 minutes or less - in fact many take just 15!
Tips for making food prep and freezer cooking easy!
Dump dinners that you can put together in less than 5 minutes!
Over 130 pages that you can download to your computer, phone, or tablet!
High quality so you can have them printed and they'll still look good!
PLUS super cute kitchen organizer printables to help you stay on top of it all as part of this special introductory offer!
A $12.00 value for just 7.97!!!
Can we be real for a minute? I mean, really real?

Do you feel like you're playing by yourself on a teeter-totter when it comes to balancing Mom-Partner life with Career-Business life? Like you can't keep both sides up in the air at the same time?
And how about that mom guilt?
We feel guilty for not having a "good" dinner on the table every single night. We feel guilty for cutting our workdays short to make a "good" dinner.
We even feel guilty for feeling guilty.
I blame Mrs. Cleaver and her darn pearls and apron.


I put together 30 of my favorite dinners that are almost effortless (most go on the table in 15 minutes or less). To make the cut they had to be budget friendly, they had to be family friendly, and they had to be delicious.
Orange Chicken
Smoked Sausage Alfredo
Homemade Pizza
Roast Chicken and Vegetables
Fajita Bowl
And 25 more great dinner ideas that your family will love!


But that's not all.
This book is full of tips, variations, equipment suggestions, and even grocery lists for each recipe to make it easy! There are BIG beautiful images for each recipe, too!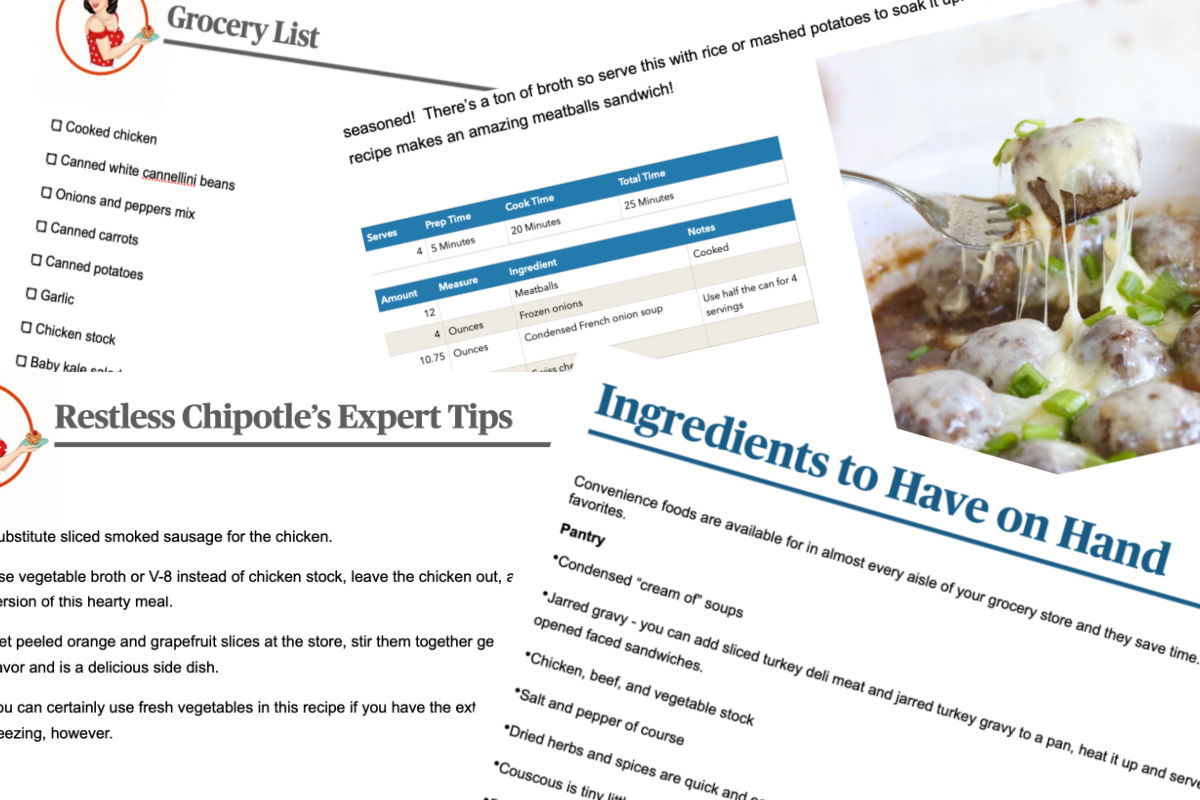 Life's hard enough without feeling like you're shortchanging your family at dinner.
And...
Instant download means that you can be putting one of these mouthwatering meals on the table tonight!
Why wait? What could you do with a few extra hours a week?

How it works
IMMEDIATE ACCESS: Once you've made your purchase you'll be redirected to a page where you can immediately download the digital bundle.
ANY DEVICE: It will be in a PDF so you can view it -- or print it -- from any device.
Keep in mind - No printed cookbooks will be delivered. It's how we can offer this amazing deal for just $7.97!!!
Millions of Happy Readers...
In the past 15 years millions of readers have made, and loved, Restless Chipotle recipes!! Here's a sample of what they've said:
This recipe is fantastic!! I've already shared it with friends and family. Thank you!!
Oh. My. Goodness!!! I made this today. The recipe was as simple as it sounds and absolutely delicious! 5 stars from this house!!

Perfect! Easy but doesn't taste like it... A new favorite!

Absolutely wonderful! Made it today and absolutely loved it. It was a big hit.