I'm bringing a bright red white & blue bundt cake to #SundaySupper this week! Perfect for all the summer holidays, this red white & blue cake is tangy, sweet, and delicious with a tunnel of cheesecake filling running right through the center. The tangy berry flavor and bright colors are due to the same secret ingredient that makes this cake as easy to make as it is fun to eat. Be sure to check out all the great red, white, and blue recipes in the links at the bottom of this post!
For this recipe you'll need: flour, sugar, salt, cream cheese, sour cream, butter, eggs, vanilla, unsweetened cherry Kool Aid packet, unsweetened blue raspberry Kool Aid packet, blue food coloring paste, red food coloring paste, confectioner's sugar, heavy cream, red white & blue sprinkles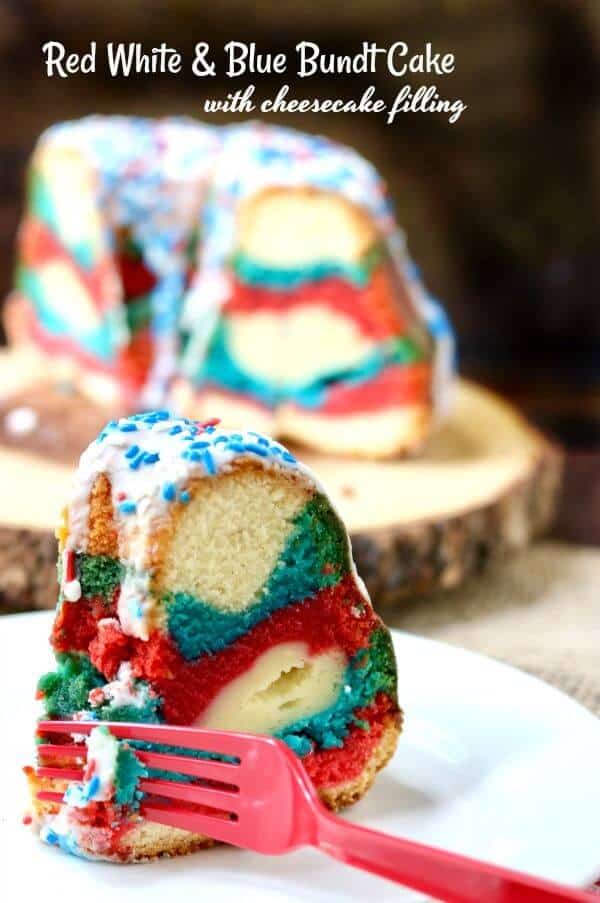 What's a summer party without red white and blue recipes?
This cake is pretty, there's no doubt about it. You slice into it and the red and blue colors are bright and clear. You don't realize how really unique it is, though, until you take that first, tangy bite.
Yep- tangy.
My kids love this cake because it's not your basic vanilla cake. The Koolaid brings a tangy Sweet Tart sort of flavor to it while the creamy cheesecake filling mellows it out so that it doesn't make your cheeks collapse into the center of your mouth like you'd bitten a green persimmon. This is the cake to make for those people who are always complaining things are "too sweet". Not something you hear in the south too often, by the way. We like our desserts tooth-achingly sweet and syrupy for the most part.
But I digress.
I wanted to make a red white & blue bundt cake but I didn't want to deal with the food coloring flavor that happens so often. Let's face it, even the no-flavor food colorings have flavor if you use enough to get good color in a cake. I'd used Koolaid to flavor my Strawberry pound cake a few years ago and I wondered if I could make a more patriotic, less pink version for the Summer holidays.
It took a couple of tries and I thought I was going to have to cancel my entry into #SundaySupper.
Let me back up a little. This week we had a ton of doctor appointments. Sean had his final check on the surgery site and got his stitches out. Nick got his yellow fever and typhoid immunizations in preparation for his missions trip to Panama in July. I had a referral appointment with a specialist for my thyroid levels because they've all of a sudden decided to be uncontrollable - low not high. So I've been pushing myself for far too long. I normally put about 150 miles a month on my car (keep in mind I work at home) and this week alone I racked up 200 miles.
Every morning when I got up I said... "I have to figure out a time to get work done today." and every night when I went to bed I had barely managed to handle my personal stuff.
So Thursday afternoon I threw together a red white & blue bundt cake and ... when I slipped it out of the pan....
It completely collapsed.
I made it again Friday and changed up some things hoping to get it right. It came out fine but it was late by the time I got to take pictures so they were terrible. I felt like I was running a marathon barefoot and kept stubbing my toe on rocks.
So Saturday morning I woke up with the plan to take pictures in a desperate attempt to get this red white & blue bundt cake on the blog. It was dark, and stormy, and raining cats and dogs.
Prayer works, y'all. The sun came out just long enough for me to get some halfway good images and here I am.
Now, you're not going to have those problems because this cake really IS easy to put together. I was hurrying and I messed up a couple of steps the first time. The main thing is to wait for the cake to be completely cool before you take it out of the pan. The cream cheese needs a chance to firm up or your gorgeous red white & blue bundt cake is going to collapse.
Fun Variations
There are lots of ways to make this cake your own -
Add Pop-Rocks to the top for fireworks in every bite!
Melt ½ cup white chocolate with 2 tablespoons heavy cream and stir until smooth. It's a delicious glaze.
Top with cherry or blueberry pie filling - or a little of each.
Top with a scoop of vanilla ice cream
Leave out the cream cheese filling. After the cake has cooled cut the top third off carefully. Scoop out some of the cake on the inside of the bottom third and gently press softened vanilla ice cream into the hollow. Put the top of the cake back on and add the glaze. Freeze until ready to serve.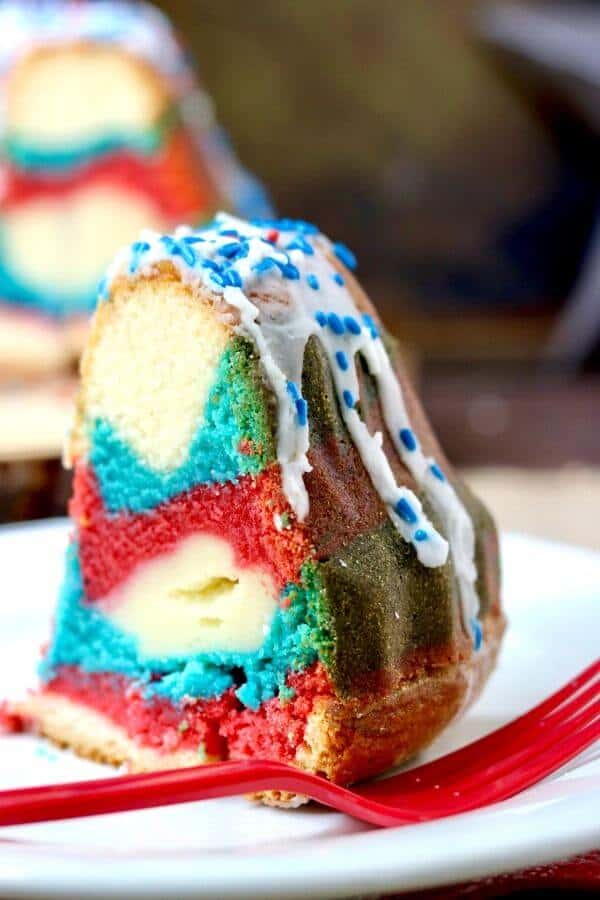 YOU MIGHT NEED…
The following are affiliate links. We are a participant in the Amazon Services LLC Associates Program, an affiliate advertising program designed to provide a means for us to earn fees by linking to Amazon.com and affiliated sites.
A good, heavy bundt pan is essential for recipes like this! I love NordicWare because the pans are heavy and hold up forever. This bundt pan is a gorgeous lotus shape that would be perfect for this (or any other!) bundt cake! I think pop rocks would be a fun addition to the the top of this cake. Every bite would fizz and sizzle!
Red White & Blue Bundt Cake Recipe
Let's face it, brightly colored food, like this red white & blue bundt cake, is fun. When it's this easy, unique, and delicious it's one of those recipes you want to hang on to for a long time. Enjoy this easy 4th of July dessert - so pretty they'll always remember!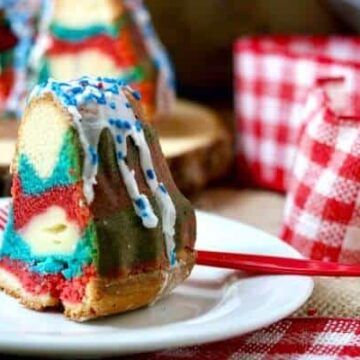 Red, White, & Blue Bundt Cake with Cream Cheese Filling
Print
Save
Go to Collections
Tangy bundt cake in red, white, and blue with a sweet, rich cheesecake filling. Perfect for the summer holidays!
As an Amazon Associate I earn from qualifying purchases.
Ingredients
1

cup

butter

,

, room temperature

8

ounces

cream cheese

,

, room temperature

3

cups

sugar

6

eggs

,

, room temperature

⅓

cup

sour cream

1 ½

teaspoons

vanilla

1

packet cherry Kool Aid

,

, the kind you add sugar to.

1

packet blue raspberry Kool Aid

,

, the kind you add sugar to

3

cups

flour

⅛

teaspoon

salt

Red and blue food color as needed
Cream Cheese Filling
Glaze
⅔

cup

confectioner's sugar

1

tablespoon

heavy cream

1

teaspoon

clear vanilla extract
Instructions
Cake
Preheat the oven to 325F.

Grease a bundt pan thoroughly and then dust with flour.

Pour out excess flour.

Set aside.

Beat the cream cheese and butter on the lowest speed of the mixer until well blended.

Add the sugar and continue to beat until blended.

Add the eggs, one at a time, mixing each in thoroughly before adding the next one.

Add the vanilla, and the sour cream and blend.

Add the flour and salt.

Mix just until blended and smooth.

Separate into 3 bowls.

Add the blue Kool Aid to one bowl - stir until smooth.

Add the red Kool Aid to one bowl - stir until smooth.

Add a few drops of food coloring if needed to brighten the color.
Cream Cheese Filling
Blend filling ingredients together until smooth.

Assembly

Add a layer of white batter to the bundt pan.

Top with a layer of red batter.

Smooth a layer of blue batter on top.

Add the filling in a strip, keeping it in away from the edges (both outside and center) of the pan.

Top with the remaining cake batter starting with red and then adding blue, then white.

Bake for 1 hour and 40 minutes, or until a cake tester inserted in halfway between the edge and the center comes out clean.

Allow to cool completely in the pan.
Glaze
Whisk powdered sugar, cream, and vanilla in small bowl until smooth.

Add a little more cream if needed.

Using spoon, drizzle glaze over cake in zigzag pattern.

Sprinkle red, white, and blue sprinkles over the top.

Let cake stand at room temperature until glaze sets- 10 minutes or so.
Nutrition Facts
Calories:
527
kcal
|
Carbohydrates:
70
g
|
Protein:
7
g
|
Fat:
24
g
|
Saturated Fat:
14
g
|
Cholesterol:
147
mg
|
Sodium:
247
mg
|
Potassium:
107
mg
|
Sugar:
49
g
|
Vitamin A:
900
IU
|
Calcium:
52
mg
|
Iron:
1.7
mg
Sign up for the emails and never miss another recipe!!
We'll never share your email or send you spam. Pinkie swear.
If you liked this red white & blue bundt cake you may also like...
From left to right: Bourbon Pecan Cake, Brown Butter Vanilla Bean Bundt Cake, Whiskey Sour Bundt Cake