You'll find that there are a variety of daiquiri flavors from classic to creative. This pumpkin spice daiquiri takes everyone's favorite fall flavor over the top! Spiced rum, butterscotch schnapps, and pumpkin spice pack this cocktail with rich, luscious flavor. It's not cloyingly sweet and has a nice balance between the bite of the rum and the soothing, creamy pumpkin.
You'll need: spiced rum, butterscotch schnapps. pumpkin puree, cinnamon, cloves, nutmeg, ginger, heavy cream, salted caramel simple syrup, lemon, brown sugar, salt, egg white or maple syrup for the rim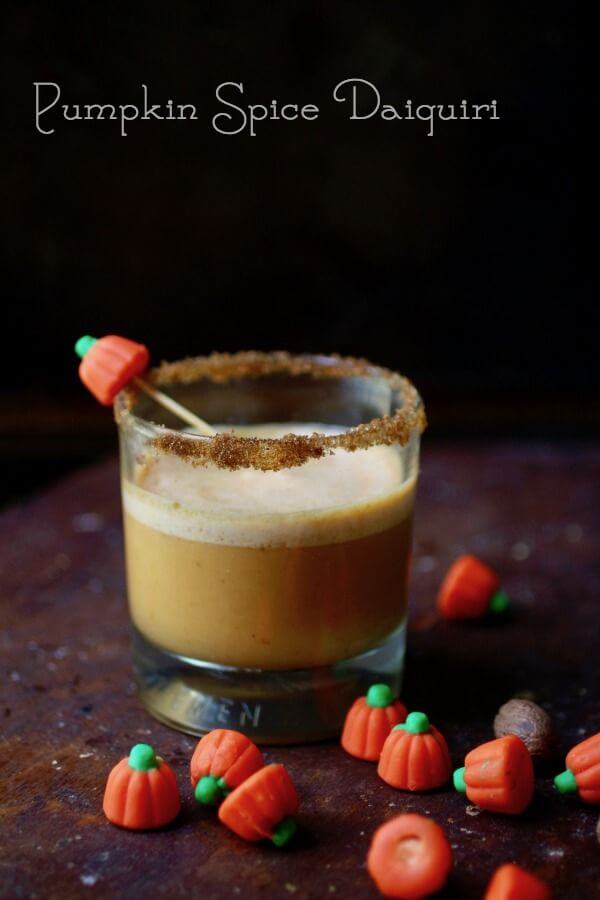 Daiquiris Are Back in Style
Daiquiris have kind of been pushed aside by margaritas over the years. In its purest form the daiquiri is basically rum, lime, and sugar. I tasted my first daiquiri in 1978. The legal drinking age in Texas was 18 at the time and my favorite eatery served frozen peach daiquiris. I was in love with the first sip. I felt very grown up and sophisticated. In fact, I think I felt more grown up and sophisticated then than I do now, almost 40 years later.
Well y'all, fashion has brought back the 70's in everything from bell bottoms to boho. It's time to reacquaint ourselves with the daiquiri, too. In other words, make this pumpkin spice daiquiri today!
History of the Daiquiri
There was a time when the daiquiri was second only to the martini when it came to sophisticated sipping. In fact, it was made popular in the 1930s because of the affection that both F. Scott Fitzgerald and Ernest Hemingway had for the drink.
The classic daiquiri was created long before the Golden Age, however. Jennings Cox, an American engineer, managed Cuban properties for a couple of American companies back in 1896. One evening, as he was preparing for guests, he realized he didn't have any gin. Gin, served neat, was the liquor of choice for the movers and shakers back then.
Anyway, here he was, important American guests on the way and not a drop of gin to be had. Cox worried the locally made rum would not be to their liking and yet he had to serve something! In desperation He added lime juice and pure cane sugar to the rum then served it much to the delight of the guests. When asked the name of the drink he blurted out the only name that came to mind -- Daiquiri, after nearby Daiquiri Beach.
The Cubans enjoyed the daiquiri for a decade before it was finally brought to the United States by Admiral Lucius Johnson in 1909.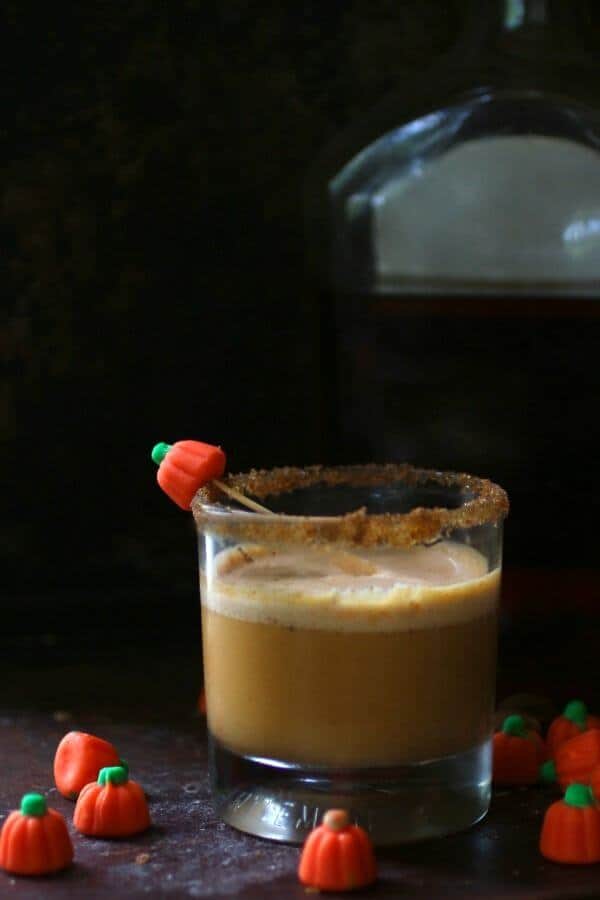 Daiquiri Flavors
Of course it's changed over the years. Daiquiri flavors now include strawberry, peach, mango, and many more, including my concoction - the pumpkin spice daiquiri. Purists will tell you that there are only a couple of official versions and none contain strawberry, peach, or pumpkin. In other words, stay in the box y'all.
Whatever. I am not a purist. As a matter of fact, I am the opposite - in Texas we call that ornery.
Try this amazing fall cocktail and decide what you think about crazy daiquiri flavors afterward! After all, no one wants to get caught in a rut, right?
Used in This Recipe
What's new? Check out my Restless Chipotle & Co. Store on Amazon where you'll find all kinds of nostalgic goodness! Thanks so much for being a part of Restless Chipotle!
I used Torani Salted Caramel syrup to stand in for the simple syrup and add sweetness. This flavor is mirrored in the brown sugar rim by adding a little salt to the brown sugar. The other thing that makes this drink stand out is the use of nutmeg. Not just any nutmeg but whole nutmeg that's been freshly grated. If you've only ever bought the ground kind please try this. You can grate it on any grater very easily.
Pumpkin Spice Daiquiri Recipe
Here's that pumpkin daiquiri recipe! Enjoy! If you love this recipe please give it 5 stars.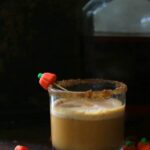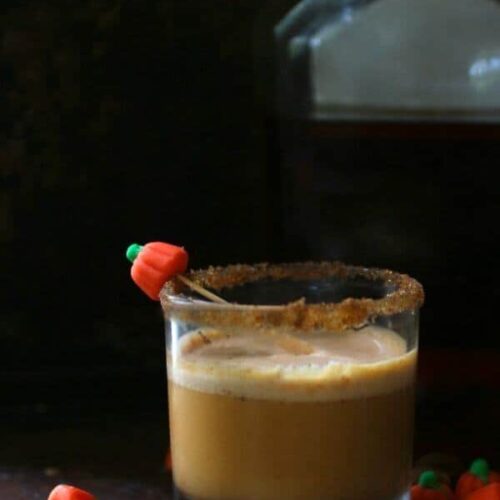 Pumpkin Spice Daiquiri
Print
Save
Go to Collections
A creamy daiquiri that's just right for autumn sipping! Pumpkin, spices, and rum are shaken together to create a rich, not too sweet drink.
As an Amazon Associate I earn from qualifying purchases.
Ingredients
2

ounces

spiced rum

1

ounce

butterscotch schnapps

2

tablespoons

pumpkin

cloves

Pinch each of cinnamon

,

, ginger, and fresh grated nutmeg

2

tablespoons

cream

½

ounce

salted caramel syrup

Squeeze of lemon

,

optional
Sugar Rim
Maple syrup

1

teaspoon

brown sugar

¼

teaspoon

salt crystals
Instructions
Rim
Spread a thin line of maple syrup around the top of a chilled glas.

Mix the brown sugar and salt in a saucer.

Run the rim through the sugar mixture.

Set aside.
Pumpkin Spice Daiquiri
Add all ingredients to a shaker filled with ice.

Shake well and strain into your glass.
Sign up for the emails and never miss another recipe!!
We'll never share your email or send you spam. Pinkie swear.