I love pasta dishes and this Penne Pasta with Smoked Gouda is high on my list. Leeks add their own special flavor but you can use regular onions if you prefer. I use whole wheat pasta in this recipe because I think the flavors hold up well to the smoky cheese – plus it's got some fiber so I try to use whole wheat pastas when the sauce is heavy enough to compliment it. You can use your favorite pasta and it will be just as yummy!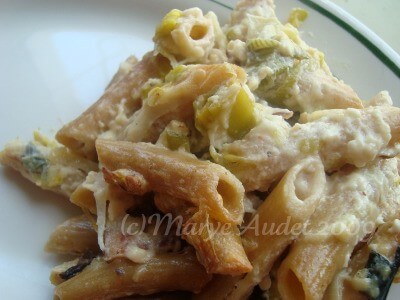 This is my pasta entry for Presto Pasta Nights…which I remembered this week. This week's host is Pam of Sidewalk Shoes.
This week I made a penne with leeks, bacon and smoked gouda, inspired by a recipe in the March (2009) issue of Bon Appetit. Penne Pasta with Smoked Gouda is kind of like mac and cheese but not, if you know what I mean. It's got all of that creamy comfort food cheesy goodness but the smokiness deepens it and makes it adult friendly.
And a little healthier. Sort of. Maybe.
OK – I seriously don't care whether this is healthy or not. It's perfect when it is chilly and blustery and cold and my inner caveman is screaming for fat to store.
My inner caveman is a fattie.
This is easy to make ahead — the flavors will blend and mellow overnight. You can add 1/4 cup canned chiles if you want to give it a bit more zoom but it really isn't necessary. I make a low-carb version of this with cauliflower… which I REALLY need to get posted on Lowcarb-ology but I haven't yet.
This is another post that I've updated from the distant past. If the timing seems weird it's because it is! I hope to get back and update the images, too. On the one hand it's nice to see I have improved my photography skills but on the other? I cringe when I look at the pics!
Don't let the horrible imagery of the Penne Pasta with Smoked Gouda dissuade you – this is amazing stuff.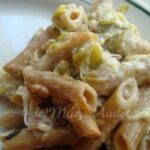 Presto Pasta Smoked Gouda Penne
Print Add to Collection Go to Collections

Smoky bacon and gouda paired with whole wheat penne pasta kick up this classic homemade macaroni and cheese recipe

Prep Time 15 minutes

Cook Time 30 minutes

Total Time 45 minutes

Servings 8 servings

As an Amazon Associate I earn from qualifying purchases.
Ingredients
4 leeks, , bulbs and lighter green parts sliced and chopped, may substitute shallots or mild onions
1/2 lb applewood smoked bacon, , cut into small pieces
1 lb smoked gouda, , grated
1/4 cup flour
2 cups milk
1 1/2 cups half and half
1 tablespoons dijon mustard
1/2 teaspoon hot sauce
2 eggs
1 lb whole wheat penne pasta, , or pasta of choice
Instructions
Cook bacon until crisp.

Remove from pan with slotted spoon and set aside on paper towel

Pour off all but 2 tablespoons of the bacon grease

Add leeks to pan, cover and cook until soft, about 10 minutes.

Stir a few times and don't let them brown

Remove leeks with slotted spoon and set aside

Add flour, stirring constantly for 2 minutes

Add the milk, stirring until smooth.

Add the cheese, mustard, and hot sauce

Stir until the cheese melts

Add a little of the hot cheese sauce to the beaten eggs to temper; whisk into the sauce

Set aside

Cook pasta until tender; drain and add to large casserole

Stir in the leeks and bacon

Add the cheese sauce and stir well

Bake for 30 minutes ate 400F
Sign up for the emails and never miss another recipe!!
We'll never share your email or send you spam. Pinkie swear.
images: Single Audet