Reese's Peanut Butter Cup Blondies are stuffed with crunchy, salty pieces of pretzel. The texture of this easy bar is something between a brownie and fudge candy and it's absolutely addictive.
For this recipe you'll need: butter, peanut butter, eggs, light brown sugar, white sugar, vanilla, flour, peanut butter cups, pretzels

I can't tell you how much I love peanut butter cups. It's a long held addiction. There's something about the combination of sweet chocolate and salty peanut butter that I love. Once you add pretzels to the mix I'm a goner.
Our church has a large ministry to foster parents. One thing they do is provide a couple of weeks of meals when a foster family gets a new placement. It gives the family a chance to settle in without worrying about food and it helps them know that we're all there for them. Because of my schedule there's not a lot of things I can be involved in but providing meals is definitely something I can do. I love feeling like I'm a part of something... like somehow I am providing something for these children no matter how small it may be.
These kids are so sweet. It breaks my heart to know the kinds of backgrounds they come out of. Last week I took dinner to a family. When my daughter and I brought in the food one little boy, about 5 or 6, looked at the chips my daughter was carrying and his eyes lit up. "Are those chips? I LOVE chips! Those are my favorite! Who are they for? Are they for me?"
It was adorable.
Anyway, I wanted to make something for dessert that was easy but full of flavor. Something that kids would love but parents would enjoy also. After all, the parents were signing up for a tough time. Not only did they have to deal with the wounds and scars that someone else inflicted on these kids but at some point they'll more than likely have to give these kids back to the family of origin. It's tough - and I have the utmost respect for these people. So when I make something I like it to be something everyone will like.
Who doesn't like bars? Who doesn't like peanut butter and chocolate?
I worked with a vintage peanut butter bar recipe from my collection and came up with these. They are very rich, with lots of peanut butter flavor in a bar that's almost creamy like fudge. It's full of peanut butter cups that melt into the bar and chopped pretzels that give you a salty crunch in every bite. The whole thing is topped with a thick layer of creamy, milk chocolate ganache.
If you think that sounds amazing, you're right. It is.
The following contains affiliate links. If you click through and buy then I get a small commission which doesn't affect your cost. This money is used to keep Restless Chipotle up and running smoothly. Thank you so much for being a part of Restless Chipotle!
You can use these snack size peanut butter cups whole or use the bigger ones and cut in fourths. Use a good quality milk chocolate chips for the best results.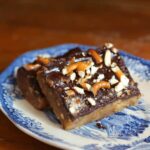 Peanut Butter Cup Blondies with Pretzels
Print
Add to Collection
Go to Collections
As an Amazon Associate I earn from qualifying purchases.
Ingredients
Blondies
1

cup

unsalted butter melted until golden brown

2/3

cup

peanut butter

2

eggs

1

cup

packed light brown sugar

1

cup

white sugar

1

tablespoon

vanilla extract

2

cups

all-purpose flour

1 1/3

cups

quartered Reese's Peanut Butter Cups or snack sized peanut butter cups

1

cup

coarsely chopped pretzels
Ganache
8

ounces

milk chocolate chips

1

cup

heavy cream
Instructions
Preheat oven to 350F.

Grease a 13x9-inch pan.

Blend the browned butter and the peanut butter until smooth. Add the eggs one at a time.

Add the sugars and vanilla extract and beat until the batter is no longer grainy.

Stir in the flour.

Carefully stir in the pretzels and peanut butter cups.

Bake for 30 minutes or until just done.

Remove from the oven.
Ganache
Heat the heavy cream to a simmer.

Stir in the chocolate until melted and smooth.
Assembly
Cover the bars with the ganache.

Chill until firm.
Sign up for the emails and never miss another recipe!!
We'll never share your email or send you spam. Pinkie swear.
If you liked this Peanut Butter Cup Blondies with Pretzels recipe you may also like...
Reeses Peanut Butter Cup Cheesecake
Peanut Butter Cookie Brownies Lovely Little Kitchen
Reeses Cheesecake Brownies The Recipe Critic