This Parmesan Focaccia Rolls recipe is wonderful with pasta and perfect for crusty sandwiches stacked high with meat and cheese. They are quick and easy to make, too.
For this recipe you'll need: yeast, whole wheat flour, bread flour, kosher salt, Parmesan ( the grated kind on the shelf, not fresh), garlic powder, olive oil, Fleur de Sel salt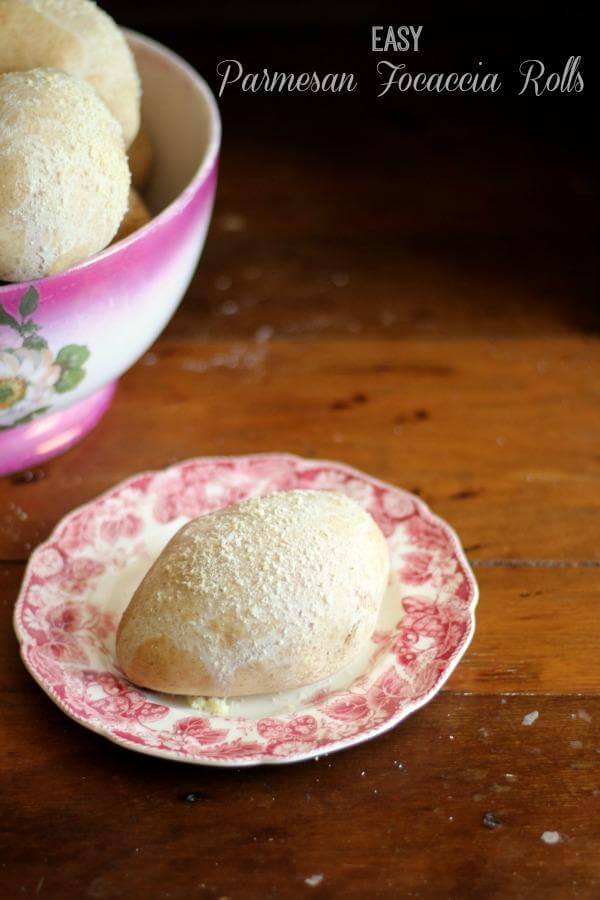 We are a family of bread enthusiasts. I don't even want to admit to how much bread we go through around here and when it's homemade bread?
That unspoken amount can triple. Maybe quadruple.
Luckily I like to make bread. I keep thinking that I am running out of bread recipes to post and then all of a sudden I realize that I am making something that I haven't shared, like these Parmesan Focaccia rolls. They are soft on the inside and crusty on the outside with a subtle Parmesan and garlic flavor. They are great warm with some butter or garlic butter but they are also amazing for sandwiches. I like them sliced in half, then grilled cut side down on the griddle, then drizzled with Italian dressing and stacked with hard salami, Provelone cheese, and pickled onions. And when I say I like them I mean that I like thinking about them because for me bread is a rare treat because of my need to stay low carb. Still, I'll admit to a nibble here and there when I am making stuff for the family!
When all of the kids still lived at home I'd make six or so loaves of bread at a time. Invariably on bread baking day my dad would show up at the house for a visit. He had kind of an inner bread radar, I think. When he left every "heel" of the bread loaves had disappeared! That warm, crusty heel with rich yellow butter melting on the top was his favorite part and he'd slip into the kitchen where the bread was cooling and furtively slice off the heels… one at a time. It makes me smile every time I think about it and, although it's been well over a decade since he passed and the heels of the bread stayed firmly attached to the loaves, when I make bread I always kind of expect to see him come walking in the kitchen door sniffing the air and saying, "I knew you were making bread!"
And he always did.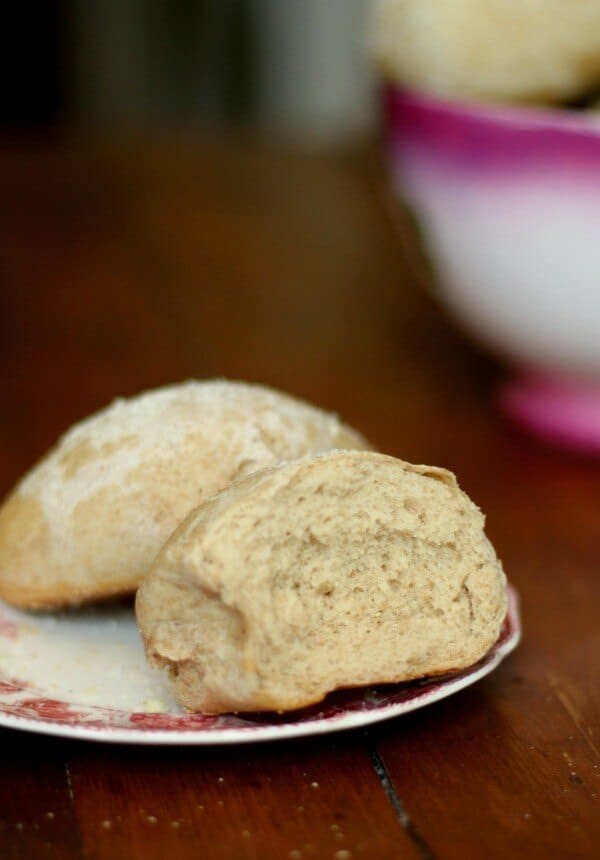 These Parmesan Focaccia rolls are a combination of whole wheat and white flours. It keeps them light but also gives them a hint of that nutty whole wheat sweetness… not too much, just a touch. You could easily shape these into round loaves if you like – I just prefer them as rolls. Be sure to use bread flour because it's hard to get the texture right with all purpose flour. Also, they freeze beautifully so if you don't need them all you can freeze them in dinner sized batches for up to three months.
The following are affiliate links. We are a participant in the Amazon Services LLC Associates Program, an affiliate advertising program designed to provide a means for us to earn fees by linking to Amazon.com and affiliated sites.
What's new? Check out my Restless Chipotle & Co. Store on Amazon where you'll find all kinds of nostalgic goodness! Thanks so much for being a part of Restless Chipotle!
I have to give a plug for my book, Bread Bootcamp. Whether you are just learning to make bread or you've been baking it for a long time I think there's something in the book you'll love. I take you, step by step, through the bread baking process from tools and ingredients to techniques and recipes. It's written to be used in order because each recipe builds on the last and increases your skill for the next one. Take a look — I think you'll really enjoy it.
Bread flour has more protein than all purpose flour and allows you to develop the gluten so that you end up with a crisp crust and a chewy crumb. The whole wheat flour gives you a little sweetness and makes the rolls rustic and unique.
Here's that Parmesan Focaccia Rolls recipe!
Parmesan Focaccia Rolls Recipe
Print
Add to Collection
Go to Collections
Crusty, chewy Parmesan rolls that are perfect with pasta. Spread with garlic butter when warm or let cool and use for the best sandwich ever.
As an Amazon Associate I earn from qualifying purchases.
Ingredients
3

cups

warm water

,

110F

2

active dry yeast,

I use 2 tablespoons bulk yeast

1

tablespoon

sugar

4

cups

wheat flour

2

to 3 cups bread flour

1/2

cup

grated Parmesan

,

the kind in the green container on the shelf

1/3

cup

olive oil

1

tablespoon

salt

Fleur de Sel for topping
Instructions
Preheat the oven to 400F.

Cover 2 heavy baking sheets with parchment paper.

Set aside.

In a bowl of a stand mixer fitted the dough hook combine 1/4 cup of the water, yeast, and sugar.

Stir to dissolve.

Set aside for 5 minutes — it should be foamy.

Add the remaining warm water, 2 cups of the wheat flour, 1 cup of the bread flour, and the Parmesan.

Mix for 2 minutes on low speed.

Cover with a tea towel and let rise for 45 minutes.

Gently stir in the olive oil and salt.

With the mixer running on low add the remaining flour until the dough pulls away from the sides of the bowl. You may need slightly more or less than the recipe calls for.

Knead on low speed for 4 minutes.

The dough should be slightly sticky.

Turn out on the counter, cover with the tea towel and let rest for 10 minutes.

Divide into 16 equal portions and shape into rolls.

Place on prepared baking sheets.

Cover with the tea towel and let rise for 30 minutes.

Brush with olive oil and sprinkle with Fleur de Sel and some more Parmesan.

Bake for 15 minutes, or until bottoms sound hollow when tapped.

Remove from oven, let cool for 5 minutes, and serve warm.
Sign up for the emails and never miss another recipe!!
We'll never share your email or send you spam. Pinkie swear.
If you like this Parmesan Focaccia Rolls recipe you may also like…
Italian Bread Bowls ( for soup and stew)
Roast Garlic Focaccia Kitchen Konfidence
Rosemary Focaccia The Pinterest Project