You might be wondering why in the world I chose a name like "My Secret Sin"  for this red velvet cake. Well, I will tell you  because I am I cool like that.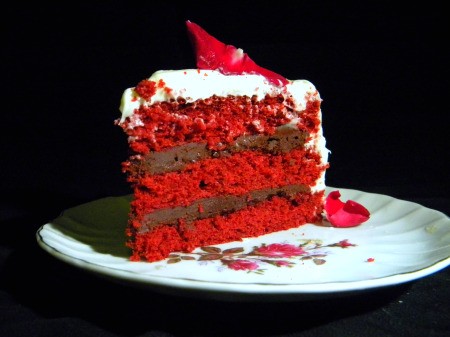 I chose that name because I think this is unlike any red velvet cake I have ever had. Usually you have cream cheese frosting...and this does too... but it hides a luscious, lavish secret. Perfect for a Valentine's Day dessert. I think that by multiplying the recipe it would be an amazing wedding cake as well.
Ganache. Bittersweet, intense, chocolatey.....ganache. TWO layers of ganache nestled between three layers of red velvet cake. But wait...there's more...
Rose scented red velvet cake. Yep... one of my favorite flavor  combinations is chocolate and rose and it complements this cake perfectly and makes it the ultimate Valentine's Day dessert. This is absolutely the best red velvet cake I have come up with so far... but I am not done trying.
The cream cheese frosting is the  creamiest that I have made yet. It is a little hard to work with because it is so loose but I think if you take the time to do a crumb layer and freeze it for a little while you will get better results.
I used bittersweet chocolaet in the ganache, as well as extra butter...and added a little rose to give the cake slightly more rose flavor. I cooled the ganach until it was creamy and spreadable and then filled between the layers with a thick layer.
I piped the frosting around the outside to keep the ganache from oozing out the sides as I was frosting the cake.
Once I had the layers stacked I ran a drinking straw through the center to hold everything in place while I finished the cake. If you are going to be transporting it just cut the straw even with the top and frost over it. Take it out when you cut into the cake. It will keep it stable.
This image is close to the vibrant color of the cake. I used a full bottle of red food color. I don't like the food colors because they are not natural but there is nothing else that will give this cake this kind of color. I tried beets and it just didn't work as well.
There are now organic, natural dyes but I have not tried them in this cake.
Red color? Rose scent? Chocolate ganache? Don't you agree that this is the ULTIMATE Valentine's Day dessert? Yep... I thought you would.
My Secret Sin Red Velvet Cake for Valentine's Day
2 1/4 cups sifted cake flour (sifted, then measured)
2 tablespoons unsweetened  cocoa powder (I used organic, Green and Black's)
1 1/4 teaspoon baking powder
1 teaspoon baking soda
1/2 teaspoon kosher salt
1 cup full fat buttermilk, room temperature
2 tbs  red food coloring (one bottle)
1 teaspoon distilled white vinegar
1 teaspoon vanilla extract
1 tbs food grade rose water (available at health food stores and gourmet shops)
1 1/2 cups sugar
1/2 cup (1 stick) unsalted butter, room temperature
2 large eggs, room temperature
Directions
Preheat oven to 350°F.
Butter and flour three 8-inch-diameter cake pans
Sift sifted flour, cocoa powder, baking powder, baking soda, and salt into a bowl.
Blend the buttermilk, food coloring, vinegar, and vanilla in another bowl .
Beat the sugar and butter in large bowl until light and fluffy.
Add eggs 1 at a time, beating well blended after each addition.
Beat in dry ingredients in 3 additions alternately with buttermilk mixture in 2 additions.
Divide batter between the three pans.
Bake for about 20 minutes or until a toothpick comes out clean.
Cool in pans about 5 minutes and turn out to cool completely.
Bittersweet Chocolate and Rose Truffle Filling
This can be made a couple of days ahead and refrigerated, tightly covered. Just remove from the refrigerator for about 20 minutes before using.
12 oz bittersweet chocolate chips
1/3 cup cream
1 stick unsalted butter
1/2 tsp rosewater
1/4 cup chopped candied rose petals, optional
Heat the butter and cream to just under boiling
Remove from heat
Stir in chocolate until melted and smooth
Stir in rosewater and cool. Refrigerate until thick and spreadable.
Spread half between the first and second cake layer and half between the second and third cake layer.
Cream Cheese Frosting
This can also be made ahead.
2 - 8 oz packages of philadephia cream cheese
1 stick of unsalted butter
2 cups of confectioner's sugar
1 tbs vanilla
Beat the butter and cream cheese until well blended and fluffy.
Add the confectioner's sugar and continue to beat until smooth. You may need to add a bit more or less than specified.
Beat in the vanilla.
Frost the tops and sides of the Red Velvet Cake.
Refrigerate if keeping longer than a few hours or if it is a warm day.
Serves 12.
images: marye audet