These mini lavender and vanilla scones are just right for a light breakfast or snack. They're buttery with just a hint of vanilla and the slightly citrus flavor of lavender.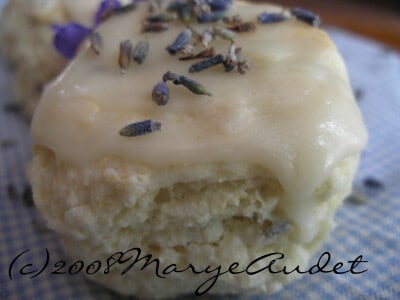 These mini scones are so good with a cup of Earl Grey tea. The bergamot in the tea compliments the lavender in the scone and it's just one of those perfect combinations.
I love scones just about anytime. They are good plain with just butter or topped with the works. They really aren't that labor intensive, either. One thing I like to do is to mix the dry ingredients together in bulk and keep it in an airtight container in the pantry. The all I have to do is to add the butter and cream when I want to make them. It's so easy!
Allowing the scones to set for 20 minutes before placing them in the oven helps the gluten to relax and the scones to be tender.
Lavender and Vanilla Mini Scones
3 1/2 c flour
2 tbs baking powder
1/2 c unsalted butter
1/2 c sugar
1 1/3 c half and half
2 tsp vanilla
2 tbs food grade lavender buds
Mix the dry ingredients, except lavender, together. you can seal the mixture in a food container and have it on hand for scone mix if you like.
Cut in butter, or grate it into the dry ingredients. Add lavender buds and stir to mix in evenly. Add vanilla and milk and mix until you have a soft dough that holds together.
Roll out gently to about 3/4 inch thickness and cut out with small biscuit cutter. Place on baking sheet and allow to stand for 20 minutes. During this time preheat oven to 400F.
Bake for 12 minutes or until done.
Remove from oven.
While scones are still hot spoon on a glaze made from:
1/2 c melted butter
1 tsp vanilla
enough confectioners sugar to make a thick glaze.
Sprinkle with lavender buds to garnish.
Makes about 24.
These freeze well, and are great for once a month cooking or making ahead. 🙂