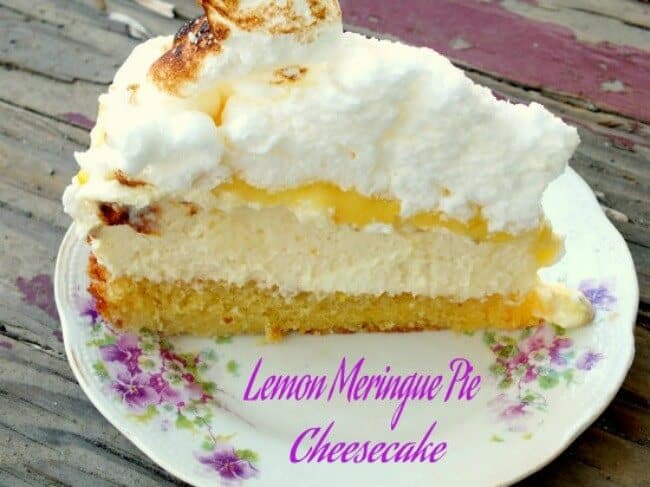 Meyer lemons have finally made it to the stores around here. If you aren't acquainted with them you're missing out on some great flavor. The skin of the lemon is orangy and the flavor is soft and mellow lemon. There isn't any of that sharp tang that makes your face pucker up.
Plain, lemony goodness that will leave everyone wanting more. So, I was shopping and I saw a bag of these beauties in the produce area. Have you noticed we no longer have produce aisles anymore? They are produce areas. 
Anyway, I snapped them up, brought them home, and put them in the fruit bowl while I decided what to do. There they sat for days making the house smell amazing. I just couldn't decide between cake, cheesecake, and pie.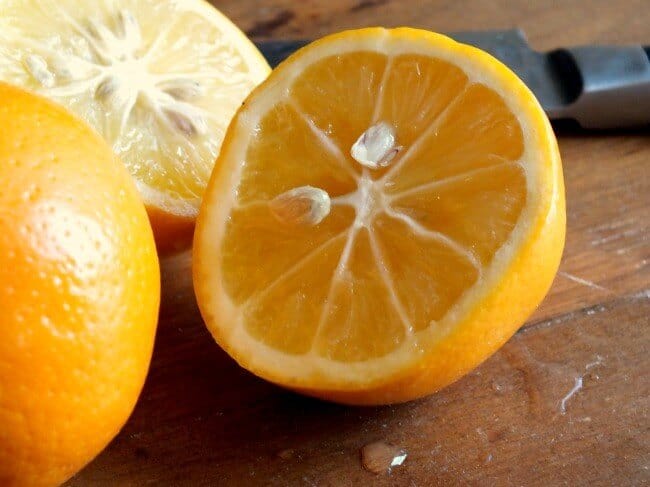 So I did all three.
In retrospect I would use lemon cookie crumbs as the crust. I suggest you do, too. I just didn't like the way that the texture worked with the rest of the dessert. If you want to use a cake layer then bake your favorite lemon cake in a thin layer in a 9 – 10 inch pan. You'll pour the cheesecake batter over the cake and bake as directed. I still think that the lemon cookies are the way to go.
The meringue is a standard meringue. It goes on after the Meyer lemon curd so you can't put it in the oven. I used a propane plumber's torch to brown it. Sure you can get one of those cute little brulee torches but they are more expensive and you'll go through them like crazy. I like my plumber's torch for a couple of reasons. It makes me feel powerful and it does keep my family on edge just enough to wonder if I could get violent. It sort of gives me an intimidation factor – very necessary when you live in my family, trust me.
In 2010 my daughter and I went out to lunch. Her youngest daughter, Isabella, was with us and kept reaching for Erin's lemon. We finally gave her one and she really did eat it but….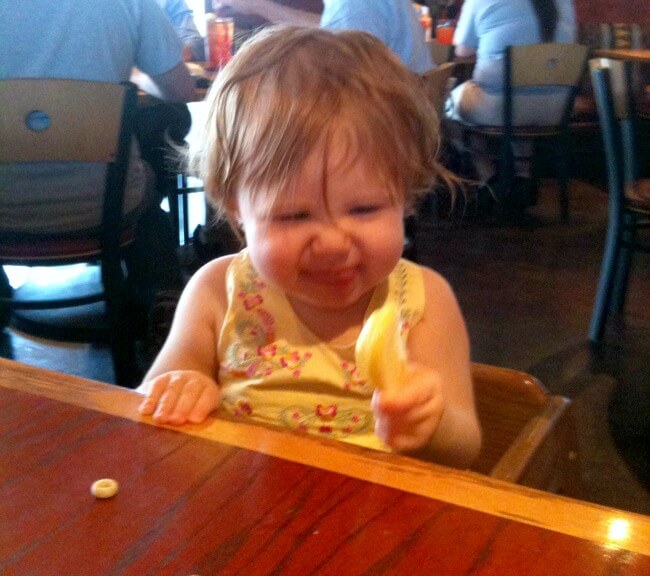 Anyway, this cheesecake uses my basic recipe so you know it works. It's dense and creamy with a bright lemon flavor in the cheesecake and in the lemon curd that's snuggled under that lofty meringue. I am writing the recipe with a lemon crumb crust even though the images show cake. I have also switched to a 9 or 10 inch springform because so many people had trouble with there being too much batter for the eight inch one. Maybe I taste the batter a little too much while I am making it?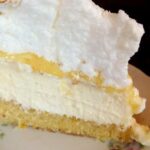 Lemon Meringue Pie Cheesecake
Print
Add to Collection
Go to Collections
A tangy sweet Meyer lemon cheesecake, topped with lemon curd and airy meringue. The images show cake but I didn't like how that worked - use a lemon crumb crust instead.
As an Amazon Associate I earn from qualifying purchases.
Ingredients
Crust
2

cups

crushed lemon shortbread cookies

,

(about 3/4 of a package)

1/3

cup

melted unsalted butter

,

(maybe a bit more)
Cheesecakee
32

oz

of cream cheese

,

, room temperature

1 1/4

cups

pure cane sugar

6

large eggs

,

, room temperature

1

teaspoon

vanilla

1

tablespoon

lemon zest

1/4

cup

lemon juice

16

oz

sour cream

,

, room temperature
Lemon Curd
1

cup

white sugar

5

egg yolks

,

(set the whites aside for the meringue)

1

cup

Meyer lemon juice

1/2

c

unsalted butter

,

, chilled
Meringue
5

egg whites

,

, room temp

Pinch of cream of tartar

1/3

cup

sugar
Instructions
Crust
Mix the cookie crumbs and butter and then press the mixture into the bottom and up the sides of a 9" – 10" springform pan.

Bake at 375F for about 10 minutes.

Set aside.

When cool cover the outside of the pan with heavy duty aluminum foil, making sure it is at least 3/4 of the way up the pan.
Cheesecake
Beat cream cheese and sugar at slowest speed until it is mixed well. Do not whip it - air will get in the batter and it will lose its dense texture.

Add eggs one at a time.

Fold in vanilla, lemon zest, lemon juice, and sour cream by hand.

Pour into a prepared crumb crust in the 9" springform pan.

Make sure the foil is still securely around the pan.

Place in a bain marie and put in the oven at 375 for 45 minutes.

Turn off oven and let set for one hour. Do not open the door!

Remove cake from oven, take off foil, and let come to room temperature.

Refrigerate covered. Placing paper towel on top of cake will soak up any condensation

Refrigerate overnight.
Lemon Curd
Mix the sugar and egg yolks.

Whisk in the lemon juice.

Microwave, stirring every minute, until the mixture is thick and coats the back of a spoon.

Remove from microwave and stir in butter a little at a time.

Refrigerate until thick and cool.
Meringue
Beat the egg whites and cream of tartar until foamy.

Add the sugar slowly, continuing to beat at highest speed.

Meringue will stand in stiff peaks when it is done.
Assembly
Run a knife around the edge of the cake to gently separate it from the pan.

Take the outer ring off carefully.

Spoon the cooled lemon curd over the top of the cake.

Pipe or spoon on the meringue.

Using a torch brown all the meringue the top.
Notes
A bain marie can be created by putting the springform pan into a larger pan and pouring hot water in the outer pan until it comes half way up the outside of the springform. Be sure to put aluminum foil over the bottom and up the sides of the springfrom to keep and water from seeping into the crust
Sign up for the emails and never miss another recipe!!
We'll never share your email or send you spam. Pinkie swear.