Copycat Lofthouse cookies recipe recreates the soft, puffy sugar cookies of childhood. Creamy bright pink frosting and sprinkles cover these easy drop cookies. Be sure not to over-bake them!
Lofthouse cookies are a recipe that I have been trying to re-create for most of my adult life. I have so many good memories attached to them that eating them is (in most cases) a guaranteed way to lose the blues.
When I was little we lived just outside of Philadelphia in the smack center of probably one of the most historic areas of the United States. You couldn't drive a mile without passing stone houses that were built in the 1600s and had witnessed war, peace and everything in-between for over 300 years. I didn't have to learn about the mules that pulled flatboats along the canals because I visited those canals many times, and viewed the faded trails that the animals trudged along day after day. History was a living thing to me, sometimes more real than the world I lived in and I escaped to the woods more than once to hunt for arrowheads, musket shells, and other relics of those who had walked those woods before me.
I was, as you probably figured out, quite a loner – content with my one best friend, my thoughts, and my books. I loved living there and when I think of home those woods are one of the two images that come to my mind.
You know how you always fondly remember the foods you ate when you were a kid? Soft pretzels smeared with bright yellow mustard, hot from the cart and wrapped in crisp paper that crackled with every salty bite – these were not the pretzels you find in the malls today. They were a unique texture and flavor, a flavor that could not be reproduced without the crisp autumn air, the dirty hands of the grinning vendor, and the sounds of downtown Philadelphia echoing past the tall buildings. Yodels, pretzels, hoagies, cheesesteaks, and Lofthouse cookies were the foods that I consumed as much as my parents would allow it.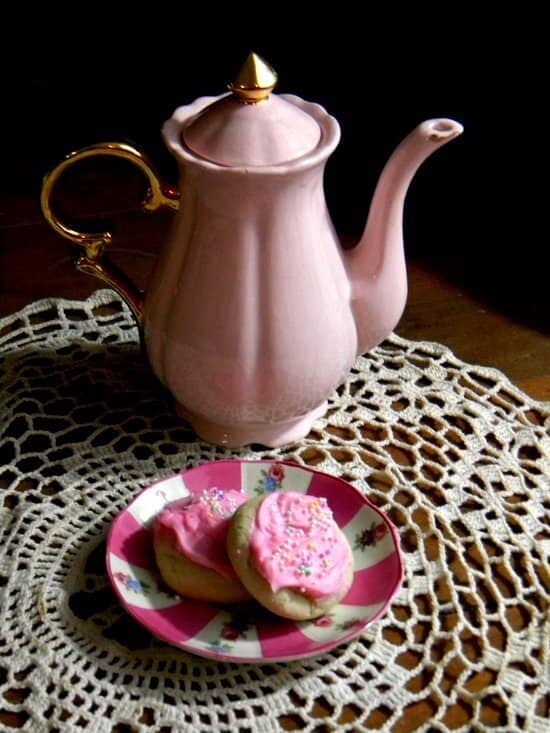 Lofthouse cookies were sweet but not too sweet. They crumbled across your tongue as you bit into them, sending buttery vanilla crumbs to the edges of your mouth, encompassing every tastebud and coaxing it to life. Once chewed and swallowed there was a faintly salty aftertaste that was so pleasant that it made you want to take another bite but at the same time you almost didn't want to because that lingering saltiness was so enticing.
The frosting was creamy and I always remember it being pink, although perhaps it wasn't. And looking backward 45 years those cookies seemed to have a magic all their own; one which ( if I could only remember the secret code) could whisk me back to that time and that place.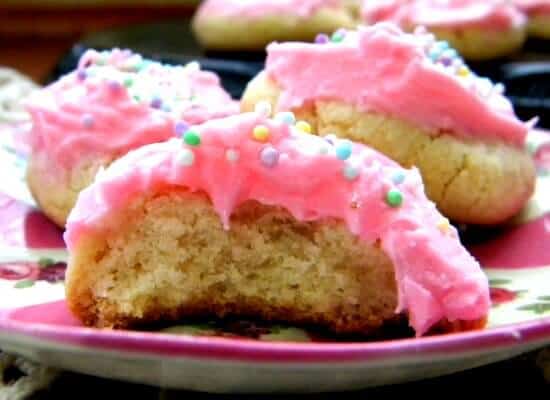 As many times as I tried to make these I could never get them right – or at least I could never get them the way that I remember them. That's probably the biggest hurdle to overcome when you are recreating a flavor from childhood. It doesn't have to taste the way it really did, it only has to taste the way you remember it.
The frosting was always too sweet, or not creamy enough… the cookie was too cakey or too crumbly… maybe it had too much vanilla or not enough butter. Whatever the problem, the recipes never ever were right.
Until now.
These are exactly as I remember them. I won't guarantee that they are exactly as YOU remember them but only that they are crumbly, tender with a delicate flavor and a perfect almost-salty aftertaste, and that the frosting is creamy and not too sweet. And pink. With sprinkles.
You can roll them out if you like – just chill the dough first. I prefer them rolled into balls and placed on the cookie sheets without chilling at all. They puff slightly as they bake but instead of getting cakey the insides become honeycombed with air bubbles and crumbs…and flavor.
I don't know if this is your memory but it is mine – and I'd love to share it with you. Don't forget the frosting – pink.
Copycat Lofthouse Cookies Recipe
Lofthouse Cookies
Print
Add to Collection
Go to Collections
Puffy, buttery sugar cookies - a copycat recipe of the ones you remember from childhood. Pink frosting, sprinkles... these have it all.
Ingredients
3/4

cup

butter

,

room temperature

1

cup

sugar

1

egg

,

room temperature

2

tablespoons

sour cream

,

room temperature

2

teaspoons

vanilla extract

2 1/2

cups

flour

1

teaspoon

baking soda

1/4

teaspoon

salt
Instructions
Preheat oven to 350F.

Line baking sheets with silpat or parchment paper.

Cream the butter and sugar on medium-high speed until very pale and fluffy - about 3 minutes.

Add the egg, and beat until it's all mixed in.

Stir in the sour cream and vanilla on low speed just until combined.

Scrape the bottom and sides of the bowl to make sure none of the mixture is sticking.

Add the flour, baking soda and salt and mix together until just incorporated.

If you're going to roll them out then stop here and chill for at least an hour.

Drop by rounded teaspoons on the prepared baking sheets - for bigger cookies use a tablespoon.

Bake for 8 to 10 minutes, or until the edges are set and just barely beginning to turn golden - do not overbake!

Cool completely before frosting.
Notes
Cookies with frosting have approximately 135 calories each
Nutrition
Calories:
90
kcal
|
Carbohydrates:
12
g
|
Protein:
1
g
|
Fat:
4
g
|
Saturated Fat:
2
g
|
Cholesterol:
15
mg
|
Sodium:
82
mg
|
Potassium:
12
mg
|
Sugar:
5
g
|
Vitamin A:
2.6
%
|
Calcium:
0.4
%
|
Iron:
2.4
%
Tried this recipe?
Tag me!! @Marye_RestlessChipotle
Lofthouse Cookies - Frosting
Print
Add to Collection
Go to Collections
Creamy frosting for the Lofthouse cookies above.
Servings
36
Enough to frost 36 cookies
Ingredients
2 1/2

cups

powdered sugar

,

sifted

2

tbs

unsalted butter

,

softened

3

tbs

cream cheese

1/4

tsp

salt

1

tsp

vanilla extract

3

tbsp

heavy cream

Gel food coloring
Instructions
Beat together all ingredients except cream and food coloring until smooth.

Add cream and food coloring last to achieve the desired thickness and color.

Frost cooled cookies generously and add sprinkles.
Nutrition
Calories:
46
kcal
|
Carbohydrates:
8
g
|
Protein:
0
g
|
Fat:
1
g
|
Saturated Fat:
0
g
|
Cholesterol:
4
mg
|
Sodium:
20
mg
|
Potassium:
1
mg
|
Sugar:
8
g
|
Vitamin A:
1.1
%
|
Calcium:
0.2
%
Tried this recipe?
Tag me!! @Marye_RestlessChipotle
IF YOU LIKED THESE BUTTERSCOTCH TOFFEE COOKIES YOU MAY ALSO LIKE…
Quadruple Chip Cookies, Lavender Shortbread Cookies, Maple Pecan Sandies
I
Let's Keep in Touch!