These lemon blueberry muffins remind me of the first day of summer when I was a kid. On the first day of summer vacation I would wake up to bright sunlight streaming through the window. It always seemed that I had eternity stretching out before me — an entire summer of catching fireflies, picnics, and endless wandering in the woods near my house. These mufffins taste just like that.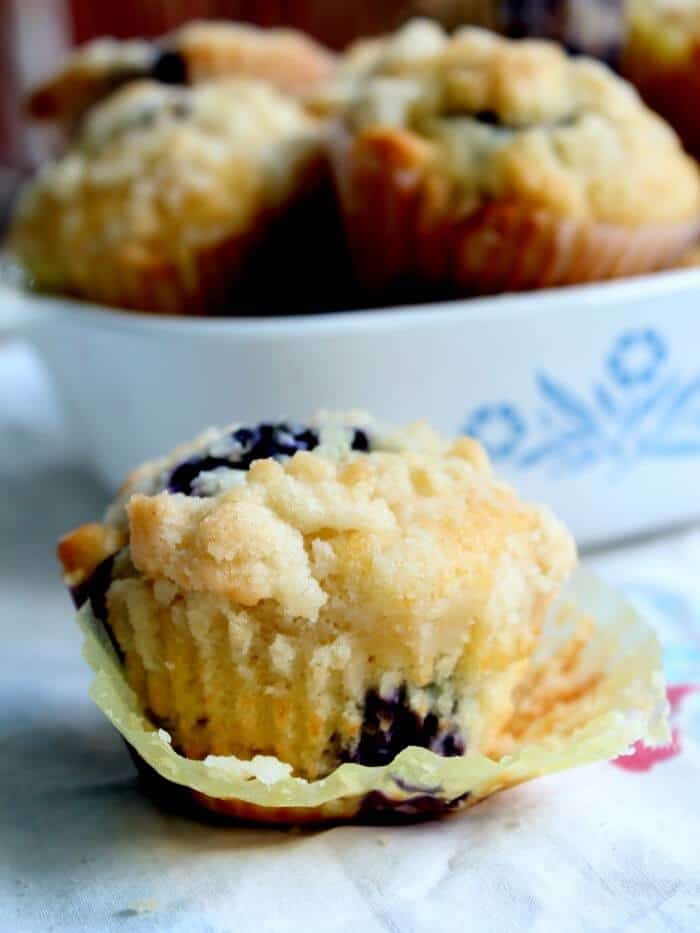 The lemon is subtle so if you want a really puckery pop of lemon I'd double the lemon zest called for in the recipe. I love lemon flavor but when it is too strong my taste buds can't handle it. I have very sensitive sense of taste so I keep it light. If you love that tang then by all means add more zest.
I like muffins for breakfast. They seem so homey and full of love — just the way I want to start the day with my family. Lemon blueberry muffins might not be the answer to all the world's problems but they do send a strong message of love to your family and yourself. Maybe if people ate more muffins for breakfast the world would be a happier, more nurturing place.

The Restless Chipotle Channel
These freeze well for up to three months. If you make a couple of  batches you can have muffins for breakfast anytime. Be careful not to over-bake them because that's what gives them a coarse texture. Also, if you gently toss the blueberries in a little flour it's less likely that the berries will sink to the bottom.
The crumble adds a delicious crispy-sweet crunch to every tangy bite. You can put butter or cream cheese on it, or even a little lemon curd but you won't need it. Pinkie swear.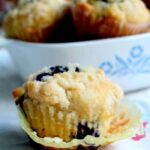 Print Recipe
Clickable Table of Contents
hide
Lemon Blueberry Muffins with Crumble
Tender, lemony muffins packed with fresh blueberries and topped with a crunchy, lemon streusel make a delicious way to start your day or take a break.
Ingredients
Muffins
2

cups

flour

3/4

cup

sugar

2

teaspoons

baking powder

1/2

teaspoon

baking soda

1/2

teaspoon

salt

3/4

cup

milk

Juice of one lemon

1

beaten egg

1/4

cup

unsalted butter

1/2

teaspoon

vanilla

1

tablespoon

freshly grated lemon zest

2

cups

fresh blueberries
Instructions
Muffins
Preheat oven to 375F.

Put paper liners in muffin cups or use the silicon liners that are available.

Combine flour, sugars, baking powder, salt in a bowl.

Stir in milk, lemon juice, egg, butter,lemon peel, and vanilla.

Fold in the blueberries.

Spoon into muffin cups.

Topping:

Combine the dry topping ingredients in a bowl.

With cold fingers rub butter into dry ingredients until the mixture is crumbly and looks like coarse crumbs.

Sprinkle the topping on the muffins.

Bake for 20-25 minutes or until a wooden pick inserted in center comes out clean.

Cool in pans for 5 minutes.

Serve warm.
If you like Lemon Blueberry Muffins with Crumble you may also like…
Blueberry White Chocolate Muffins
Honey Pear Muffins Two Peas and Their Pod
Creme Brulee Muffins Chef in Training