Recently Certified Angus Beef® Brand invited me to experience life on a Kansas beef farm with a few other bloggers. Day one we experienced Kansas City BBQ then on Day two we toured the farm, the feed lot, and helped to celebrate their 40th anniversary with a big barn branding party. I'll be sharing my experiences and a recipe over the next few days. I hope you'll follow along.
Although I had met Debbie Lyons-Blythe of Kids, Cows, and Grass a year or so ago I didn't really get to know her beyond the fact that she lived on a beef farm in Kansas and, like me, was partnered with Certified Angus Beef. Oh, and we both enjoy a good steak.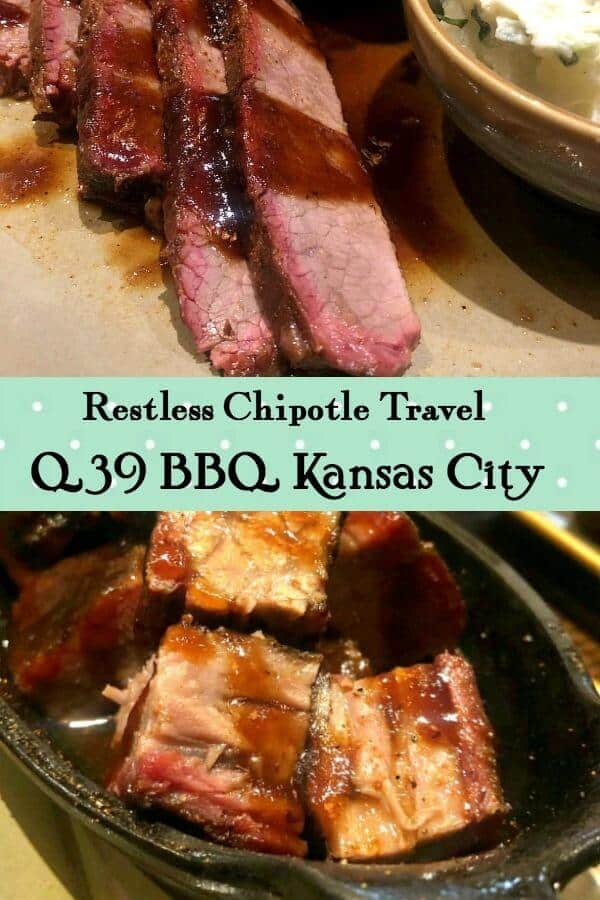 I began reading her blog and as the year went on I was impressed with the depth of her passion for sustainability, the environment, and great beef. Each time I read a blog post it made me want to read another one and, over the year, I felt like I had been schooled in a subject I thought I knew well.
So, when I was invited to go to Kansas for a few days, hang out with her, and have a really, truly, hands on experience you can bet that I jumped at the chance. Besides, I was relatively sure there was going to be steak and/or Kansas City Bbq involved somewhere.
I wasn't disappointed.
Kansas Trip Day One
I left Dallas on a Sunday afternoon with a temperature sitting at 98 degrees and landed in Kansas City an hour and a half later where the temperature was very similar. I was a little nervous because I am naturally pretty introverted and shy and I would be meeting other bloggers for the first time. I knew David from Spiced through various blogging groups we'd been in – and when I say knew, I mean we'd traded Instagram likes. I had watched Clint from Grillocracy on television but he didn't know me from Adam or Eve… and I met Bobbi from Bobbi's Kozy Kitchen and Biz from My Bizzy Kitchen for the first time. Margaret Coleman, with Certified Angus Beef® Brand, was in charge of keeping us out of trouble – pretty sure she deserves a fat bonus, to be honest.
I settled in to my spacious room at the Hilton Kansas City Airport and immediately created a Facebook Live to share what was happening and invite everyone to follow along. If you don't follow me on Instagram you really missed out because I shared just about everything there as long as I had wifi – and that's another story. Apparently wifi can be pretty sketchy where we were. I cooled off, cleaned up, and tried to look like the professional that I wanted everyone to think I was.
I even sipped a little carbernet sauvignon that I'd saved from the plane.
We met in the lobby and headed for someplace called Q39 BBQ. I was about to experience Kansas City BBQ for the first time.
Kansas City BBQ at Q39
BBQ that wasn't my beloved Texas BBQ? I was skeptical… In case you haven't been around a Texan you should know that we are probably the most prideful state in the nation. We honestly believe everything is bigger, better, and more fabulous in Texas but there are only a couple of things that we'll definitely arm wrestle you over…
Blue Bell Ice Cream
Whataburger
BBQ
We stepped inside Q39 BBQ and that magical, smoky incense that screams "BBQ is in the house" sought me out, curled around me seductively, and purred in my ear, You haven't eaten since yesterday, darlin'. Just about then my stomach screamed out an anguished growl that I was sure echoed through the entire restaurant.
"Wow, it's crowded." I said brightly.
And it was. It was like a Los Angeles highway at rush hour during a buy one get one free sale on Rodeo Drive except that everyone was having a good time. The staff was smiling (always a good sign), the customers were smiling (also a good sign), and apparently we had a table waiting for us so we were smiling, too.
Q39 is really big, which is a good thing since they are so popular. Even though there was a fair amount of people there it didn't feel super crowded and I was able to maintain my personal bubble pretty well. The decor is rustic and comfortable with tables spaced far enough apart that you don't have to listen to someone's epically detailed story of their surgery. I gave them major points for that. I hate when the tables are crowded together.
Looking at the menu I knew what I was getting – beef bbq. I mean, I know that other places make bbq with other things like pork or chicken or tofu… but say bbq to me and I will tell you it better be beef. Sliced, tender brisket with just enough fat to make it melt in my mouth, thank-you-very-much.
I knew the beef was going to be spectacular because it was Certified Angus Beef® Brand.
I ordered a Violet Sangria because (1) I like wine (2) I like Creme de Violette (3) the idea of Violet Sangria made me feel very Jane Austen (who would not have touched wine, of course). It was absolutely delicious and I'll be experimenting with the idea so I can post something similar soon.
I can't tell you everything that ended up on our table. There were burnt ends, pork belly, various kinds of sauce, and something that looked like dinosaur ribs. They were HUGE.
Finally our plates came and I knew that I wasn't going to be able to finish. Slices of smoky brisket, overflowing bowls of potato salad and coleslaw – it was delicious.
And I didn't finish – I'd love to have had dessert but I would have needed to borrow someone's stomach.
Final Thoughts on Q39
Kansas City BBQ is different than Texas BBQ in a few subtle ways. I think it is less spicy, for one thing. It has more salt, more vinegar and less body to the sauce. I liked it but I still think Texas BBQ is the best. 🙂
Should you go? Absolutely.
Must have: Burnt Ends AND Porkbelly
Don't worry about: Potato Salad
What to drink? Tons of local beers on tap if you're a beer drinker.
Service and Ambiance? Excellent
How many stars? 4
Attire: Casual
Address: Q39, 1000 W 39th St, Kansas City, MO 64111
Website: Q39
Coming up next…
Next time I'm going to share about the awesome trip through Kansas, meeting Debbie Lyons-Blythe, and the Brand the Barn Party.
We'll end it with my favorite childhood meal made even better with Certified Angus Beef® Brand – Old Fashioned Beef and Noodles!
More Travel