Clear, step by step instructions and images help the beginning baker learn how to make homemade bread from scratch. You'll see how to tell when bread has risen enough and there's a video that shows you how to knead the dough. If you want to make bread this is the best place to start!
My Favorite Bread Recipes
Use any of the recipes below and follow the easy tips and instructions here to create a gorgeous loaf of homemade bread!
Making Homemade Bread Can Be Intimidating!
It sounds scary – let's face it most people find yeast baking intimidating! It's really easy though – read through this quick start guide and you'll see what I mean. You may also like this more comprehensive homemade bread baking guide that I created.
* A lot of people ask if the ginger is necessary. I found this tip in one of my antique cook books from the late 1800s. It was handwritten in the flyleaf and I've used it ever since. It does help to activate the yeast but you don't absolutely have to use it if you don't want to.
How to Knead Bread Dough
Breadmaking Instructions
In a medium sized bowl you'll mix the yeast, ginger, sugar, and warm water. Make sure the water isn't too hot.
Set it aside for 5 minutes or until foamy. If you are using rapid mix yeast this isn't necessary.
When it is foamy stir in the buttermilk, honey, salt, and baking soda
Add some of the flour and mix until smooth. The flour coats the yeast cells and helps them rise better when you do this before adding butter.
Pour in the melted butter.
Add the rest of the flour, one cup at a time, keeping mixer on low speed.
When dough pulls from the sides of the bowl move it to the counter and knead until elastic and smooth. It's important that you knead thoroughly. When the dough is kneaded properly it will feel the same as your earlobe when pinched.
Allow the dough to rise for 1 1/2 hours, or until double.
Punch down and form into two loaves. You can do this by rolling it out flat, then rolling it up like a jelly roll and tucking the ends underneath. OR you can just mold it into shape.
Place in greased loaf pans and grease tops.
Cover, and allow to rise for 45 minutes, or until it is just about to the tops of the bread pans.
Preheat oven to 375F.
Bake for 30 minutes. You can cover the tops with foil if they brown too fast.
Remove loaves from oven and brush with melted butter.
Allow to cool in pans for 10 minutes.
Gently run a knife around the edge between the bread and the pan to loosen it.
Turn out and cool completely on a rack.
Cover the loaves if you want soft crusts.
Don't slice the bread while it's hot.
Homemade Bread: Step By Step Images
If you don't have much experience making bread it can be hard to tell if your bread dough has risen. These step by step images should help you with that
Time needed: 2 hours.
How to Tell If Bread Dough Has Risen

When fully risen your finger will leave a dent in the dough and the bowl will feel light when you pick it up. See how the dough looks puffy and smooth? It's definitely ready to be punched down.


Punch Dough Down

Punching the homemade bread dough down is exactly that. Drive your fist into the center. No need to be gentle. If more people made bread the world might be less violent.



Let Rest Before Shaping

Once you've punched down the dough fold the sides in. You should have something that looks like the image above. See how the top of the dough is no longer smooth and puffy? Be sure to let it rest a couple of minutes before shaping.
Homemade Bread FAQs
How do I know when the bread is done?
You can use an insta-read thermometer if you like. Push it into the side of the loaf – the center of the bread should be about 200F.
You can also turn the bread out and tap the bottom. It will sound hollow.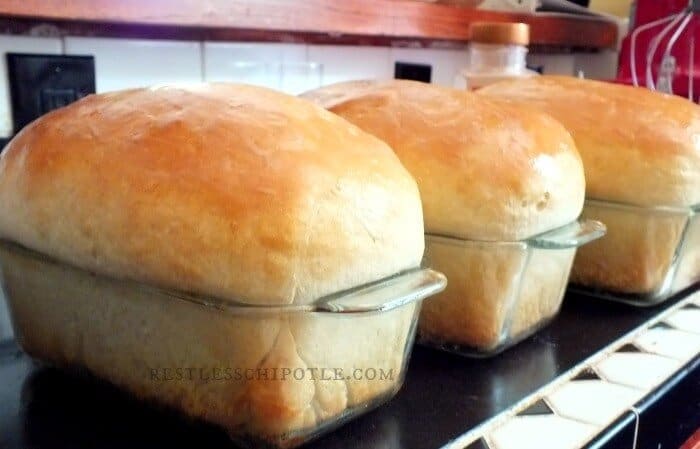 What size pans do you use for bread?
I use 9-inch by 5-inch glass pans. You can use metal pans as well.
Can you freeze bread?
Yes. Let it cool completely, wrap it tightly, and freeze for up to 3 months.
You May Need…
The following are affiliate links. We are a participant in the Amazon Services LLC Associates Program, an affiliate advertising program designed to provide a means for us to earn fees by linking to Amazon.com and affiliated sites.
What's new? Check out my Restless Chipotle & Co. Store on Amazon! Thanks so much for being a part of Restless Chipotle!
I love my glass bread pans. I think they heat more evenly.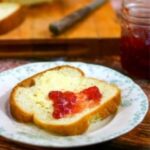 Most Basic White Bread Recipe
Print
Add to Collection
Go to Collections
This is the most basic white bread recipe ever. It's a simple yeast bread that doesn't require many ingredients at all yet it results in a tender loaf with a crispy crust. If you want a soft crust cover the loaf with a towel while it cools.
As an Amazon Associate I earn from qualifying purchases.
Ingredients
5

cups

all-purpose flour

,

may need up to a cup more

3

tablespoons

sugar

,

divided use

1

tablespoon

active dry yeast

2

teaspoons

salt

2

cups

water

,

110F – divided use

2

tablespoons

butter

,

melted and cooled to room temperature
Instructions
Add the yeast, 1 teaspoon of sugar, and 1/4 cup of the water to a small bowl.

Set aside until it looks foamy.

Add the remaining water and sugar to the foamy yeast mixture and stir.

Add 1 cup of the flour and beat well.

Add the melted butter and salt.

Beat for a minute or two on high speed of the mixer, stopping to scrape the bowl occasionally.

Stir in enough of the remaining flour so the dough makes a ball.

Turn out onto a lightly floured surface and knead for about 8 minutes – or until the dough pulls back when you stretch it.

Form into a ball.

Add the dough to a large greased bowl.

Grease the top of the dough and cover with a clean towel.

Let rise for 1 hour, or until doubled.

Punch the dough down.

Let rest for 10 minutes.

Cut into 2 equal pieces.

Roll each into a rectangle using a rolling pin.

Begin at the short end and roll the rectangle up tightly.

Pinch the seams and tuck the ends under to seal.

Repeat with the other rectangle .

Place each loaf, seam side down, into a greased loaf pan.

Cover with a towel and let rise until double, about 45 minutes.

Meanwhile, preheat the oven to 400F.

Bake the loaves for 25 minutes, or until golden brown.

Remove from the oven.

Let sit for a minute then run a knife between the bread and the pan to loosen it.

Lay the pans on their sides for 5 minutes.

Remove the bread and let cool completely.
Notes
You may substitute milk (110f) for the water if you want a richer bread.
Nutrition
Calories:
164
kcal
|
Carbohydrates:
32
g
|
Protein:
4
g
|
Fat:
1
g
|
Saturated Fat:
0
g
|
Cholesterol:
3
mg
|
Sodium:
305
mg
|
Potassium:
44
mg
|
Fiber:
1
g
|
Sugar:
2
g
|
Vitamin A:
0.9
%
|
Calcium:
0.7
%
|
Iron:
10.1
%
Tried this recipe?
Tag me!! @Marye_RestlessChipotle
Let's Keep in Touch!