This hot turkey sandwich and smashed potatoes is served diner style with tender turkey and savory gravy ladled over sliced of Texas Toast bread for a super quick and easy family dinner that's wholesome and filling.
For this recipe you'll need: Texas Toast or thickly sliced bread, Oscar Mayer Selects Natural Slow Roasted Turkey Breast, butter, onion, flour, chicken stock, Worcestershire, Herbes de Provence, salt, pepper, fresh parsley, tiny new potatoes, buttermilk, garlic powder, green onions
If you are in a hurry click here to go straight to the recipe.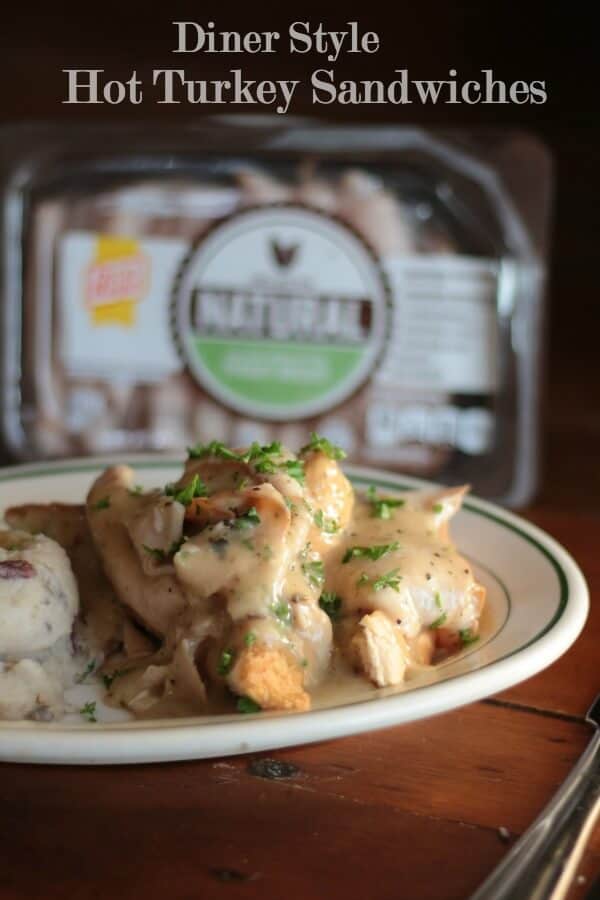 My parents were adults during the depression. That probably sounds crazy but they were in their 40s when I was born and I am in my 50s so you do the math. I've said before that a lot of my favorite comfort foods are those that my parents lived on during those lean times.
Dad dropped out of school in the sixth grade to make money for his family doing anything he could do. He worked on the Civilian Conservation Corps and remembers standing in line to get an assignment. He said that if you got out of line you lost your place so too bad if you had to go to the bathroom - you either held it or let nature take its course. He eventually flew in the Army Air Corps and by the time I was born he was doing quite well. A lot of that was due to his experiences as a kid and that determination of his generation to never be in that financial position again. I have a sixth grader and I can't imagine her doing the things that Dad did at that age, you know?
He told me once that when he had five cents in his pocket and could afford to buy a lunch he felt like he was successful. Many of the foods we think of as comfort food were served at diners and lunch counters across the country to provide travelers and workers with an affordable lunch. Can you imagine?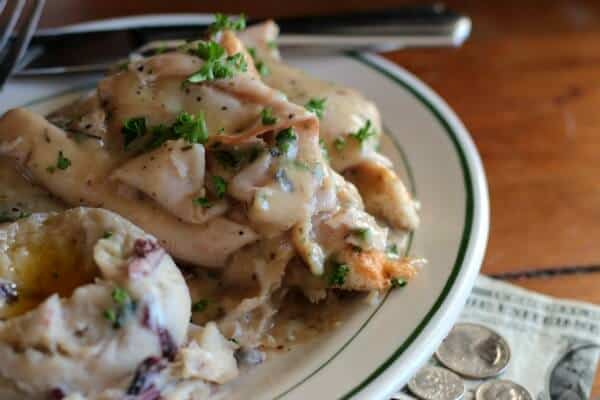 When I came along he was working in the corporate office of a large company and was friends with the president -- he certainly didn't have to worry about lunch money in that era of Don Draper-esque liquid lunches. You'd probably know the company but it doesn't matter -- that's not the point. Living through the Depression left a lot of people with a cynical bitter attitude but not Dad. He believed that you should dream big and work hard without depending on others to do for you what you could do for yourself. If it looked to good to be true it probably was and if you caught a break?
Well that's what he called gravy.
And he liked nothing better than a hot turkey sandwich with gravy. We used to only have it just after Thanksgiving because that's the only time we had turkey and with just three of us there were tons of leftovers. Now I can make a hot turkey sandwich with gravy anytime I want a filling, inexpensive, quick dinner. This gravy gets its richness and flavor from herbs and not from a lot of unnecessary fat so this dinner is fits right in to your family's healthy eating plan.
Oscar Mayer Selects Natural is minimally processed. Selects Natural lunch meats have no artificial preservatives, no artificial flavors, no artificial colors, no gluten and no by-products. In other words, it's not too good to be true! I add it to my homemade gravy just before ladling it over the bread -- the slow roasted turkey breast has that old fashioned flavor I am looking for and just needs a minute or two to warm up. The entire process takes less than 15 minutes!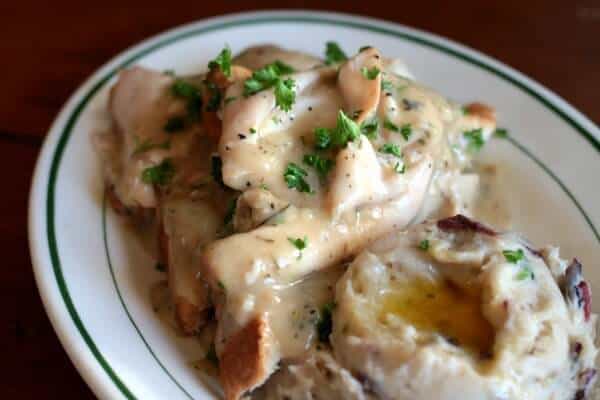 I used the tiny, multicolor potatoes for the smashed potatoes. The skins are so thin that you just have to wash the potatoes and dump them in the pot to cook -- no peeling, cutting, or trimming. After they are cooked you just add the onions you sautéed to flavor the gravy along with some chopped green onion tops while you are mashing them. Low-fat buttermilk adds richness and flavor to the potatoes without adding more fat, too.
You'll want to add a green vegetable or a salad to round out this easy hot turkey sandwich meal and keep it nutritionally balanced. You can learn more about Selects Natural and all the Oscar Mayer products on OscarMayer.com, Facebook at Facebook.com/OscarMayer, Twitter at @OscarMayer and on Tumblr at OscarMayer.Tumblr.com. Selects Natural products come in the following varieties:
Slow Roasted Turkey Breast
Slow Roasted Roast Beef
Rotisserie Seasoned Chicken
Applewood Smoked Ham
Applewood Smoked Turkey Breast
Feel free to change up this recipe by substituting one of the other meats (use beef stock for the roast beef) to create an easy meal that your family will love.
Here's that turkey sandwich recipe.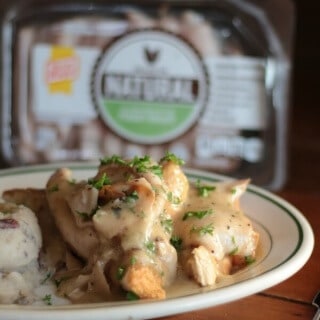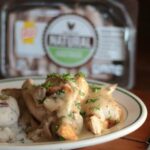 Hot Turkey Sandwich - Diner Style
Print
Add to Collection
Go to Collections
Old fashioned diner food is just as good now as it was over 80 years ago! Updated hot turkey and gravy sandwich with smashed potatoes is a quick, easy family meal.
As an Amazon Associate I earn from qualifying purchases.
Ingredients
4

tablespoons

butter

,

, divided use

½

cup

chopped onion

3

tablespoons

flour

3

cups

chicken stock

1

tablespoon

Worcestershire sauce

1

teaspoon

herbes de provence

Salt and cracked black pepper to taste

2 - 8

ounce

packages Oscar Mayer Selects Natural Oven Roasted Turkey

8

slices

of Texas Toast

,

, or other thickly sliced bread

⅓

cup

fresh parsley

,

, chopped
Smashed Potatoes
2

pounds

tiny red or multicolored potatoes

¼

cup

chopped green onion tops

½

cup

low-fat buttermilk,

, heated to a simmer

1

teaspoon

of garlic powder

Salt and pepper to taste
Instructions
Melt 2 tablespoons of the butter in a heavy sauce pan.

Add the chopped onions and saute until the onions are soft and begin to turn golden, about 5 minutes.

Carefully remove the onions from the pan, leaving as much of the butter as possible in the pan, and set aside.

Add the remaining butter to the pan and let melt.

Whisk in the flour and cool, whisking constantly, for 2 minutes or until the flour and butter mixture turns a light tan.

Add the chicken stock, whisking constantly.

Add the Worcestershire, herbes de provence, salt, and pepper.

Simmer, stirring occasionally, until the gravy thickens.

Add the Oscar Mayer Selects Natural Oven Roasted Turkey slices and stir gently to coat the meat with the gravy.

Remove from heat and cover.
Mashed Potatoes
Wash the potatoes and simmer in salted water until they are tender, about 10 minutes depending on size.

Drain the potatoes and add the the bowl of a stand mixer along with the cooked onions, green onions, buttermilk, and garlic.

Run the mixer on low just until the potatoes are mashed but still a little chunky. Taste and add salt and pepper as needed.
Assembly
For each sandwich place 1 slice of the bread and ¾ cup of potatoes on a plate.

Ladle about 1 cup of the turkey and gravy mixture over the top of the bread.

Sprinkle with chopped parsley and serve immediately.
Sign up for the emails and never miss another recipe!!
We'll never share your email or send you spam. Pinkie swear.
If you liked this hot turkey sandwich recipe you may also like...
Turkey Pot Pie Soup Handle the Heat
Turkey Noodle Casserole Creole Contessa
I was selected for this opportunity as a member of Clever Girls and the content and opinions expressed here are all my own.