Homemade Italian meatballs are definitely in the category of classic comfort food. They are easy to make, tender, and fairly burst with the flavor of Italian herbs and spice. Perfect for spaghetti, meatball sandwiches, or any recipe that calls for meatballs these freeze well for up to 6 months so you can make a big batch all at once and have them for several meals.
For this recipe you will need: ground beef, eggs, parmesan cheese (the kind in the green container on the shelf), dried oregano, dried basil, dried thyme, dried garlic granules, salt, pepper
If you are in a hurry click here to go straight to the recipe.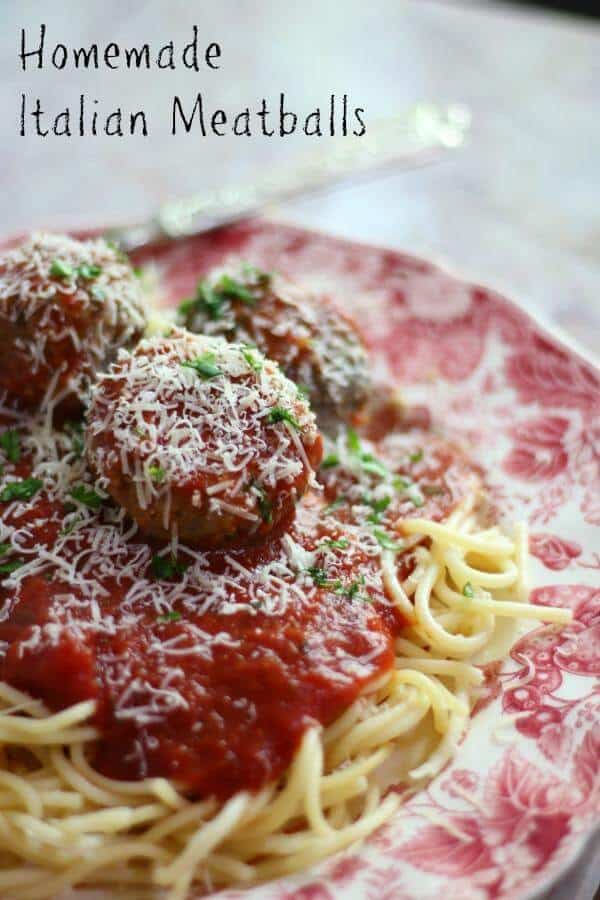 I love meatballs. Smother them in marinara sauce, add them to spaghetti, or make meatball sandwiches out of them — I don't even care. I love them. They are tender and spicy, juicy and full of the flavors of the Italian countryside like oregano, garlic, and basil. Plus, they are so darn easy to make that it's crazy!
I like to make a big batch and then freeze them right on the baking sheet. Once they are frozen I put them in freezer containers with waxed paper in between the layers. Then, whenever I need meatballs for a recipe, I just grab however many I need and let them thaw right in the sauce. It's so easy and they'll last for months frozen.
The real secret to a tender meatball is to make sure that you form the ball gently, pressing just enough to get it to hold together without compressing it too much. When you compress the meat too much it becomes tough and chewy not tender and juicy. Keep it gentle and you'll be just fine!
My mom used to make meatballs in a tomato and gingerale sauce in the slow cooker. Oh my gosh! They were so good! We always had them with mashed potatoes. When I grew up she didn't make them much because it was just too much trouble for her and Dad. I requested that she start making them for Christmas Eve and I'd take over the larger meal on Christmas Day. That was a tradition I loved … and I miss so much!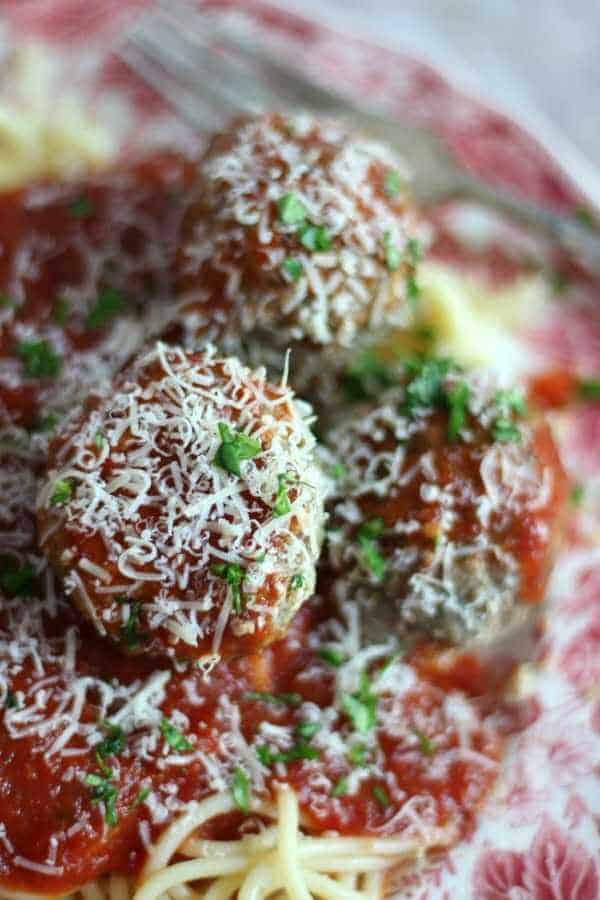 Add a couple of these to a hoagie roll or on top of a mound of spaghetti and see if you don't think these are the best homemade Italian meatballs you've ever tasted. Toss them in a batch of sauce in the slow cooker and let them simmer for even more flavor.
The following are affiliate links. If you click through and buy something I will get a small commission used for keeping the blog up and running smoothly. Thank you for being a part of Restless Chipotle!
Heavy baking sheets with sides keep the meatballs from scorching on the bottom and the juices from running all over the oven. This nifty meatball shaper helps keep the size uniform so that they cook evenly. And, when I am making a big batch of meatballs I like to use my vacuum sealer to store them in recipe sized portions. They never have freezer burn and they are as fresh as the day I made them.
Here's that homemade Italian meatballs recipe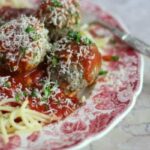 Homemade Italian Meatballs
Print
Add to Collection
Go to Collections
Tender meatballs are full of Italian flavor. Just right for spaghetti or in a meatball sub! You can make a large batch and freeze them to use as needed. Makes 24 large meatballs or about 48 small meatballs.
As an Amazon Associate I earn from qualifying purchases.
Ingredients
2 3/4

pounds

ground beef

4

eggs

,

beaten

1 1/2

cups

Parmesan cheese

1

tablespoon

dried oregano

1 1/2

teaspoons

dried basil

1 1/2

teaspoons

salt

1

teaspoon

garlic granules

1/2

teaspoon

dried thyme

1/4

teaspoon

black pepper
Instructions
Preheat the oven to 350F.

Spray baking sheets with cooking spray or spread a thin layer of olive oil over them.

Mix all of the ingredients together very well -- you'll need to use your hands.

Roll into balls the size of a golf ball, molding them firmly together without packing them.

Place the balls on baking sheets.

Bake for 30 to 40 minutes, or until the center registers 160F on a meat thermometer.

Remove from oven and use as needed.
Notes
You can use 2 pounds of ground beef, 1/2 pound ground pork, and 1/4 pound Italian sausage instead of all ground beef if you want.
Sign up for the emails and never miss another recipe!!
We'll never share your email or send you spam. Pinkie swear.
If you liked these homemade Italian meatballs you may also like…
Shell Pasta with Creamy Vodka Sauce
Swedish Meatballs Art and the Kitchen
Bourbon Bacon Meatballs House of Yumm