Rich and creamy, this quick pumpkin Alfredo sauce tastes like autumn on a plate! Smoky, spicy, rich, and unbelievably smooth and velvety due to a crazy secret ingredient that pulls it all together into one big, mouthwatering, explosion of tastebud ecstasy. Ladle it over ravioli, use it in a leftover turkey lasagna, or slurp it up with classic fettuccine – it's crazy good. Special thanks to Forte Chocolates for sponsoring this post for the last day of #Choctoberfest.
For this recipe you'll need: butter, garlic, canned pumpkin or homemade pumpkin puree, heavy whipping cream, Parmesan cheese, Romano cheese, Forte Chocolate Gusto Balsamic Vinegar and White Chocolate, chipotle in adobo sauce, nutmeg, cilantro, cojita cheese
Southwestern Pumpkin Alfredo Sauce Recipe Backstory
I have always loved pumpkin but it wasn't until the past few years that I started experimenting with combining pumpkin and my beloved Southwestern ingredients into savory concoctions. I have certainly made pumpkin Alfredo sauce before but I haven't posted it here on Restless Chipotle because it just seemed so … average.
And you, my friends, are anything but average. ❤️
So, when I got my box from Forte Chocolates and saw the Gusto Balsamic and White Chocolate bar I decided that I was going to give my pumpkin Alfredo recipe an update to see if it measured up.
Oh boy, did it ever.
The addition of a premier white chocolate to the already creamy pumpkin Alfredo made it even smoother and butterier while merging all of the unique flavors into one Heavenly harmony. Spicy, smoky, comforting, sweet balanced with tangy… all pulled together in gorgeous pumpkin goodness.
Y'all, this is what comfort food strives to be – and so often misses. It's perfection.
Cook's Notes: Pumpkin Alfredo Sauce
Recipe Rated Easy – Anyone can make this
This is a super quick and easy recipe that marries great Italian flavor with great Southwestern flavor in a new way. It's super easy to make but here are a few tips to make it even easier.
Get your salted water for your pasta started BEFORE starting this sauce! It goes together quickly but it doesn't hold for a long time and you don't want to warm it back up – like any good Alfredo it breaks when reheated.
Do not substitute lower fat ingredients in this recipe – Alfredo sauce is supposed to be rich and creamy. Diet tomorrow.
Gently warm the cream to room temperature before adding to the melted butter. To do this you can microwave, carefully watching it, OR put a glass measuring cup with the cream in it into a bowl of very hot water for 10-15 minutes.
Be careful not to scorch anything. Use medium low heat and whisk whisk, whisk!
If you've had problems with getting Alfredo sauce recipes to thicken don't worry. The pumpkin and the white chocolate create a thick, creamy Alfredo sauce!
This is a GREAT way to sneak turkey leftovers from Thanksgiving into your menu rotation!
About Our Sponsor, Forte Chocolates
I don't even know where to begin with telling you about Forte Chocolates. For one thing they have some of the most unique flavors on the planet – I mean, who thinks about adding balsamic to white chocolate?
They do.
Chef Karen Neugebauer is the mastermind, and talented artisan, behind Forte Chocolates. Her philosophy, and the philosophy of the company, is that celebrating life IS celebrating chocolate. The two are intertwined throughout history – chocolate has always been a part celebrations.
The chocolates are full of unique flavors that are found naturally within the pure chocolate. They pair it with fresh, local cream and butter and add unique high quality ingredients. No preservatives are used so the flavors you get are intense, pure, and unmatched.
That's why the bars are so versatile, y'all. That's why they work in sweet or savory recipes – because the flavors are pure. SO good. SO SO SO good.
AND especially for #Choctoberfest you can use the coupon code CHOCTOBERFEST2018 to get a buy 3 get 1 free discount on their bars.
More Southwestern Style Recipes from Restless Chipotle
Here are some of my favorite Southwestern and Tex-Mex recipes here on Restless Chipotle!
Pumpkin Alfredo Sauce Recipe
I am totally addicted to this Alfredo sauce! It's so good on just about everything! Go ahead and give this recipe 5 stars! Thanks!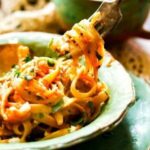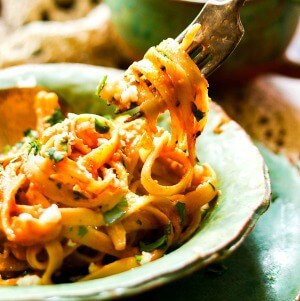 Southwestern Pumpkin Alfredo Sauce
Print
Add to Collection
Go to Collections
Pumpkin and chipotle gives creamy Alfredo sauce a beautiful color and a spicy nutty flavor. The white chocolate helps to blend and enhance the ingredients. Although fettuccine is the traditional pasta for Alfredo sauce the shape of gemelli pasta holds more of the delicious sauce! Do not make the sauce ahead of time. Reheating can make it separate. If you are reheating leftovers be sure that the sauce is mixed with pasta.
As an Amazon Associate I earn from qualifying purchases.
Ingredients
1

Pound

Fettuccine

,

cooked - whole wheat works well here

2/3

cup

butter

4

garlic cloves

,

minced

1

chipotle in adobo with sauce

,

mashed

1

cup

heavy cream

1/3

cup

grated Parmigiano Reggiano

,

plus some for sprinkling on top of the finished dish

1/3

cup

grated Romano

1 1/2

cups

pumpkin

1.58

ounces

Forte Chocolates Gusto Balsamic White Chocolate bar

,

broken in pieces

A pinch of nutmeg

About 1 cup pasta water

Salt and pepper to taste

1/4

cup

cilantro

,

, chopped, for garnish (optional)

1/3

cup

Cojita cheese

,

, crumbled, for garnish, optional
Instructions
Cook pasta according to package instructions.

Drain, reserving 1-2 cups of the water.

Melt the butter in a large pan.

Add the garlic and chipotle, saute for 1 minute, do not brown.

Add the cream, cheese, pumpkin, white chocolate, and nutmeg.

Stir until smooth.

Add enough of the hot pasta water to get a smooth, creamy sauce.

Taste and add salt and pepper as needed.

Add the pasta to the pan and heat for a minute or two.

Serve garnished with crumbled cojita cheese and chopped cilantro.
Notes
*Make sure your pasta is cooking or cooked when you start this sauce. *This sauce does NOT reheat well. *Add leftover cooked turkey -- it's a great way to use up Thanksgiving leftovers!
Nutrition
Calories:
702
kcal
|
Carbohydrates:
62
g
|
Protein:
16
g
|
Fat:
43
g
|
Saturated Fat:
26
g
|
Cholesterol:
183
mg
|
Sodium:
374
mg
|
Potassium:
348
mg
|
Fiber:
2
g
|
Sugar:
6
g
|
Vitamin A:
3795
IU
|
Vitamin C:
3.5
mg
|
Calcium:
208
mg
|
Iron:
1.8
mg
Sign up for the emails and never miss another recipe!!
We'll never share your email or send you spam. Pinkie swear.
More Day 6 #Choctoberfest Recipes
"

"