A few days ago my husband and I spent the afternoon together and ended the day at a small Italian restaurant that we hadn't tried before.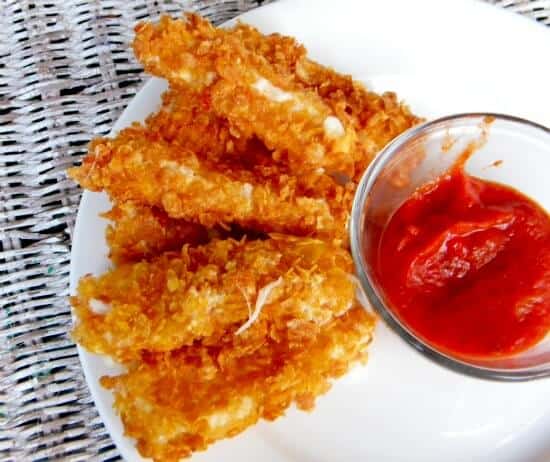 The decor was simple but it smelled amazing inside. When I was asked if I would like some wine with dinner I gave them my challenge question.
"I don't know what you have - do you have a ripe, fruity red?"
Now, if a waiter can come back with a glass of wine that I like from that description I am a happy, happy camper and the restaurant gains points. Lo and behold he came back with a lovely, fruity red - round, ripe berry, plum and cherry notes that were nicely balanced with a little tang at the end. I relaxed at that point - being pretty sure that they couldn't mess too much up if they could get the wine right.
We decided to do a family style dinner which meant that we could order 2 appetizers, 2 entrees, and 2 desserts. It gave us a chance to taste a variety of dishes and really, the flavors were pretty delicious.
Overall.
One of Marc's favorites is fried Mozzarella. I knew that would be one of the appetizers! I was waiting to see what they served... would it be homemade or would it be straight from the freezer bag?
Sigh. You know what I am going to say, don't you?
This fabulous eatery, that took all of the time to create homemade pasta for the lasagna, create desserts in house, and bake pizza in a wood fired oven, this lovely dinner spot served fried cheese from the freezer section... just like the ones you get at Costco. Just like the ones that everyone else serves. The kind that leave a film of fat on your tongue and roof of your mouth.
I was broken hearted.
We were discussing this. Marc, who has eaten out at a lot of chain restaurants didn't see a problem with it. His view was that people were used to the flavor, it wasn't bad, and it was quicker than making them from scratch. I, of course, disagreed. Vehemently.
In order to prove my point I decided to make my fried cheese tonight. It is fresh, delicious, and it doesn't take much more time than opening the bag of frozen. In fact, you can put them together ahead of time and chill them if you like. From scratch, dipping, rolling in crumbs and frying the cheese sticks will take about 15 minutes from start to finish once you have done it once or twice.
Let's talk flavor. OMG. There is absolutely no fatty film left on your tongue... this is light, crispy, and fresh. You know that primary taste of salt that you get from the frozen ones? Yep. None of that here. And the cheese... gooey, melty, buttery, and rich. Best of all? You can use the best Mozzarella you can find and afford - or any other cheese you like (ahem... pepper jack). You don't think those big companies care how fresh or tasty their Mozzarella is, do you?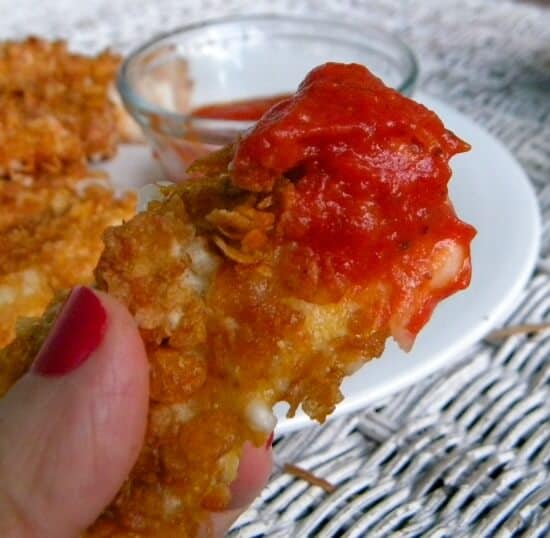 You can do this. I promise you that you can not only do it - you can do it well. Serve them with Ranch, Marinara, Salsa, or what ever you like.
Now... before we get to the recipe, let's talk fryers - 'k?
I have a large electric fryer that comes with 3 baskets. One large one for large batches and two small ones so you can fry two different things at the same time. Because it is electric your temperature stays constant throughout frying - and I just love mine. What I don't love is that it takes up a lot of room on my counter but I use it several times a week. Most people could probably keep theirs put away.
If no one in your circle of family and friends has a peanut allergy then peanut oil is my first choice for frying. It fries at high temperatures, fries clean and ... I like it. If you can't use peanut oil then choose sunflower, corn, or safflower oil.
Get your clicking finger ready... You are going to want to add this one to your recipe box. It makes a quick snack or dinner - get a huge hunk of Mozzarella at Costco and slice it into "fingers". You'll be ready to make this in seconds.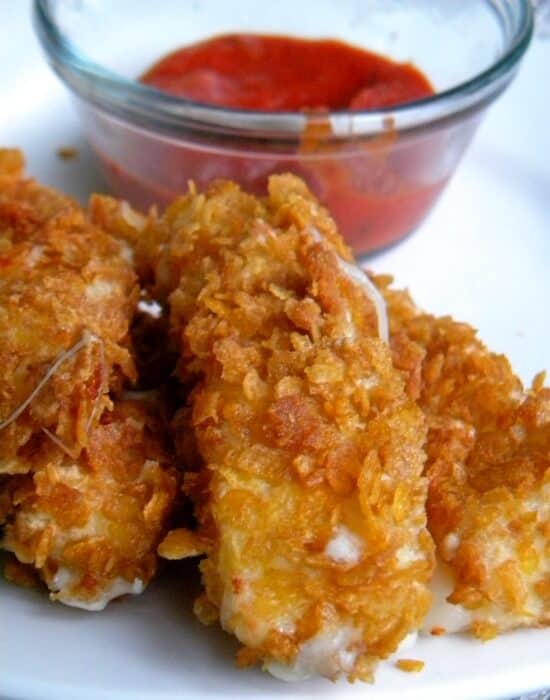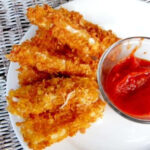 Easy Fried Cheese Recipe
Print
Save
Go to Collections
Light and crispy fried cheese is easy to make at home and so much better than any of the frozen kind. Difficulty level 4/10
As an Amazon Associate I earn from qualifying purchases.
Ingredients
1 ½

pounds

cheese

,

, cut into sticks about one inch wide (1 x 1 x 2 ½ or so) and chilled

2

cups

flour,

you may need more

1

teaspoon

ground ancho chile

3

large eggs

1

teaspoon

water

4

cups

corn flakes

,

crushed

Oil

,

peanut is best unless someone has an allergy - but whatever you usually use.
I earn a commission from Instacart from qualifying purchases.
Instructions
Heat the oil in a deep fryer to 375F.

Beat the eggs in a bowl with the water until well blended.

Place the flour and chile powder in another bowl and the corn flake crumbs in a third bowl.

Roll each cheese stick in the flour, then dip in the egg.

Finally, roll it in the crumbs until it is well coated.

Set the cheese stick on a baking sheet while you make the next one.

Fry these about three or four at a time in 375F oil until they are golden.

Allow the basket to stay suspended over the oil for a minute or two so that excess oil drips off.

Place carefully one a serving plate.

Serve with your favorite dipping sauce.
Notes
Most people will want to drain these on paper towel. Don't do it! The melting cheese will stick to the towel and you will have a mess. Just allow the fryer basket to sit over the oil for a few seconds so that the excess oil can drip off and then put them on a plate.
Freezing the cheese sticks before frying can help them keep their shape a bit better.
Nutrition Facts
Calories:
118
kcal
|
Carbohydrates:
8
g
|
Protein:
6
g
|
Fat:
7
g
|
Saturated Fat:
4
g
|
Cholesterol:
33
mg
|
Sodium:
146
mg
|
Potassium:
37
mg
|
Fiber:
1
g
|
Sugar:
1
g
|
Vitamin A:
281
IU
|
Vitamin C:
1
mg
|
Calcium:
139
mg
|
Iron:
1
mg
Sign up for the emails and never miss another recipe!!
We'll never share your email or send you spam. Pinkie swear.