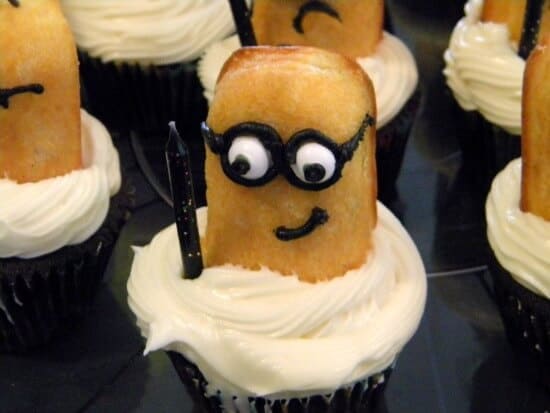 I have three kids with July birthdays in the first two weeks so parties are usually planned as one large event. This year we missed Matthew because he is in Korea, happily ensconced in adulthood. He turned 20 today, actually. Sigh. So hard to believe.
Kyrie's birthday is on the first and Nick's is on the third so having a party that both will enjoy is imperative. Since Despicable Me is a favorite move AND since I had pinned some adorable Minion cupcakes on Pinterest the only thing left to decide was the flavor.
Like that was a hard decision. Chocolate rules here. Recipe, including the awesome secret ingredient will be posted tomorrow. Be patient.
The Minions are relatively simple.Sorry, I don't know whose idea it was to make these first. I can only say I found about 200 versions of them, all made from Twinkies. They take just a few minutes to make and the kids all go crazy when they see them – they are just that cute. Most of the instructions I saw called for using white Smarties candies for the eyes but when I was picking up party supplies I found some sugar google eyes already made. SCORE!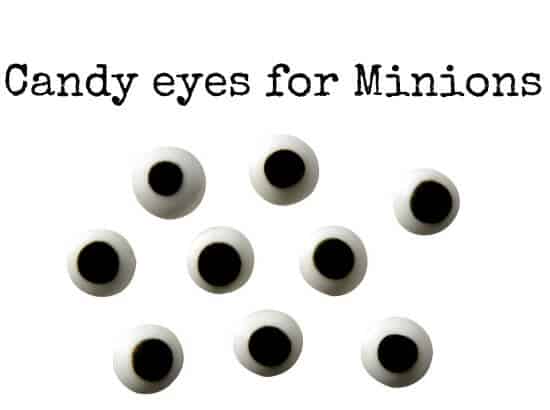 Even in my crazy family there are a few phrases that I never thought I would hear. I had finished creating the Minions about five minutes before the guests were due to arrive. I had asked my oldest daughter, Erin, to come early so she could pitch in if I needed her to. So I was upstairs putting my makeup on when my husband walked in and said in an oh-so-serious voice, "Erin is here. She and Shiloh are down in the kitchen eating eyes."
I swear to you, I almost ended up with a mascara wand poking in my eye and a trip to the ER.
First thing that you will need is a box of the plain Twinkies. You will cut each of them in half, and I found that using a sharp knife made the job MUCH easier.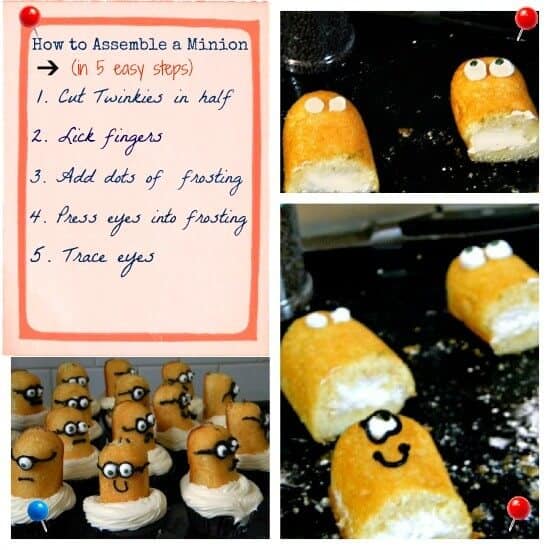 Once you have them cut in half use a decorating bag fitted with a small, round decorating tip to pipe two small globs of white frosting to hold the eyes.
Press the eyes gently into the frosting and give them a few minutes to settle.
Using a fine round tip pipe the black frosting around the eyes for goggles, bringing a line to the back on either side for the straps.
If the pupil of the eye seems faded you can either paint on some black food coloring or use the black frosting, whichever you prefer.
Pipe a thin mouth.
Add a few chocolate jimmies to the top of the head for scraggly hair.
If you are not transporting the cupcakes all you need to do now is press the Minion into the top of a frosted cupcake. Make sure you have a generous amount of frosting so that it holds the Minion firmly.
If you are going to be transporting them I'd suggest you use a straw or wooden skewer to secure them.
Cut the straw a little longer than the Minion.
Press part of the Straw into the cupcake.
Minion on to the straw gently but securely.
I Googled images of the Minions from the movie to get a feel for how they really looked. Remember that some of them had two eyes and others only one. Some had hair and others did not. Create personality in your Minions by using different expressions with the mouth.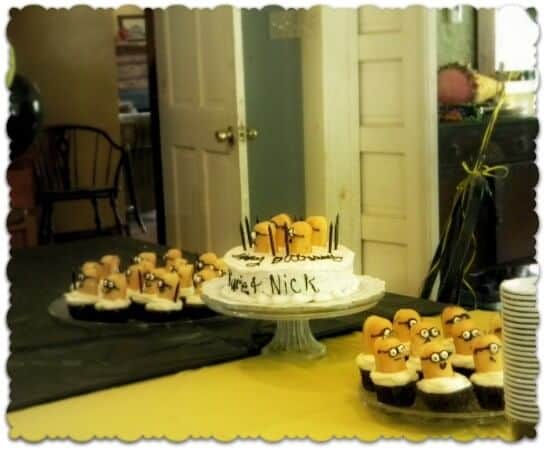 These are adorable and your kids (and kids at heart) will love them!