What is it about sticky, sweet, tangy, spicy sauces on chicken breast? It's sort of like peanut  butter and jelly, chocolate and peanut butter, or vodka and tonic – they just go together.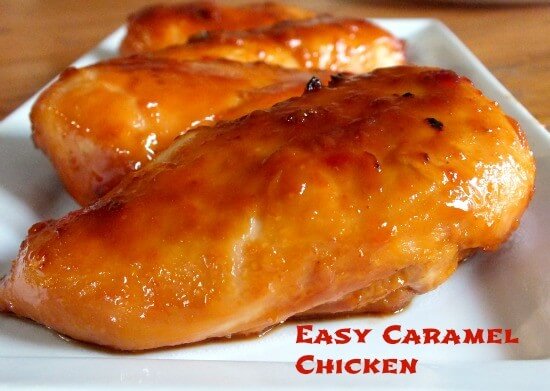 Superbly.
The first time I had PF Chang's caramel chicken I thought I was in Heaven. Well, sort of. I am sure if it was heaven Ryan Gosling would have been the waiter and since he wasn't let's just say I was really darn close. Tangy, sticky, sweet, and slightly spicy chicken with mango and … and… well whatever else was in there. It was delicious. That very night I swore to find out how to make caramel chicken or die trying. I am very happy to say I have maybe a few more good years left.
This recipe is basic. You can add the mango and the onion and all the other good things if you want to. I'd just saute the vegetables and mango quickly and then pour it over the finished caramel chicken.
This may mean I need to go back to Chang's to do more research.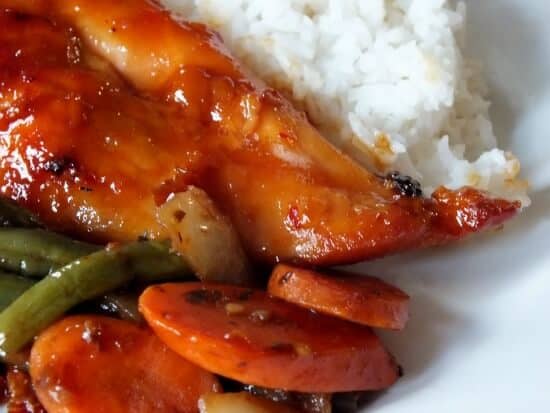 This is so easy to make that you can use it as a weeknight dinner. If you have a rice cooker just set it as soon as you get home and by the time the rice is done the chicken will just about be done, too. I served it with roasted vegetables and that worked really well. Honestly, the roasted vegetables were from a bag I got in the freezer section of Costco so this was truly a simple meal. I'd finish this with some tangy dessert like lemon bars or lemon pie – but an almond pound cake would also be a great way to finish up.
I tried to keep this simple, without adding a lot of ingredients that you might not keep on hand. If you don't have Sriracha then a few drops of good, old Louisiana Hot Sauce will work just fine. You can even cook this in the slow cooker if you want. The chicken will break up so you probably won't have whole breasts but it is great over rice and actually even more tender.
Easy Caramelized Chicken Breasts
Print
Add to Collection
Go to Collections
A sweet, tangy, spicy, sticky sauce coats tender chicken breasts in this easy recipe.
As an Amazon Associate I earn from qualifying purchases.
Ingredients
2

pounds

chicken breast

1/2

cup

low sodium soy sauce

1/2

cup

honey

1/4

cup

brown sugar

1/4

cup

catsup or ketchup

,

, how ever you want to spell it

2

tablespoons

of sesame oil

1

tablespoon

of Sriracha

,

, or more (or less) to taste

1

tablespoon

balsamic vinegar

2

cloves

of garlic

,

, minced

Salt

Pepper
Instructions
Preheat the oven to 375F.

Spray a casserole dish with cooking spray.

Mix all of the ingredients except salt and pepper and let them marinate for about 15 minutes while the oven is preheating. Turn the chicken often to make sure all sides get marinated.

Put the chicken in the casserole dish.

Season it with the salt and pepper.

Bring the marinade to a boil and reduce it by about 1/4 – maybe five minutes.

Add the marinade to the chicken and bake for 30 minutes, or until the chicken registers 160F in the middle of the breast.

Brush with the marinade often during baking.

If, when the chicken is done, the marinade isn't as thick as you'd like it to be you can reduce it on the stove until it is as thick as you like. Just be careful that it doesn't scorch.

You can also dump this whole thing into a slow cooker for 6- 8 hours. It won't be as pretty but it will be every bit as delicious! Some slow cookers heat differently than others to monitor yours the first time you make it.
Notes
Serve with rice, roast vegetables, and lemon pie or citrus dessert
Sign up for the emails and never miss another recipe!!
We'll never share your email or send you spam. Pinkie swear.