Boston Cream Pie isn't a pie at all, and I have no idea how you crazy Yankees confused the two… but…I am glad that you created the recipe because it is delicious.
Here's the deal. Cupcakes are easier to pack in lunches and they are much cuter than cake. They always seem like less work to make, too. Boston Cream Pie cupcakes can easily be packed in a lunch or transported to a party and they don't take long to put together. I have to tell you, the day I made these one of my family members put an entire cupcake in his/her mouth all at once. I wish I had gotten a picture of it.
Life has gotten pretty hectic around here. We had hoped to take care of several projects over the summer and take a family vacation but funds and time just didn't cut us any slack. We had $3,000.00 worth of unexpected expenses when a tree came down on the side of the house pulling the electric line with it. On the plus side it meant that we now have an updated electric box that is up to current codes.
It seems like there had been one thing after another but isn't that always the way?
It was the kids first real summer vacation since before we have always homeschooled. We tried to pack a ton of fun into those short weeks.. several trips to Six Flags and Hurricane Harbor, snow cones (for everyone but me because snow cones are not low carb), and a couple of movies. It was good.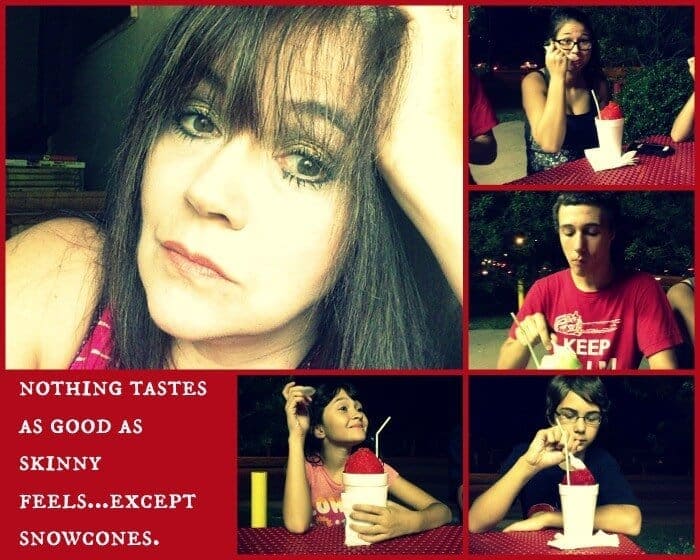 I am busier than ever. I have a lot of clients queuing up and that is a great feeling for sure. I am writing articles for hard copy magazines on a regular basis and I am starting to feel like a real writer. The thing is? All of the writing I am doing is focused on parenting, women's issues, and divorce recovery. I want so badly to continue to be a food writer (and of course I always will blog here and at my other food blogs!) but I seem to be pushed toward these other areas.
I was in church on Sunday and just kind of thinking about it. My desire has always been to encourage and help women. I love doing that when I am food blogging — I want my recipes and ideas to inspire you to try new things. Realistically a food writer isn't going to do much ministry as far as speaking to women who are struggling in difficult situations, you know? All this to say that I guess I am going to stop fighting and begin to embrace what I am being given. I guess you can call it blooming where I am planted, right?
If you want to keep up with those articles and that aspect of my writing you can friend me on my personal Facebook, Marye Audet-White. That's where I share links to the other articles I writer. Just add a note telling me that you want to keep up with my other articles so I know that your are part of the Restless Chipotle family. I try to be careful about adding people I don't know.
I probably should have been Jewish because September has always been the New Year to me. It's always ushered in changes, life adjustments, and opportunities. This September seems to be no different.
Back to the cupcakes. You can freeze these unfilled but once you put the pastry cream in them you'll need to keep them refrigerated and be sure to eat them within just a few days. If you are making these for something fancy I think they would be beautiful with candied violets on them.
Easy Boston Cream Pie Cupcakes
Print
Add to Collection
Go to Collections
Soft, tender vanilla cupcakes with a rich pastry cream filling and a shiny espresso glaze are delicious versions of classic Boston Cream Pie.
As an Amazon Associate I earn from qualifying purchases.
Ingredients
Cupcakes
1

cup

unsalted butter

,

, room temperature

2

cups

of sugar

2

large eggs

,

, room temperature

2

egg yolks

,

, room temperature

3

cups

all-purpose flour

1

teaspoon

baking powder

1

teaspoon

of baking soda

Pinch of salt

1

cup

of buttermilk

,

, room temp

2

teaspoons

of vanilla extract
Cream Filling
1

cup

milk

1

cup

half and half

1/2

cup

sugar

2

egg yolks

1

egg

1/4

cup

cornstarch

2

tablespoons

butter

1

teaspoon

vanilla extract
Glaze
3

cups

confectioner's sugar

1/2

cup

Hershey's Special Dark unsweetened cocoa powder

,

, or your favorite brand

1/3

cup

hot

,

,strong coffee (or hot water)

1

teaspoons

of vanilla
Instructions
Cupcakes
Preheat oven to 350F.

Beat butter and sugar on high until light and fluffy.

Add eggs and egg yolks one at a time, beat thoroughly after each addition.

Blend flour, baking powder, salt and baking soda, in a bowl.

Add vanilla to buttermilk

Add 1/3 of the flour mixture to the butter mixture and beat on low until mixed.

Add 1/2 the buttermilk.

Continue to alternate the flour and buttermilk, ending with the flour.

Scoop into cupcake papers about 3/4 full.

Bake for 18-20 minutes.

Let Cool
Pastry Cream
Whisk the milk, half and half, cornstarch, and sugar together in a microwave safe bowl.

Microwave, stirring every minute, until mixture thickens.

Whisk the egg and egg yolks together.

Stir in some of the hot mixture to temper the eggs and then carefully pour the eggs into the cream mixture, stirring constantly.

Microwave for another minute or two, stirring often to make sure the eggs don't curdle.

Remove from the microwave and add the butter and vanilla.

Cool.
Dark Chocolate and Espresso Glaze
Mix the Confectioners' and cocoa powder.

Add the coffee and vanilla and stir until smooth.

Add more coffee as needed to get the right consistency.
Assembly
Hollow out the cooled cupcakes.

Fill the centers with the pastry cream.

Smooth the hot glaze over the top.

Store in the refrigerator.
Notes
Do not freeze. Store in the refrigerator.
Tried this recipe?
Tag me!! @Marye_RestlessChipotle