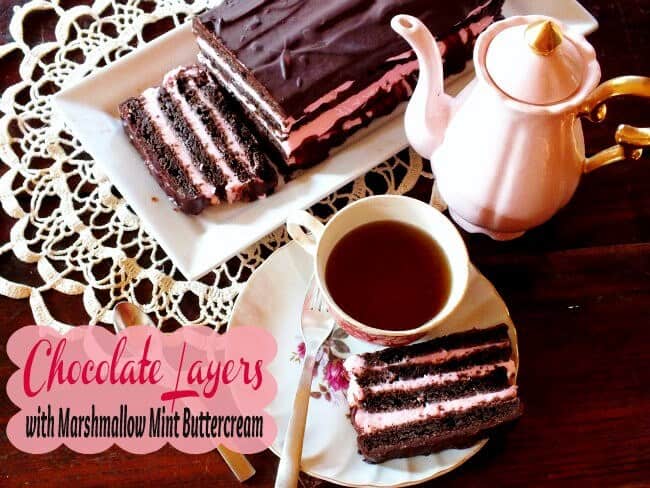 A few weeks ago Marc and I were grocery shopping and as we were wandering through the bakery section he spied a cake in one of the cases. It was a rectangular, chocolate layer cake with green filling between each layer and a fudge type frosting on top. When I looked at his face I just knew. For at least that moment in time I had been replaced in his heart… 
"That looks really good," he said slowly.
"I can make it."
He sighed. That phrase means that there is no way I am buying a chemical cocktail no matter how good it looks. It also means that, with my schedule, it could be weeks before the copycat item made it to the table. I decided to put it on the top of the list.

The Restless Chipotle Channel
Because I adore the man. What can I say?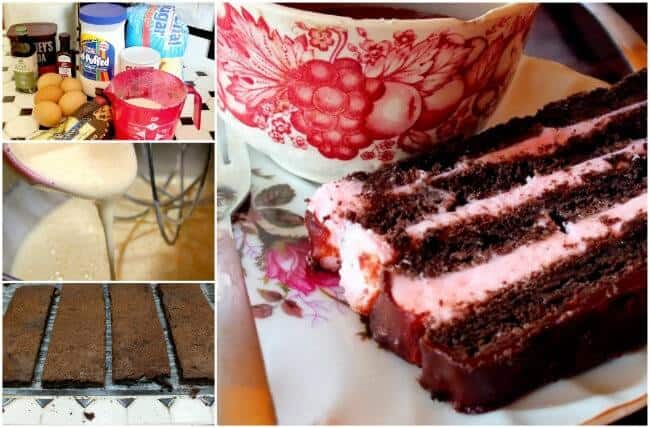 The cake is my rolled sponge recipe but I baked it just a little longer to keep the cake firm. I baked the batter in a large jelly roll pan because it gives each layer a crust. If you bake it in a loaf pan and cut layers you'll end up with one layer with a crust and the rest of the layers soft — too soft. Before you put it in the oven drop it onto the counter a couple of times to break up the air bubbles. Once the cake was baked I turned it out to cool and then cut it into even layers. For the best results you need to trim all of the edges about 1/2 inch in to get rid of any really hard parts.
So simple!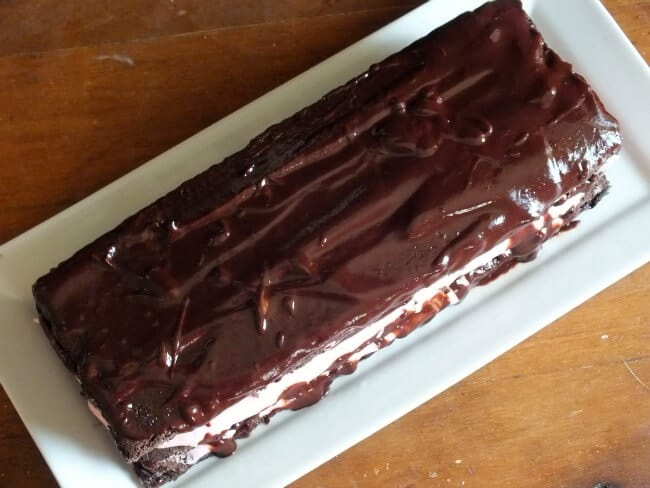 The buttercream is light and minty. I used pink coloring because I just think it looks better. You spread it as evenly as possible between the layers and then cover the top layer with a bittersweet chocolate buttercream. It is really important to chill this cake well before you plan to serve it or the filling will mush out when you cut through the cake.
With the shiny chocolate topping and the blush pink filling this makes an especially great cake for a tea or Mother's Day.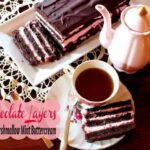 Print Recipe
Clickable Table of Contents
hide
Deep Chocolate Layer Cake with Marshmallow Mint Buttercream
Dark chocolate layers with a fluffy marshmallow mint buttercream in between make a beautiful cake for any celebration. Use pink coloring to make this for Mother's Day
Ingredients
Cake
5

eggs

2 1/4

cups

of sugar

2

teaspoons

vanilla

2

teaspoons

baking powder

1 3/4

cup

flour

1/2

cup

Hershey's Special Dark cocoa
Marshmallow Mint Buttercream
1

cup

room temperature butter

1

(7-ounce) jar marshmallow creme

2

cups

powdered sugar

2

teaspoons

mint extract + 2 tablespoons heavy cream OR 2 tablespoons peppermint schnapps

Food color as desired