Yeah! for the crockpot. I don't think there is another appliance that makes meals quite as easy to create when you have 1500 other things to do.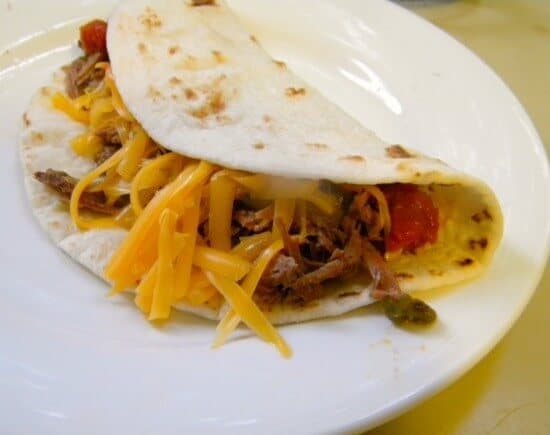 Tacos are most often made with ground beef, at least in the United States. They make a quick, easy meal that helps to stretch the budget. The thing is that if you are only making them with ground beef you are missing out on some pretty amazing flavors. I love this shredded beef version because it doesn't feel like fast food. You just get the beef going for a good eight hours and when you are ready to eat you shred it with a fork and put it in a soft tortilla. Add your favorite toppings and it's a go.
Recipe: Crock Pot Shredded Beef Tacos
Summary: shredded beef with a Southwestern flavor
Ingredients
3 lbs of lean beef roast
1 cup red wine or beer
1/4 c chopped cilantro
1/2 c canned chiles
1 tbs chili powder
1 tsp smoked paprika
1 1/2 tsp salt
1 cup chopped onion
1 cup chopped bell pepper
2 tsp cumin
24 flour tortillas
avocado
tomatoes
salsa
onions
shredded cheese
sour cream
Instructions
Place first ten ingredients in slow cooker and cook for 8-10 hours.
Shred the beef and add it to the warmed tortillas with toppings of choice.
Cooking time (duration): 8 -10 hours
Number of servings (yield): 12 or more

Meal type: dinner
Culinary tradition: USA (Southwestern)
My rating: 4 stars:  ★★★★☆ 1 review(s)
Nutrition Information:
serving size 1/12th of the recipe
Calories 239
Fat 7.2
Carbs 2.8
Fiber 1.0
Protein 34.8