There is almost nothing better than really good homemade onions rings — and these are really good.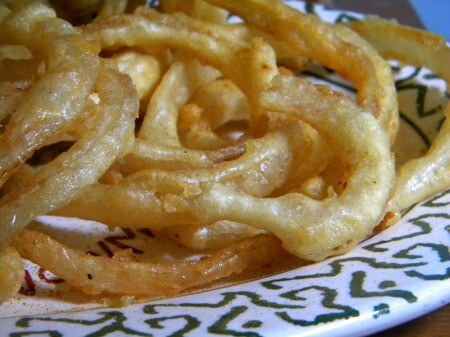 This is more like a tempura or fritter batter. I prefer it to other kinds of onion ring batter because it is lighter and the flavor of the onion really comes through. It is very crispy but you don't want to try to make them ahead of time because they get soggy. You can't freeze them, either.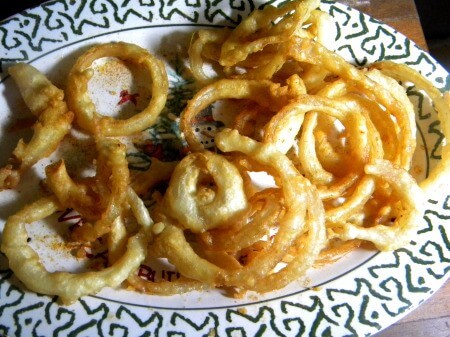 Secrets to perfect onion rings every, single time-
Make sure everything in the batter is icy cold. In fact, put ingredients in the freezer for 15 minutes or so before making.
Do  not over beat the batter. You want a quick mix so as not to develop the gluten
Use peanut oil if you are not allergic.
Use Vidalia or 1015 onions.
Let each person add their own salt
Drop the rings into the oil one at a time and never over fill the deep fryer.
Let them drain well before serving but you must serve them HOT.
If there are left overs compost them or give them to the chickens. These do not reheat well and they are nasty cold.
If you have leftover batter you can keep it in the fridge tightly covered. It will thicken up so add about 2 ice cubes to it before you use it next time to thin it out. Allow the ice to melt and mix it in.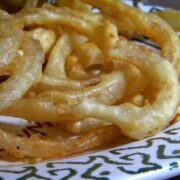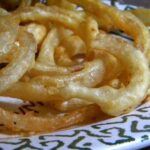 Awesome Onion Rings
Print
Save
Go to Collections
Light crispy onion rings that come out perfect every time. You'll never go back to the ones at the local fast food spot.
As an Amazon Associate I earn from qualifying purchases.
Ingredients
Instructions
Mix the dry ingredients

Beat in the ale

Beat the egg white until it is foamy and fold it in quickly

Dip an onion ring in the batter. The batter should be about the consistency of very thick cream. It should coat and cling to the onion.

Drop it in hot oil preheated to 370F and fry until golden. The rings should float to the top of the oil within seconds after being added to it. If not they may be stuck on the bottom. Just gently move them with a long fork or something.

Hold the basket above the oil for a few seconds to drain.

Serve immediately
Notes
Nutrition information does not include the frying oil
Sign up for the emails and never miss another recipe!!
We'll never share your email or send you spam. Pinkie swear.
images:marye audet