These delicate sugar cookies are rich and delicious and not too sweet. The cream cheese gives them a little tang but most of the flavor comes from what you top the cookie with. The texture is buttery and crumbly – they would be a true butter cookie if not for the cream cheese.
One of the things I love about these is that they are versatile. You can top them with colored sugar, chocolate, nuts, or frosting. I topped some of them with brown sugar and pecans and then drizzled with a little chocolate. The possibilities are endless!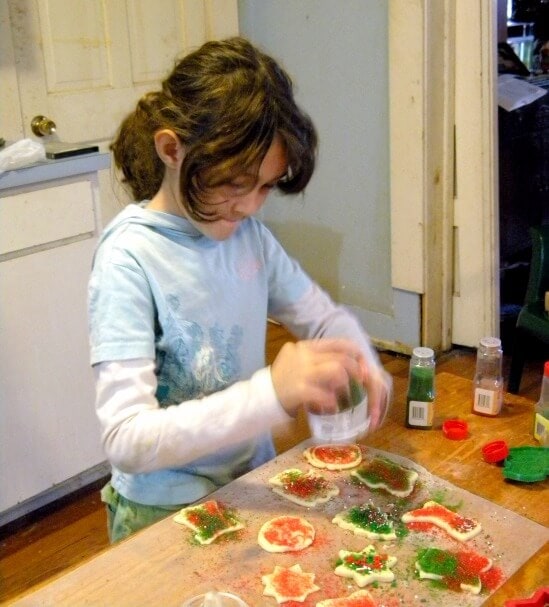 They are easy enough to work with that the kids can help. Kyrie had a great time adding colored sugar to a few of the cut outs. Also, these would make great sandwich cookies… The flavor of the cookie is delicate and it would compliment almost any filling.
Cream Cheese Sugar Cookies
1/2 cup butter, softened
3 ounces cream cheese, softened
2 Tbs. sugar
1 cup flour
Preheat the oven to 375F.
Mix the butter and the cream cheese.
Blend in the sugar and flour.
Chill.
Roll out on a floured surface 1/8 inch thick.
Cut with cookie cutters and add sugar and sprinkles as desired.
Bake for 8-10 minutes.
3 dozen depending on size