I like to experiment with food in spring and summer but autumn and winter are for old fashioned comfort foods as far as I am concerned. You won't see me doing a lot of fancy things… just good old stick to your ribs home cooking, Restless Chipotle style.
This is the time of year when I pull out my favorite vintage cookbooks and plan meals that Mrs. Cleaver would have recognized from her childhood. To me, that is the essence of American cuisine; those meals that were placed on tables from 1920 to about 1970. Yes, before Julia (as much as I love her) and before the Galloping Gourmet introduced us to the pleasures of European cooking.
Corn fritters are among those recipes. In fact, I have several recipes for corn fritters that are all about the same and they may be called corn cakes, corn fritters, or corn oysters. They are often dropped into the fat by the spoonful making them traditionally shaped fritters.
I chose to pat mine out, add bacon, and breadcrumbs for both flavor and texture. These are slightly sweet, with distinct corn flavor. I have served them for breakfast with maple syrup as well as for dinner with any kind of meat.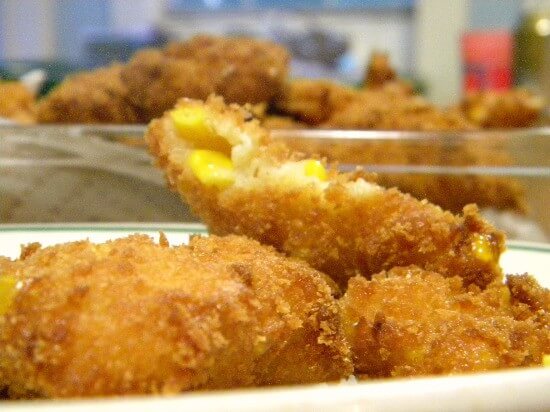 Ingredients:
1 cup flour
1 teaspoon baking powder
1/2 tsp baking soda
1/2 teaspoon salt
pinch of cracked black pepper
1 tablespoon sugar
1 egg, lightly beaten
1/2 cup buttermilk
6 slices bacon, fried crispy, crumbled, and 2 tablespoons of fat reserved
2 tablespoons bacon fat
2 cups corn kernels, fresh or frozen (thawed)
Panko crumbs
Peanut oil
Instructions:
Heat oil in a heavy pot or deep fryer to 365 degrees F
In a medium bowl, combine flour, baking powder, baking soda, salt, pepper, and sugar.
Beat together egg, buttermilk, and bacon fat; stir into flour mixture.
Fold in the corn kernels and bacon.
Batter should be very thick. Add a little more buttermilk or a little flour to get the right texture.
Drop by generous tablespoonfuls on a plate of Panko crumbs. Pat gently to about 1/4 inch thick. Flip to get crumbs on all sides.
Slip into hot peanut oil (or vegetable oil – I prefer peanut) and fry until golden on both sides, flipping once.
Drain and serve hot.
6-8 servings