These copycat petite vanilla scones are an improvement over my last (and very good) attempt at recreating this Starbucks favorite.
Everything these days is new and improved. Almost daily name brands boast that they are new and improved and most of the time, from what I can see anyway, they really only change the packaging.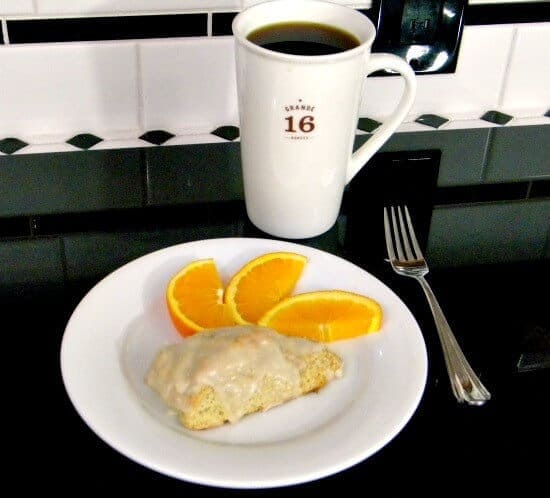 I guess food bloggers are somewhat the same. Every once in awhile I have to go back over old recipes and see if I can make them better. In this case, the recipe was awesome but I hated the image because food photography is an ever evolving ability for me. Since I had to bake them to get new images I decided to see if I could make them better.
I think I did. If you are a fan of the old CopyCat Vanilla Scone recipe you can try this one and decide which you like better. I think these petite vanilla scones have an almost donut flavor – and they certainly smell like donuts while they are baking. Nothing wrong with the house smelling like a donut shop first thing in the morning, is there?
I don't think so.
Traditionally, Starbucks cuts theirs in triangles. You can do that or you can just cut them in circles with a cutter. Whatever you want to do. If you decide on triangles you have another decision to make. Do you want the sides soft or crusty?
If you want the sides soft then put the circle of scone dough on a baking sheet and cut into 12 wedges, separating them just slightly. If you like a more crusty scone, all the way around, just put the wedges on the cookie sheet separately.
What's different? I used buttermilk for these and changed the glaze up a little. I added more vanilla in the scone and I brushed the tops with cream before baking. I cut the butter in the scone just a touch and added some buttery goodness to the glaze. honestly, not a lot of differences but enough to make them a bit more vanilla, a bit more tender. Just a little different.
And I shaved 20 calories and almost 2 grams of fat off them, if that matters to ya.
One of these and a cup of coffee is really all I need for a quick breakfast at my computer. The kids like them as a breakfast bread nestled up next to some scrambled eggs and crispy bacon with a glass of orange juice within reach. They go great with Earl Grey tea, too. Teavana does an Earl Grey Creme that is perfection with one of these petite vanilla scones.
Quick Cream Tea Menu
Vanilla Scone
Clotted Cream
A spoonful of strawberry jam
A ripe strawberry
A cup of Earl Grey Creme Tea
Add a Jane Austen novel, a comfortable couch, and a thunderstorm and you have the makings of a perfect afternoon.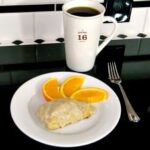 CopyCat Petite Vanilla Scones -The New, Improved Recipe
Print
Add to Collection
Go to Collections
Tender, intensely vanilla scones that rival the ones at Starbucks... and win.
As an Amazon Associate I earn from qualifying purchases.
Ingredients
2

cups

all-purpose flour

2

teaspoons

baking powder

1/2

teaspoon

baking soda

1/2

teaspoon

salt

1/2

cup

sugar

,

, or vanilla sugar

4

tablespoons

organic

,

, unsalted butter, cold

3/4

cup

buttermilk

1/4

cup

heavy cream

1

large egg yolk

2 1/2

teaspoons

vanilla extract

Scrapings from a 1/2 inch piece of vanilla

1 1/2

c

powdered sugar

1

tsp

vanilla

1

tablespoon

unsalted butter

,

, melted

2 - 4

tablespoons

heavy cream

,

(enough to make a glaze)
Instructions
Mix the buttermilk and cream

Drop the vanilla bean into the buttermilk-cream mixture and heat to a simmer. Let cool.

Mix the flour, baking powder, baking soda, salt, and sugar together

Grate the cold butter into the flour mixture

Rub the cold butter into the dry ingredients until flour is crumbly.

Remove vanilla bean from buttermilk.

Cut in half and scrape the vanilla pulp into the buttermilk

In a separate bowl, whisk together the cooled buttermilk mixture, egg yolk, and2 1/2 teaspoons of vanilla extract until blended.

Add to the flour mixture and stir with a fork until dough forms a ball.

Dough will be sticky.

Place the dough onto a silpat lined baking sheet and pat into a disk about 1-inch thick.

Cut the dough into wedges but do not separate.

Let stand twenty minutes, so the gluten can relax.

Brush with heavy cream.

Sprinkle with the vanilla sugar

Bake for 15 minutes at 400F or until golden.

Meanwhile mix the confectioner's sugar, 1 tsp vanilla, melted butter, and cream until it is a thick glaze.

Spoon over warm scones
Notes
For scones with crusty sides separate the wedges by an inch or so. For scones with tender sides cut the dough round on the baking sheet and separate the wedges only slightly
Tried this recipe?
Tag me!! @Marye_RestlessChipotle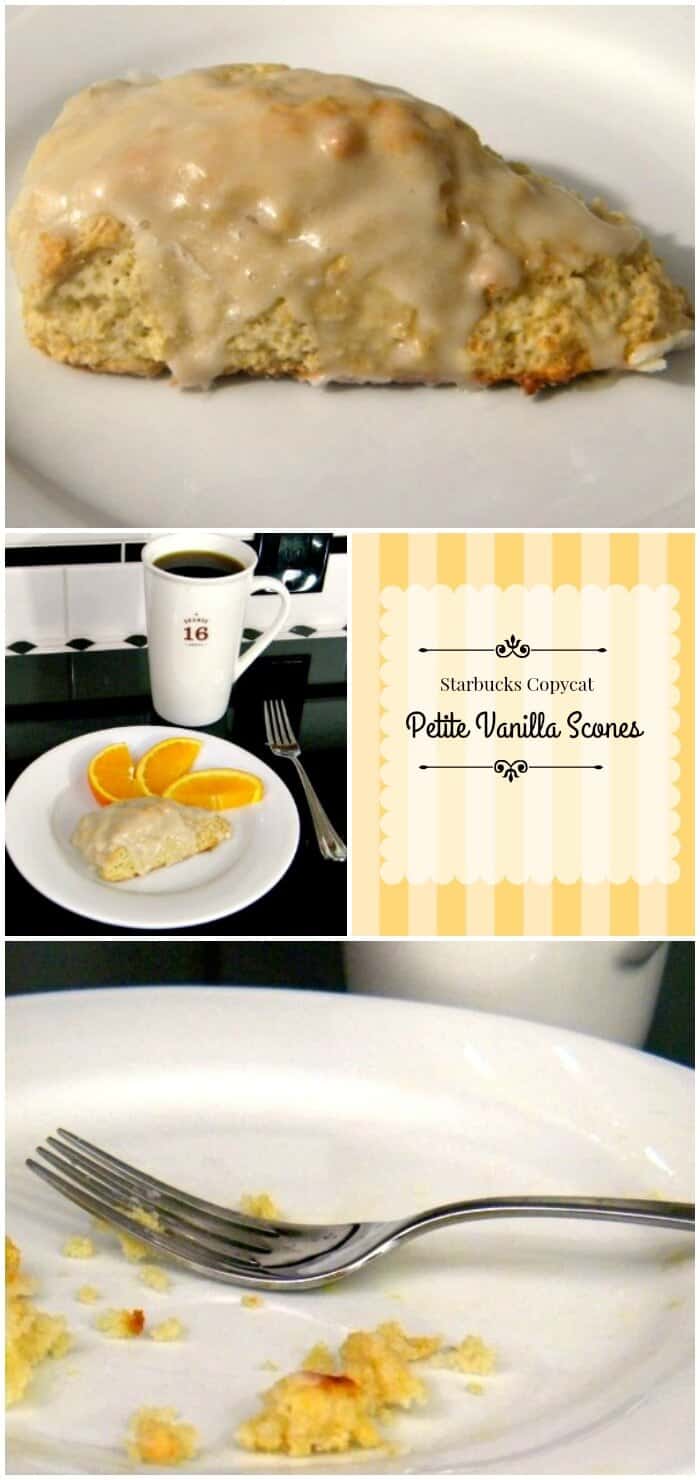 Let's Keep in Touch!