Moist, dense chocolate and a gooey rich ganache make these copycat Cosmic Brownies even better than the original. Colorful M&M candies add flavor, texture and cosmic color, man. Groovy.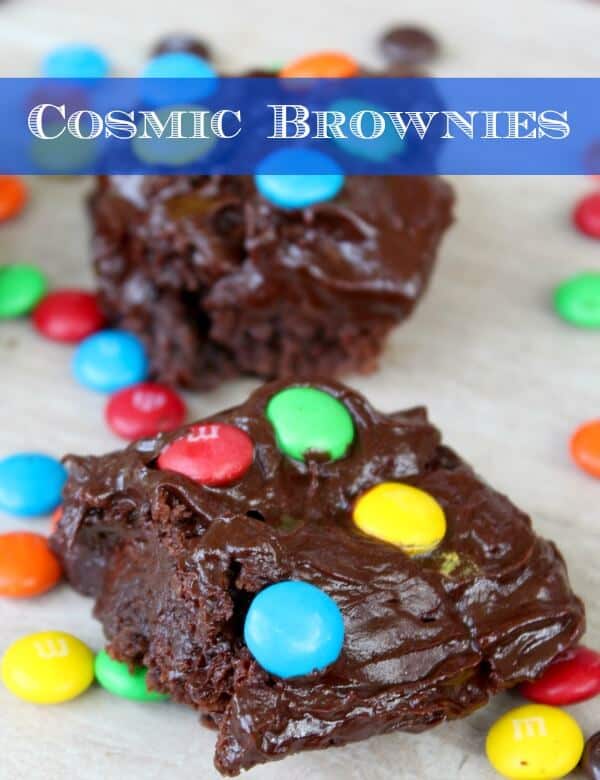 One reason that these are better than the original is that a thick, chewy brownie that is only hours old is always going to be better than one from a box on the grocery store shelf. That is a no brainer. The other reason is, puh-leez, homemade versus a big commercial kitchen? Again, no brainer.
And now for the honestly. My kids love these things. It's like Little Debbie is one of Ulysses's Sirens or something, drawing them in closer to the snack aisle.
Do you hear that, Mom?
No, what?
That song... that voice... It's Little Debbie calling to me.
No really, y'all. It gets that bad.
Summer is upon us. My kids are not out of school yet, not until June 8, but I have already resolved to create so much junk food that they love me enough to want to clean their rooms, take out the trash, and give me unending foot rubs. We'll see how that works. I have a list of stuff that I want to copy so stay tuned.
So, the important question: What is a Cosmic Brownie?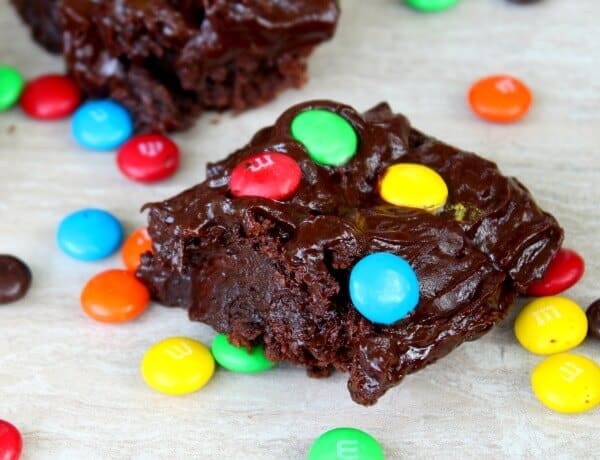 They are brownie put out by Little Debbie snack cakes but not just any brownie. They have colorful, candy colored chocolate chips on top so they are FUN. Plus, who can resist something called Cosmic Brownie? Not this Baby Boomer. I originally created this recipe for Made From Pinterest but have done a little tweaking here and there since then and decided to post it here since the agreed upon time had passed.
Just an aside -- I love working with the girls over there. So much fun to hang with the cool kids now and then.
Anyway.
These copycat Cosmic Brownies really aren't any more difficult to make than your regular brownies. I browned the butter to create an extra zap of nutty-caramelly flavor. I also used Hershey's Special Dark cocoa to add depth to the chocolate. You will need a glass of coffee or milk, no doubt about it.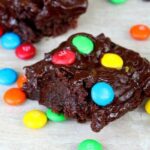 CopyCat Cosmic Brownies
Print
Add to Collection
Go to Collections
These copycat Cosmic Brownies are moist, chewy, dark chocolatey perfection just like the ones at your grocery store -- well, except better.
As an Amazon Associate I earn from qualifying purchases.
Ingredients
For the Brownies
3/4

cup

unsalted butter

,

(11/2 sticks), melted and heated until golden brown

2

eggs

1-1/2

cups

granulated sugar

2

teaspoons

vanilla extract

3/4

cup

unsweetened extra dark cocoa powder

3/4

cup

all-purpose flour

1-1/2

cups

dark chocolate chips
For the Ganache
11/2

cups

bittersweet chocolate chips

1/2

cup

heavy cream

11/2

cups

M & Ms or M & M minis
Instructions
For the Brownies
Preheat oven to 350F.

Grease a 9x9-inch baking pan.

Melt the butter in the microwave.

Set aside to cool.

Mix the eggs, granulated sugar, and vanilla.

Whisk until smooth.

Whisk in the butter.

Add the cocoa powder and beat until it is smooth.

Add the flour and blend quickly.

Turn batter out into prepared pan.

Sprinkle the top with the 11/2 cups chocolate chips.

Bake for 25 minutes, or until top has set but is still moist.

Allow to cool completely.
For the Ganache
Heat the cream in a microwave save bowl until bubbly.

Stir in chocolate chips until smooth.

You may need to microwave another minute or so to get it smooth.

Spoon the ganache over the cooled brownies, smoothing out.

Sprinkle with the M &Ms.

Refrigerate for a couple of hours until set if you want them to be pretty.
Sign up for the emails and never miss another recipe!!
We'll never share your email or send you spam. Pinkie swear.
If you liked these CopyCat Cosmic Brownies you may also like...
Fudgey M&M Brownies with Peanut Butter Swirl
Samoa Brownies Southern Plate
Irish Cream Brownies Wonky Wonderful