This Salsa Verde Chicken Mac and Cheese recipe makes a quick and easy weeknight meal. A creamy salsa verde queso covers rotini pasta and bite sized pieces of chicken breast. This Tex-Mex skillet dinner is perfect for those nights when you need dinner on the table in less than 30 minutes.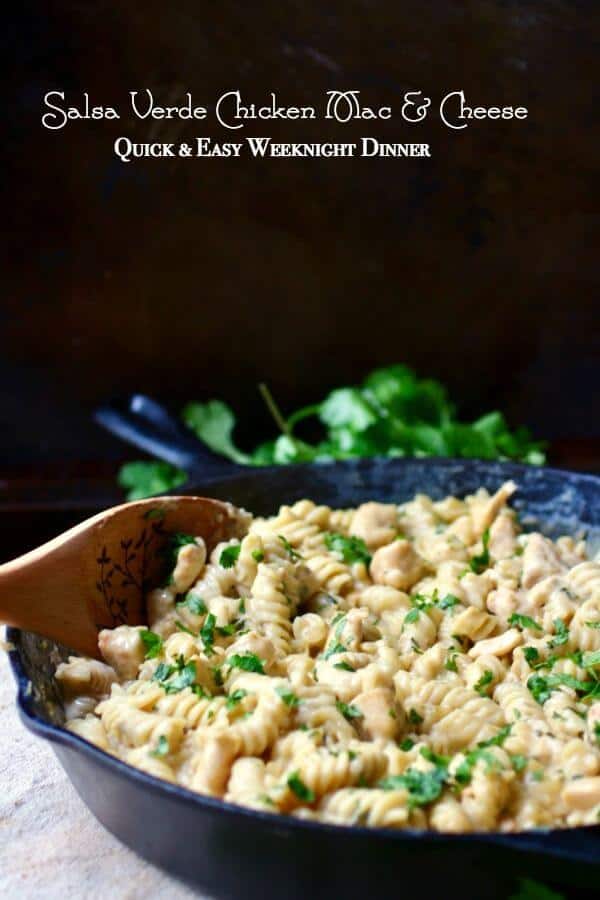 Quick and Easy Weeknight Meal
It gets pretty busy around here sometimes, especially around this time of year. For the longest time I tried to be a good food writer and only make fancy meals. I tried to convince myself it was part of my job and it was expected. The only thing that really came out of all of that is that I was exhausted, the kids didn't eat it anyway, and we ate out a lot.
Let's be real. Whether you work at an office downtown or you work at home there's rarely time to fix fancy schmancy dinners during the week and usually not on the weekends either. I'd be lying if I said we ate lasagna made with homemade pasta, homemade ricotta, and marinara sauce made from the tomatoes we grew in our garden. If you think that's how it is here you're wrong.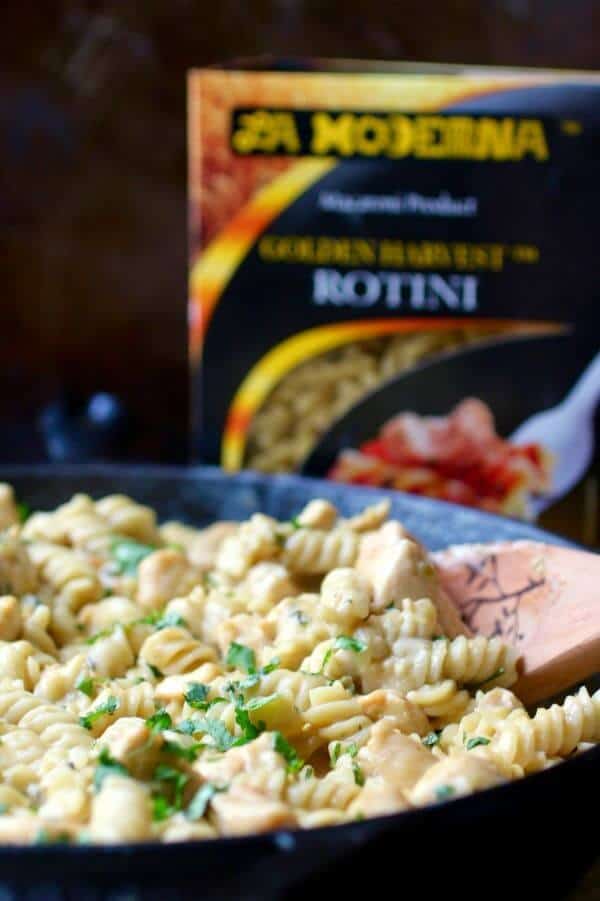 Food Writers Are Real People
I think that sometimes food writers and bloggers come across like supermen and superwomen. We post mouthwatering images and you think we're feeding our families that way every night. What you don't see is our kids in the background eating hot dogs and boxed macaroni and cheese while we're frantically trying to get a good shot of a cake as the "good light" is fading. You don't see us taking our crab risotto next door to the neighbors because everyone turned up their nose at it in favor of Whataburger.
Ok... I'd choose Whataburger over crab risotto, too. Just sayin'.
The truth is we're not different than you. We need things that we can throw together fast, too. For example, this is one of my go to recipes. I've been rushing all week. I had a couple of client projects that I was working on plus my husband's birthday AND we were having his birthday party on Sunday. Add to that a Veteran's Day program at my daughter's school (I'm a vet) that took most of a morning and you've got chaos.
Or I do.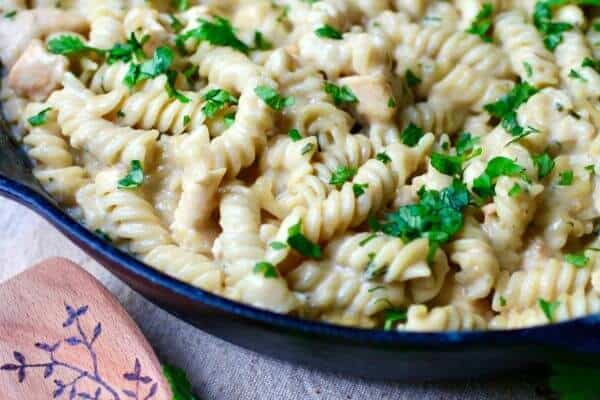 Tips
Rotini is a fun spiral shape which makes it great for kids but it also holds the sauce better than smooth shaped pasta. I think it works especially well with heavier sauces like the one in this mac and cheese recipe.
Cooking the pasta is the longest step if this dish. You could speed things up by cooking the pasta the night before and using cooked chicken, too. It would cut your time in half -- so about 15 minutes total.
If your family likes spicier foods substitute pepper-jack cheese for all or part of the cheese called for in this recipe.
Using evaporated milk (not sweetened condensed kind) is the key to keeping this sauce ultra creamy. You can substitute milk if you like but it will change the texture of the sauce.
Cook the pasta past the a la dente stage for this particular dish.
You'll need to add milk when warming leftovers up. The pasta will soak up some of the sauce when it's stored.
Keep ingredients for this dish on hand for when you need something quick.
You may also like my old fashioned baked macaroni and cheese recipe!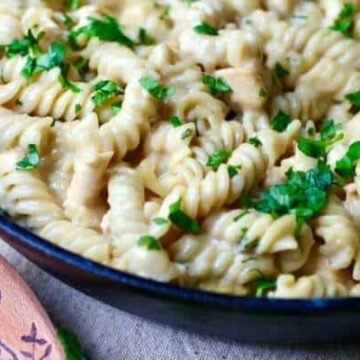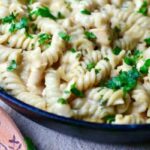 Salsa Verde Chicken Mac and Cheese Recipe
Print
Save
Go to Collections
Tender chicken and rotini pasta combine in a creamy rich cheese sauce flavored with spicy salsa verde. This is a quick and easy weeknight meal that the whole family will love!
As an Amazon Associate I earn from qualifying purchases.
Ingredients
Instructions
Cook the pasta in boiling, salted water until done.

Drain.

Set aside.

Season the chicken with salt, garlic powder, and smoked paprika.

Set aside.

Heat the olive oil in a heavy frying pan.

Add the chicken and cook until the chicken is 160F in the center.

Remove the chicken from the frying pan and set aside.

Melt the butter in the heavy frying pan.

Add the flour and cook, stirring constantly, for 2 minutes.

Add the evaporated milk and whisk until smooth and no lumps remain.

Simmer, stirring constantly, until the mixture thickens.

Add the cheese and stir until smooth.

Add the salsa verde and cumin.

Taste and adjust seasonings.

Stir the chicken into the sauce.

Finally stir in the La Moderna rotini pasta and the cilantro.

Sprinkle with more cilantro before serving.
Nutrition Facts
Calories:
587
kcal
|
Carbohydrates:
55
g
|
Protein:
30
g
|
Fat:
27
g
|
Saturated Fat:
16
g
|
Cholesterol:
99
mg
|
Sodium:
849
mg
|
Potassium:
550
mg
|
Fiber:
2
g
|
Sugar:
10
g
|
Vitamin A:
952
IU
|
Vitamin C:
3
mg
|
Calcium:
482
mg
|
Iron:
2
mg
Sign up for the emails and never miss another recipe!!
We'll never share your email or send you spam. Pinkie swear.