Buttery brownies that are chewy and rich are my favorite. These are just exactly that but with the addition of a crispy, pecan filled meringue topped with vanilla sea salt. They are crispy chewy salty sweet yumminess and best of all they are easy to make. Wait…. did I say vanilla sea salt?
Yeah I did. I had never heard of it before but when we were in Cozumel in May I saw it and picked some up. OH MY! It is delicious. It's flaky, delicate salt like Fleur de Sel but it has finely chopped vanilla beans in it. It gives the salt an really distinctive flavor. I am experimenting with it right now — obviously. Oh y'all. We had the best time! As you know I had a big client project in January. I had been praying for about four years that we could do a cruise with as many of the kids and grandkids as possible and that project made it possible. My son and daughter-in-law are part of the Air Force Thunderbirds team so they weren't able to go and one of my other sons is in the Air Force in Kuwait and he wasn't able to go but the rest of us (TWELVE people) boarded Royal Caribbean in Galveston and headed for a week in the Caribbean (Cozumel, Grand Cayman, Jamaica). We booked a family suite and an inside cabin across the hall. My daughter and son-in-law took one bedroom of the suite, we took the other, and the little kids slept in the living room. We put the teens across the hall.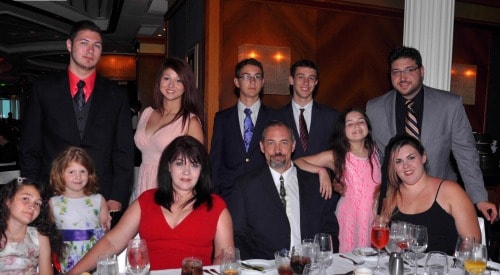 I can't tell you how much it blessed me to see everyone relax and enjoy the week. My husband booked an excursion for all of us where we went to a sandbar and swam with Manta Rays…that was cool but also kinda creepy and weird. Kyrie, my youngest child, kept getting back on the boat because she was "creeped out". Eventually she got used to them and enjoyed herself. We finished up with a day at the beach at Galveston before heading home to Dallas. Good times! I don't think any of us will forget it anytime soon. There are some pictures on Facebook if you want to take a look. 🙂 Anyway, I came back to reality with a jolt. I had a backup of work, I got sick, and my blog broke and took over a week to fix. Blah. But… I also came back relaxed, full of memories, and so thankful for my family. I am hoping to have a get-away with just the husband around our anniversary in November but we'll see.
So, back to brownies. Yummy, buttery brownies with all kinds of flavor bursting out of them with every bite. This is a simple, basic brownie recipe with one caveat. If you make them on a humid day the meringue may get soft and sort of chewy. It's still good — just a little different. Leaving them in the oven with the heat turned off after baking helps the meringue cook all the way through. Leave them about an hour but longer probably would be fine, too. You can get the (affliate link) Vanilla Bean Flake Sea Salt on Amazon or you can use Fleur de Sel if you have that. If you have neither? Just leave it off — these brownies will be awesome good anyway.
Buttery Brownies with Crispy Pecan Meringue and Vanilla Sea Salt
Print
Add to Collection
Go to Collections
RIch, buttery brownies with a crispy pecan meringue and a sprinkle of vanilla sea salt are a deliciously different way to feed your chocolate craving.
As an Amazon Associate I earn from qualifying purchases.
Ingredients
Brownies
Meringue Topping
3

egg whites

1/4

teaspoon

cream of tartar

1/3

cup

of sugar

,

, or a little more if you like it sweeter

1/2

cup

finely chopped

,

, toasted pecans

1

teaspoon

vanilla sea salt
Instructions
Brownies
Preheat the oven to 325F

Grease a 9x 9-inch pan.

Whisk cooled melted butter, sugar, eggs, and vanilla together until smooth.

Mix the dry ingredients.

Stir in the dry ingredients to the egg mixture until well blended but do not over beat.

Spoon into the prepared pan.
Topping
Beat the egg whites and cream of tartar until they are foamy.

Turn the mixer to high speed and add the sugar slowly.

Beat until meringue is glossy and you an make stiff peaks with a spoon.

Spread the meringue onto the brownie batter - be careful to take the meringue all the way to the sides of the pan or it will shrink.

Sprinkle with the sea salt.

Bake at 325F for 40 minutes.

Turn the oven off and leave the brownies in (no peeking) for at least an hour.

Cut and serve.
Notes
If you make these on a humid day the meringue may get a little soft.
Sign up for the emails and never miss another recipe!!
We'll never share your email or send you spam. Pinkie swear.
If you like Buttery Brownies with Crispy Pecan Meringue and Vanilla Sea Salt you may also like:
Cookie Dough Brownies Restless Chipotle
Double Decker Brownies Restless Chipotle