After over 50 years of working with yeast dough, and with a lot of trial and error, I've collected a few favorite bread baking supplies. These are the tools and equipment that I turn to again and again when I am making one of my favorite bread recipes.
Sometimes it's the little things that make the difference between a fabulous loaf of bread and one that needs a little help. You don't know what you don't know, right?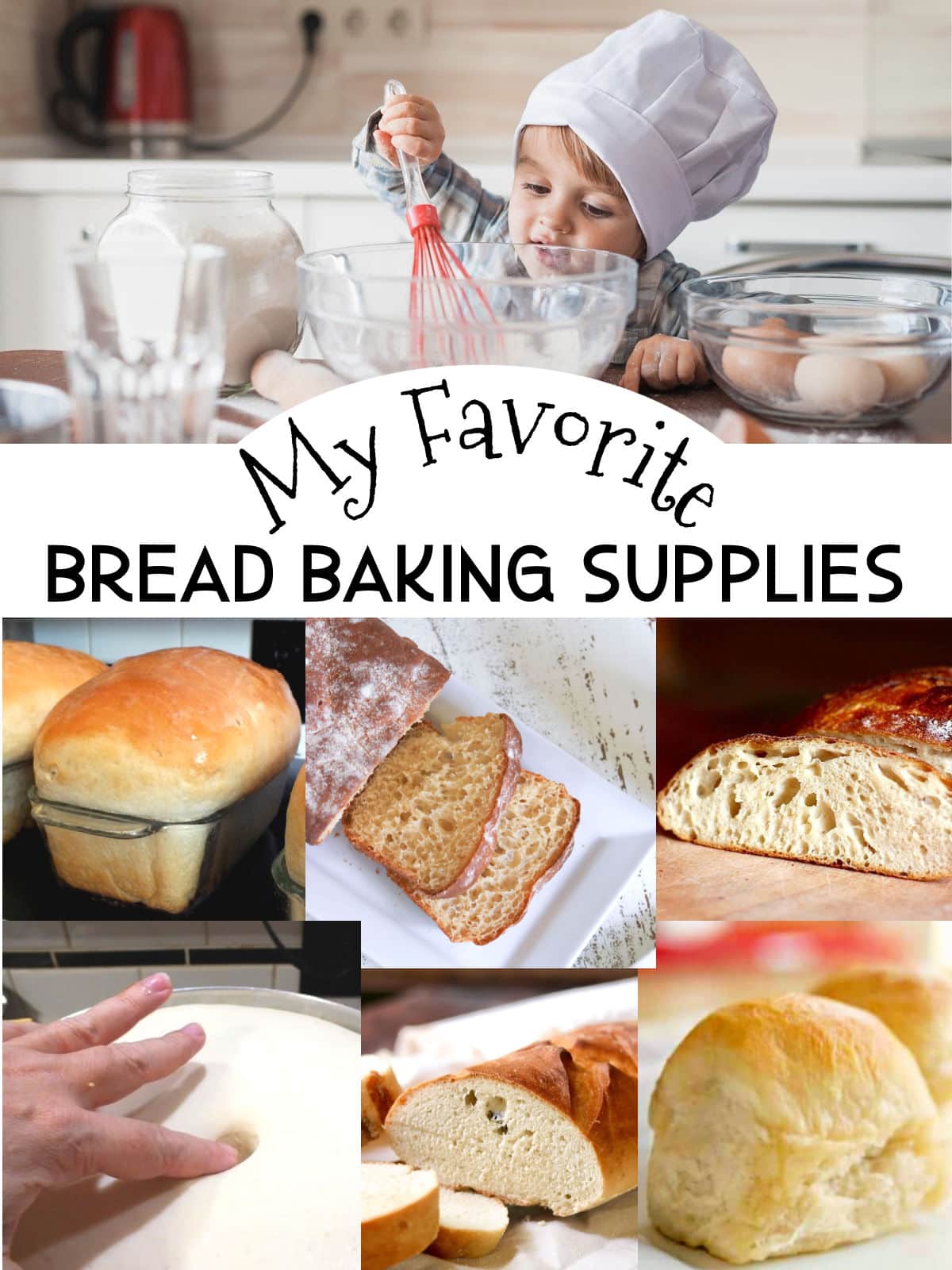 Here are some of my all time favorites - things that I swear by for making the best tasting, most beautiful breads possible. And, since the yeast dough recipe category is one of the most popular here on Restless Chipotle I'd say that they work!
As an Amazon Associate I earn from qualifying purchases.
I love this bright red baguette baker by Emile Henry! It's made of all natural materials and creates that thin crispy crust we all love!
Pain de Mie or Pullman Loaf is one of my favorite breads. It's as perfect for thick French toast as it is for your kids' peanut butter and jelly sandwiches. You'll need this pan to make it.
I use an instaread thermometer like this one to make sure that the liquids are the right temperature and that the center of the bread is done. You'll find lots of reasons to use this.
When my Bosch finally gave out after 10 years it was replaced with this Wondermill Revolution Kitchen Mixer. It's the best if you're making yeast dough very often - especially if it's whole grain.


Check out my baking store online for even more bread making supplies! Just click the button above.
It's no secret that I like glass bread pans! There's no particular reason - I just like them. You might also like these cast iron pans - especially if you like a crispy crust. You'll learn what products you like best as you get more experience!
Another bread making gem from Emile Henry! I make my crusty artisan bread in my cloche that's just like this. It comes out perfect every time - and it's pretty! This company has amazing artisan bread baking supplies!!
The hardest thing about homemade bread, as far as I'm concerned, is slicing it thinly! I'd like to get 12 slices from a loaf and I'm lucky to get 6 or 8! This bread slicer helps you create perfect slices.
A food scale makes a big difference - especially when you are making sourdough starters. There are a thousand and one uses for a kitchen scale - and this one is awesome!
This is my favorite bowl for making bread. It's big enough for a large batch of yeast dough plus I can mark on the sides with an erasable marker to measure how much it's risen.
If you're going to make sourdough bread you'll need this starter jar. Not only is it BIG but it has a magnetic thingie that goes on the side so you can keep track of how much it's rising and how active it is. Essential!
/>
A baker's lame (prounounced - lohm to rhyme with mom) is basically a razor blade on a stick that's used to make those fancy designs in your bread. Not totally necessary - a sharp knife will do - but super fun to have.
Now all you need is a recipe to get started! Here are some favorites!