This is a sponsored post written by me on behalf of Tyson Foods, Inc. All opinions are entirely my own.
Welcome Fall with these cozy bourbon apple tarts covered in a sweet-salty bacon streusel. A buttery, flaky crust holds tender apples that have been mixed with cinnamon, cloves, and bourbon. Then they're all covered with crumbly, crispy, smoky, bacon streusel.
For this recipe you'll need: Jimmy Dean® Bacon, a variety of apples, brown sugar, cinnamon, cloves, bourbon, butter, salt, flour, and sugar

The Restless Chipotle Channel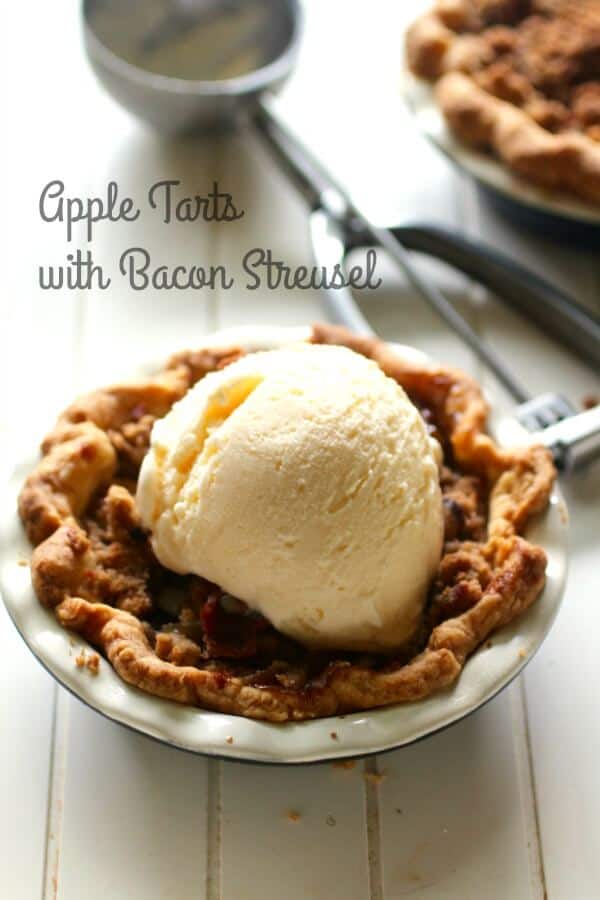 The rain and cool weather continue here in Dallas making it seem more and more like late October instead of mid-August. Seriously, we're wearing sweaters as I write this. With this kind of weather it's hard for me to think of ice cream and fresh fruit. It's definitely putting me in the mood for pies and cakes!
When I was little my grandfather used to make me breakfast when we visited. We were both early risers, enjoying the quiet as the sky outside the window turned from black to purple to pink. My favorite breakfast was a pie that he made with apples and sausage. He said that the sausage made it breakfast food and I wasn't going to argue.
It's been decades since I had that pie but the other morning it was camped out in my brain. I thought about it so much I  could almost taste that apple pie so I decided to try to replicate it.
Walmart is like four minutes away. Off I went. Once in the store I headed over to pick up the sausage when I stopped short. Among all of the meats I saw Jimmy Dean Bacon.
What?!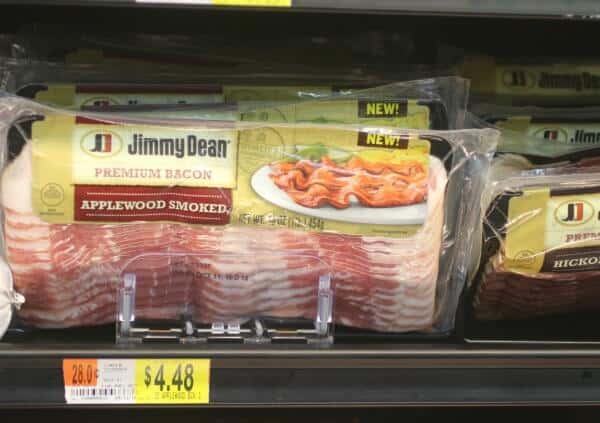 I pretty much always buy Jimmy Dean sausage but I somehow missed the fact that they also made premium bacon. All of a sudden my plan changed a little bit and I decided to make the pie into bourbon apple tarts with bacon. A bacon streusel?
Oh yeah. Sorry Grampa!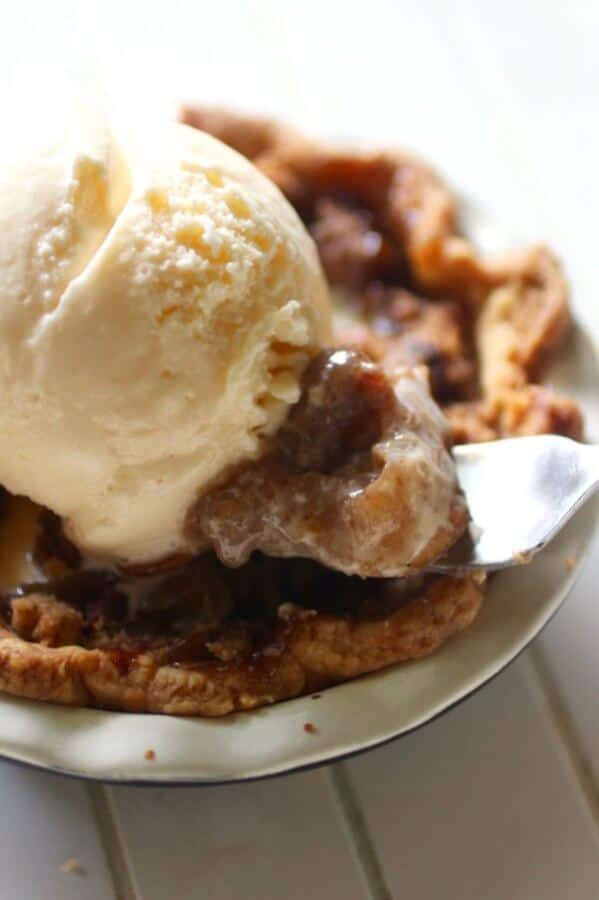 I chose the applewood smoked variety of Jimmy Dean bacon because I thought the hint of apple flavor would complement the apples in the filling. It absolutely did! You can choose the Jimmy Dean hickory smoked bacon if you prefer it.
No judgment here.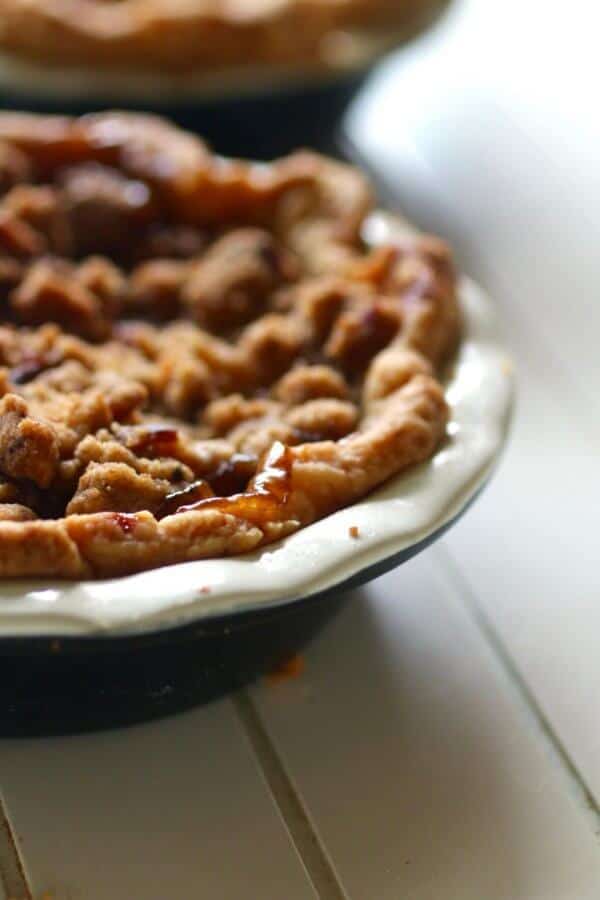 The best way to make an apple pie filling is to combine several types of apples. There's something about using a variety  that makes the flavor more intense. I chose Honeycrisp, Jazz, and Granny Smith because I wanted a sweet apple flavor to go along with that smoky bacon.
Yum.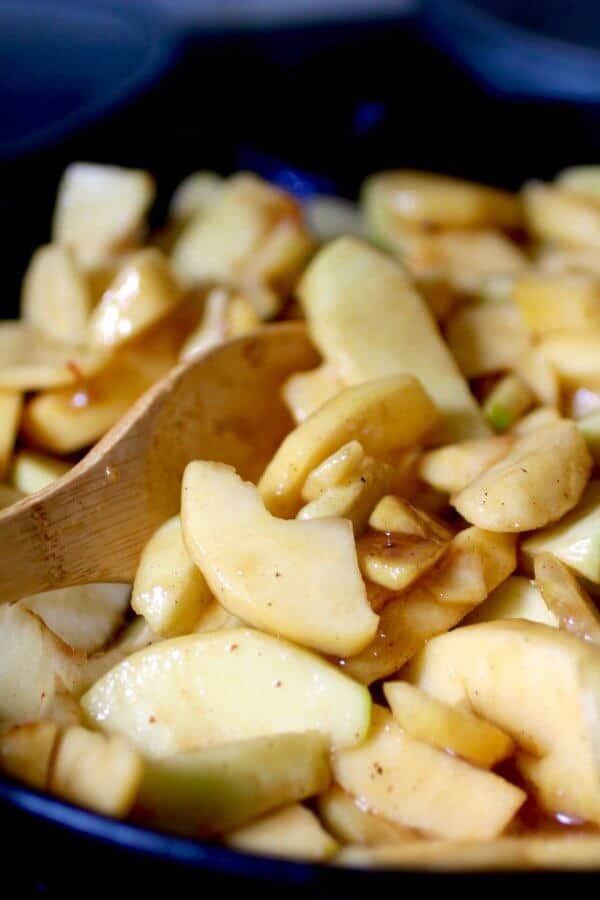 Perfect.
You can even print out a Jimmy Dean bacon coupon here. Really, saving money on bacon? It just doesn't get better than that. I just can't stop wondering why I haven't tried Jimmy Dean bacon before.
It's not how ya start, it's how ya finish, right?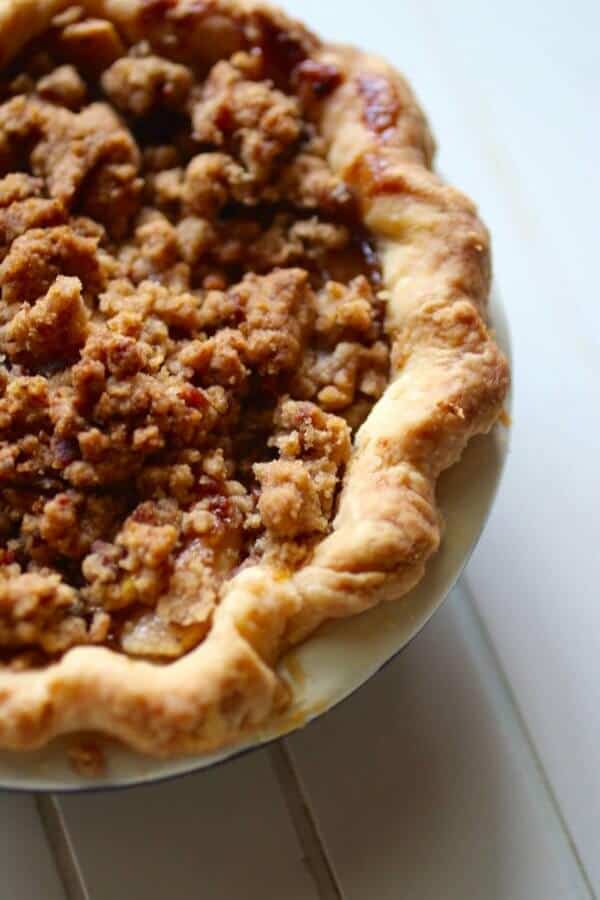 Clickable Table of Contents
hide
Bourbon Apple Tarts with Bacon Streusel Recipe
When you make these tarts, and you will because they are delicious, be sure to use #JimmyDeanBacon and #RestlessChipotle hashtags! I love to see what y'all are making!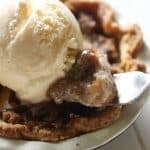 Print Recipe
Bourbon Apple Tarts with Bacon Streusel
A buttery pastry is filled with sweet apples and topped with salty, smoky bacon streusel. This unusual pie is full of fall flavor.
Ingredients
Pie Crust
2-1/2

cups

all-purpose flour

2

teaspoons

sugar

1

teaspoon

salt

1

cup

unsalted butter

cut into cubes, and frozen

2/3

cup

buttermilk

cold
Apple Filling
8

medium sized apples

I used 3 Honeycrisp, 3 Jazz, and 2 Granny Smith, mixed varieties , peeled, cored, and sliced.

1/3

cup

firmly packed light brown sugar

1/4

cup

sugar

1/2

teaspoon

. ground cinnamon

1/8

teaspoon

salt

1/8

teaspoon

ground cloves

2

tablespoons

cornstarch

2

tablespoons

bourbon

2

tablespoons

butter

melted and allowed to turn golden brown.
If you like this Apple Tarts with Bacon recipe you may also like
.