I love rolled cookies because you can shape and decorate them in so many ways. The thing is that I have always had trouble creating the perfect rolled chocolate cookie. It was either too sticky, too cakey, too gooey or too…too.
This one was perfect.

It has deep chocolate flavor and a dark, almost black color. The dough is easy to roll out and it holds it shape in the oven. I sandwiched these with buttercream for Valentine's Day but you could use any filling you like:
Ganache
Mint
Cream Cheese
Peanut Butter
On thing I'd suggest is that you dust the counter with a mixture of cocoa and flour before rolling. This keeps the cookie from sticking but doesn't leave white streaks on it. Brilliant, huh?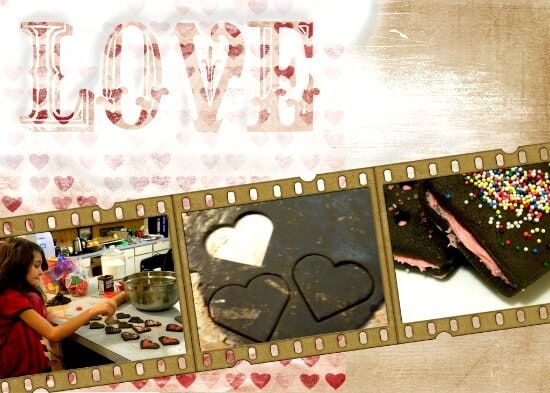 These are super simple, rich with chocolate flavor, and easy enough that Kyrie did most of the cutting and sprinkling. I suggest using Hershey's Special Dark Cocoa for the deepest flavor.
Best Rolled Chocolate Cookie Recipe
1 1/2 cups butter melted
2 1/2 cups white granulated sugar
4 eggs beaten
1 1/2 teaspoons baking powder
1 tbs vanilla extract
3 1/2 cups of flour
pinch of salt
1 1/2 cups dark cocoa
Melt the butter.
Whisk in the sugar, let cool until lukewarm, then beat in the eggs and vanilla.
Add flour, salt, cocoa, and baking powder.
Chill for about 30 minutes in the freezer or overnight in the fridge.
Roll out about 1/8 inch thick on a lightly floured board, cut, and place on ungreased baking sheets.
Bake at 375 for 8-10 minutes.
Let cool and decorate as desired.
Amount varies with size of cookie cutters. Assuming 5 dozen cookies for nutritional information (per cookie)
Nutrition Information:
Calories 109
Fat 5.3 sautrated 3.2
Carbs 15.2
Protein 1.6