If you're looking for the best gifts for the gourmet in your life, but your bank account is starting to wheeze from Christmas shopping overload you'll love this list of 10 gifts for your favorite foodie -- all under $25!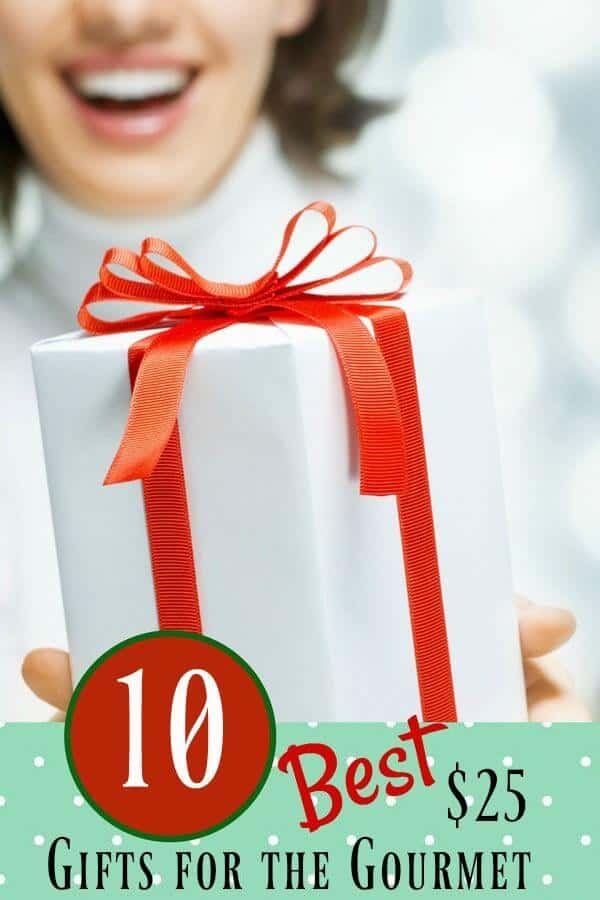 There are SO many cool kitchen gadgets and gewgaws that it can be really difficult to sift through them all, even for someone who's as familiar with kitchen stuff as  my kids are with my credit card. That's VERY familiar. I am putting two through college at the moment and even with scholarships the expenses are killer. Trying to stay away from college loans but I'm not sure how long I can hold out! Anyway, walking into a kitchen store or surfing through Amazon can be crazy overwhelming. I've tried to choose something to cover every kitchen interest - so enjoy!
The following are affiliate links. We are a participant in the Amazon Services LLC Associates Program, an affiliate advertising program designed to provide a means for us to earn fees by linking to Amazon.com and affiliated sites.
Thanks so much for being a part of Restless Chipotle!
10 Best Gifts for the Gourmet Under $25
From specially grown and small batch processed coffee beans to gadgets for forming pasta shapes there's all kinds of things available for that super hard to buy presents for gourmet. Check these out!
Sushi Maker Kit
Know someone who loves sushi? They can learn to make their own with this sushi maker kit! It's inexpensive enough that you could add a sushi cookbook and still stay under $25! That's why it's my top pick of best gifts for the gourmet!

Ravioli Maker
There is nothing like fresh pasta! This set is perfect for making ravioli but why not add a pasta cutter rolling pin for fettuccine as well?

Wasabi Salt
Flavored salt is a great way to experiment with new flavors. I love this spicy wasabi salt for roast beef!


Salsa Set
No one likes double dipping! This salsa pitcher and salsa bowls are a great addition to your Tex-Mex gourmet's kitchen stash.

Rolling Pin
This special rolling pin rolls dough the exact size and thickness that you want!


Bar Set in Restless Chipotle Red
If you have a budding mixologist in your life they're sure to love this (Restless Chipotle Red!) bar set.


Game of Thrones Shot Glasses
These Game of Thrones shot glasses are a little over the $25 but if you have a dedicated fan in your life they're going to love these!


Kitchen Torch
Y'all know I use a plumber's torch. Not fancy but I use it ALOT. Your gourmet may like this professional quality kitchen torch a little better. Not normally something I'd put in a gift guide but this one is pretty cool -- and a lot prettier than my big ole blue plumber's torch!!


Echo Dot
I really want to get Alexa into my life! You can ask her to find a recipe, suggest a wine to have with dinner, or convert measurement just to name a few things. This Echo Dot is on sale for just a little more than the $25 price but it's what makes it appear on my list for best gifts for the gourmet!


Citrus Habenero Flavored Olive Oil
Flavored olive oil can be used in a variety of ways. This citrus habenero infused olive oil would be great for salad, to help flavor chicken, and a ton of other possibilities!

PAST GIFT GUIDES
Week 1 Best Gifts for Bread Bakers
Week 2   Best Gifts for Beginning Cooks
Week 3 Best Gifts for Cookbook Collectors
Week 4 nothing because it was Thanksgiving
Week 5 Best Gifts for Coffee and Tea Lovers
Week 6 Best Gifts for Chocolate Lovers
And you may also like Gifts for the Overwhelmed Foodie