Here are the best Christmas Cookies Recipes on Restless Chipotle! Drop cookies, slice and bake, rolled sugar cookies… I've sifted through hundreds of my recipes to bring you my favorite holiday cookie recipes plus tips for shipping, freezing, and more.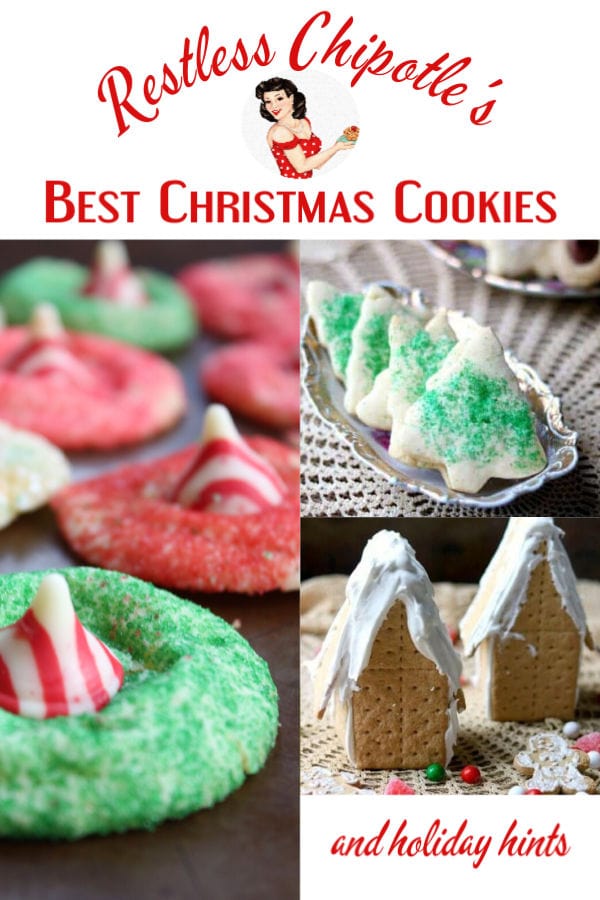 What's Your Favorite Christmas Cookie?
There are so many to choose from – I can't pick just one. But I've added some of my favorites here and I think they'll soon be your favorites, too!
To go to each recipe just click on the recipe title in each image.

Hershey Kiss Cookies
Hershey Kiss Cookies are simple to make, they freeze well, and with all the new Kiss varieties it's easy to make new, interesting combinations!
Holiday Hint:
Use mini muffin tins to hold holiday sprinkles and cookie decor. It's easy for the kids to use, saves losing a bottle of expensive sprinkles because it gets knocked over, and is easy to clean up. Thats a BIG win around here!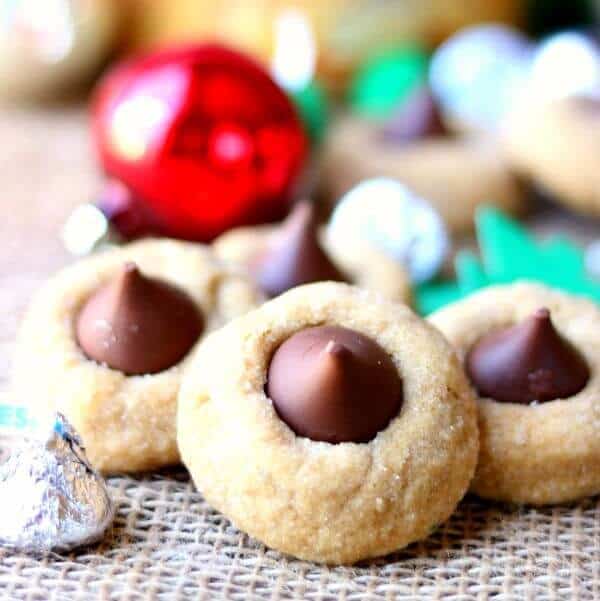 My Favorite
Easy Peanut Butter Blossoms cookies recipe is straight from your childhood! It's the Hershey's classic that's soft and chewy with the Kiss melting in the center just like you remember.

Shaped Cookies
Shaped cookies include any kind of cookie that needs to be rolled, pressed, or formed, including sugar cookies for decorating! Shape them and then freeze them for up to a month. Bake as normal!
Holiday Hint:
When ever you have an extra hour starting in mid-September, put together a batch of your favorite Christmas cookie doughs then shape and freeze. When the holidays come you'll have several different cookies to pop on the cookie sheet at once and bake. People will be amazed at how you have time to create such a gorgeous array of holiday treats!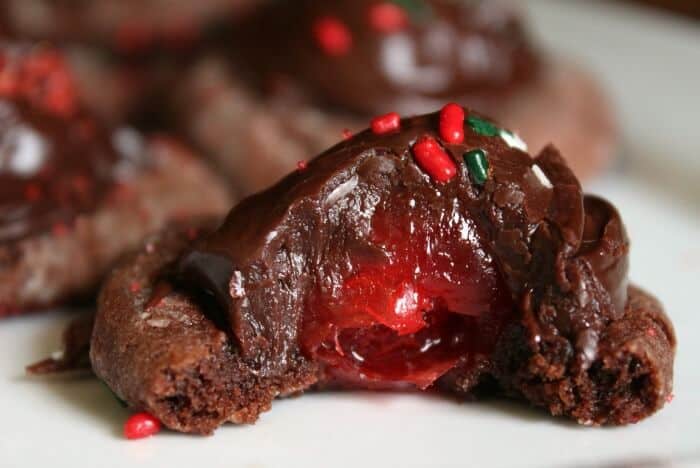 My Favorite
Chocolate Cherry Bon Bons are chewy fudgy cookies with maraschino cherries in the center and a fudgy frosting baked right on top.

Christmas Drop Cookies Recipes
Drop cookies are the easiest! Drizzle with some melted chocolate or a thin glaze and then use sprinkles to make them festive.
Holiday Hint:
Drop cookies and bar cookies are the best for shipping because they don't break easily. If you use a recipe that contains dried fruit the cookies will stay fresher longer.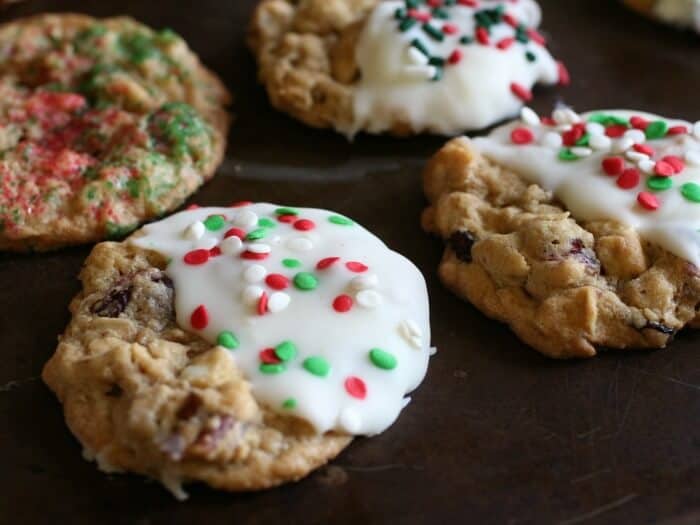 My Favorite
Cranberry oatmeal white chocolate cookies are filled with dried cranberries, toasted pecans, white chocolate chips, and a burst of citrus flavor.

More Christmas Cookies Ideas
These are some of my favorite Christmas cookie posts that just didn't fit anywhere else! The main thing is that you spend time with those you love and enjoy every minute observing old traditions and creating new ones.
Holiday Hint:
When making and decorating Christmas cookies with kids run a damp cloth over your table and/or counter so it's wet. Press waxed paper down the whole length/width of it. The dampness will keep it from sliding around and the waxed paper makes for easy clean up!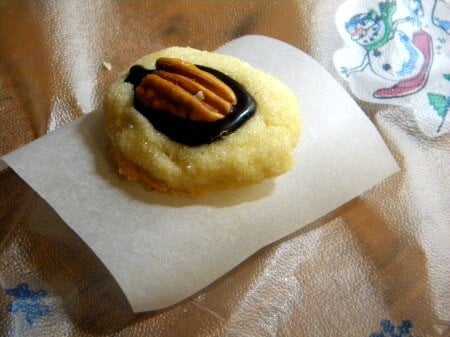 My Favorite
Shipping cookies is a way we connect with our loved ones in other parts of the world. These tips will get them there in the best shape possible!

Gingerbread House Fun
Those fancy gingerbread houses are gorgeous but sometimes it's just fun to grab a ton of candy, get the family together, and make these easy graham cracker gingerbread houses!
Holiday Hint:
Make a few extra graham cracker houses. Some will get broken. Plus It's nice decorate some of the extras and take them to neighbors.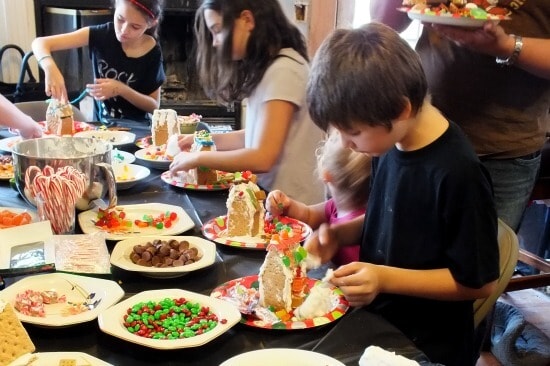 Toby is waiting her turn.

Don't worry about perfection!

Let them dry overnight.

Paper plates mean easy clean up.

Use lots of different candies and snacks!

Clear your space so there's plenty of room.

Let the kids use their imaginations.

Dr Who is popular at our house.

Everyone has a good time.