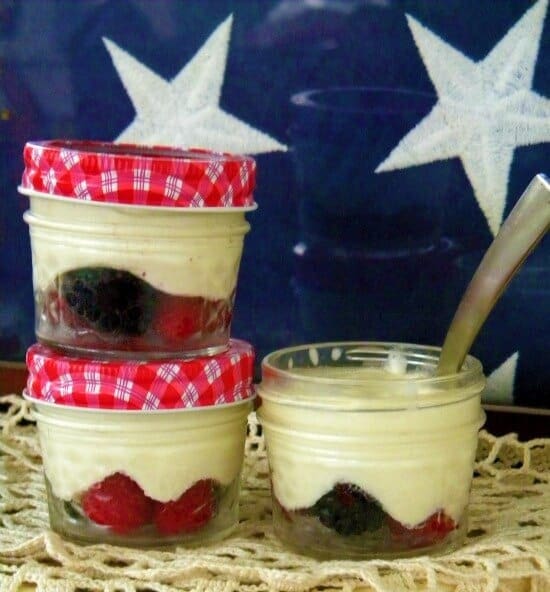 One of the best things about summer to me is the impromptu picnics. Or even planned picnics, for that matter.
When I was growing up my parents had a Fourth of July party every year. The planned it for months in advance and it always had a theme. The one I remember most was the Christmas in July party they did. Dad strung Christmas lights (remember the 1960's big colored lights with the foil reflectors?) all through the landscaping around the deck of the pool.There was some sort of evergreen in one of the corners and he and mom hung Christmas decorations all over it, and put a star at the top. They then bought small gifts for each of the guests and wrapped them in Christmas paper and put them under the tree. One of Dad's friends played Santa each Christmas for the local, volunteer fire department and he was asked to put on his Santa suit and be Santa for just a few minutes - remember it was July and HOT.
I remember it being a lot of fun - with the laughter, swimming, and eating going on far into the night. The food Mom served was anything but Christmas food, although she had made Christmas cookies.
Picnics and eating outside are part of my childhood and something that I have brought into my own family. Now, if only we had a pool...
One of the hardest things to do when you are going on a picnic is to transport the food. Often people just throw together a few sandwiches and add a bag of chips because it is easy. I have done it myself but it always feels lacking somehow. I long for those picnic baskets that are described in books and portrayed in movies!
Mason jars are the key. They come in a variety of sizes and they are not very expensive. The covers fit tightly and, best of all, they are reusable. Mason jars, or canning jars, fit easily into a picnic basket because they can be stacked.
If you are going to be doing a picnic for the 4th, or any other time this summer try using the jars to hold individual portions of your favorite salad, desserts, and beverages. Tape a fork or spoon to the top of the lid and you have a stylish way to picnic. Who could resist?
For a super simple dessert try my stable White Chocolate Mousse spooned over some ripe berries. It is simple quick and delicious - and it looks cute in the smallest jars. Keep it as cool as you can - even though it's stable it can melt pretty quickly in 100 degree heat. Dropping a couple of ice packs in your picnic basket will work just fine.
These 4 ounce jars are perfect for individual size servings of desserts and side dishes like baked beans or my Southwestern style potato salad.