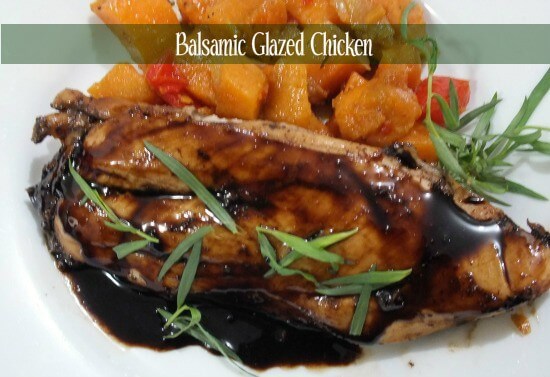 This Balsamic Glazed Chicken recipe is fast and easy. I mean really fast and easy – like when you walk in the kitchen an hour late and everyone is looking at you like you were sliced brisket.
Yeah.
I wouldn't lie to you – this dish is simple but incredible. The balsamic vinegar helps to tenderize the chicken breast and give it flavor.It's not quite sweet and sour but it reminds me of it. Once the chicken is cooked you'll reduce a mixture of balsamic and honey to use to glaze the chicken just before you serve it. Believe it or not it really doesn't need much more than that.
I served it with the roasted sweet potato. That was a nice combination because the sweet, tender potatoes balanced the balsamic and the balsamic kept the whole thing from being bland and boring. I do not handle bland and boring well, do you?
Nope.
I sprinkled the finished dish with some fresh tarragon before serving. The licorice flavor gave it a little exta ta-da! Save leftovers to make sandwiches out of. Just warm up a sliced baguette, put the warmed up chicken on it and – well is sure doesn't taste like leftovers. 🙂
When I use boneless chicken breast I always slice it in half horizontally. It is still a lot of meat and it makes the chicken go twice as far. Added bonus? It also cooks faster!
Balsamic Glazed Chicken
Print
Add to Collection
Go to Collections
Easy, low calorie Balsamic glazed chicken breast is perfect for when you need dinner on the table in a hurry.
As an Amazon Associate I earn from qualifying purchases.
Ingredients
4

skinless

,

, boneless chicken breast halves, sliced horizontally to make 8 pieces

2

tablespoons

olive oil,

, or as needed

1/2

cup

balsamic vinegar

1/4

cup

honey

1

tablespoon

chopped

,

, fresh tarragon
Instructions
Marinate the chicken in 1/4 cup balsamic for about 15 minutes

Remove and discard the marinade.

Pat chicken dry and season it generously with salt and pepper.

Heat the olive oil in the pan until it shimmers.

Add the chicken to the pan without overcrowding, about 4 pieces at a time.

Cook on one side until golden and then flip to cook on the other, about 10 minutes total.

Check the internal temperature with a digital meat thermometer. It should register 165F.

Remove the chicken from the pan and keep warm.

Add the remaining 1/4 cup of balsamic to the juices in the pan.

Whisk in the honey.

Allow to cook until the liquid is reduces by half and becomes thicker. Don't let it scorch.

Taste and adjust seasoning and sweetness.

Place the cooked chicken on the plates and spoon the thickened balsamic over it.
Sign up for the emails and never miss another recipe!!
We'll never share your email or send you spam. Pinkie swear.