Anytime you are in a group of people who cook eventually someone will ask whether you use fresh pumpkin or canned pumpkin. One person will say fresh and another will say canned. Pretty soon you have a canned verses fresh free for all…and if it goes on too long it can get ugly.
So…I decided to check it out. Which is better? Canned or fresh? First of all let's chat pumpkin. There are numerous kinds of pumpkins. The big jack-o-lanterns are edible but not as flavorful as their smaller cousins, the sugar pumpkin (or pie pumpkin). Within that category there are also numerous pumpkins and each has a distinct flavor.
Differences Between Canned and Fresh Pumpkin

The Restless Chipotle Channel
So..If you are going to plant pumpkins in your garden I would suggest an heirloom type; maybe a Long Island Cheese or perhaps an Amish Pie pumpkin. The flesh of any type you choose will be a slightly different shade from golden yellow to bright orange.
If you aren't growing them you are limited to what you can buy. Be sure to choose heirloom over commercial and pie pumpkin over the big one.
Here is the difference between Libby's canned pumpkin puree and the homemade pumpkin I made:
Right off there is a color difference. Most people will assume that the canned is richer because the color is darker. I did not find this to be true, although the flavor is different. The canned pumpkin has an earthy flavor while the fresh has a light and delicate almost floral flavor. There are ways to cause the flavor to be more intense….We'll talk about that later.
How to Roast a Pumpkin for Dummies and Smart People, Too.
So, you have your pumpkin. The first thing you have to do is to carefully dispatch it. Yes. With a knife. You can do this.
Step 2: Plunge the knife into the pumpkin mercilessly. Lightening optional
Separate the pumpkin halves
Scoop out the seeds. Laugh maniacally.
Oil the pumpkin flesh.
Now, you need to put the pumpkin halves in the oven at 375F until the skin looks oily and the flesh is tender. Some people roast them flesh side down – never having been one to do things the same way as others, I don't. I like it roasted flesh side up, which is why I oil it.
Roasting a Pumpkin Vs. Steaming a Pumpkin
Now, some people with tell you to "roast it" cut side down in a pan of water. This would not be roasting. This would be steaming. You can do that if you like but let me tell you why I don't. Roasting any vegetable causes caramelization. This causes the sugars to intensify and it takes on a deeper flavor. Steaming cooks the vegetable, in this case pumpkin, in such a way that the flavor is kept light and delicate.  Nothing wrong with that if that is the flavor you want. Remember that as a chef, cook, or baker YOU are in control of the food. You are a master of the flavor and can coax it to perfection for each dish.
Think about what you are making. A light soup? Maybe you do want the pumpkin steamed. A robust spice cake? You want it caramelized and intense.
After It Is Cooked
So, in about 45 minutes your pumpkin will look a bit like this: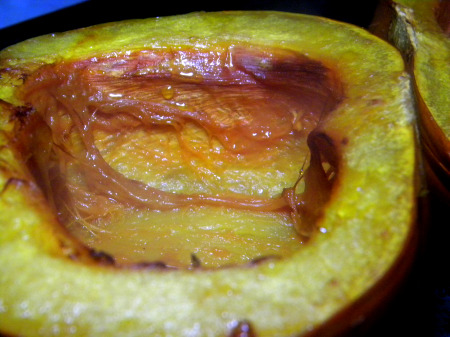 Just scoop the cooked flesh out of the shell. Once it is out you can decide whether you want it pureed in a food mill or blender, or you will leave it as is. If you are doing a soup or a custard or pie I suggest pureeing in a food mill. If you are baking a cake or bread then leave it as is. The fibers won't hurt a thing in that case.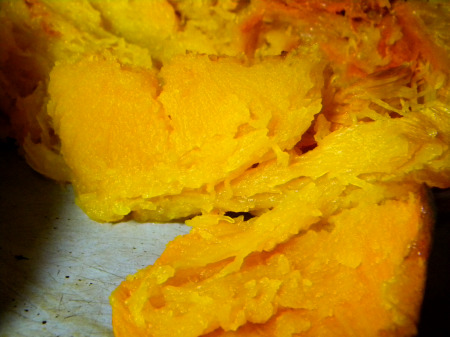 You can store the pumpkin in the fridge for about a week, in the freezer for about six months…Canning pumpkin is not recommended. If you want your pumpkin to intensify in flavor a bit more then you can cook it slowly over low heat stirring often (or in a slow cooker). Keep an eye on it or it will burn.
Once your pumpkin is cooked it is ready to use in any recipe that you could use canned pumpkin in.
Is It Better than Canned?
But is it better than canned?
I think it is. I like that each pumpkin tastes a little different. I like that I have some control over the roasting process and the final outcome. I like that it is fresh and local, and organic. AND…I especially like that for 99 cents I got twice the amount of pumpkin as what was in the can for 1.29. Added benefit? Pumpkin seeds for roasting.