This Bacon Cinnamon Rolls recipe is a sponsored post written by me on behalf of Tyson Foods, Inc. All opinions are entirely my own.
If you love a salty sweet combination of flavors you'll go crazy over these homemade Bacon Cinnamon Rolls for Father's Day! Pieces of thick cut, crispy bacon are rolled into the filling as well as sprinkled on the top of the decadent icing. Get all of the crunch of nuts but with the extra goodness of smoky bacon!
For this recipe you'll need: 24 ounces Wright® Brand Hickory Smoked Bacon, bread or all-purpose flour, eggs, milk, butter, cinnamon, sugar, brown sugar, yeast, Confectioner's sugar, vanilla, and salt.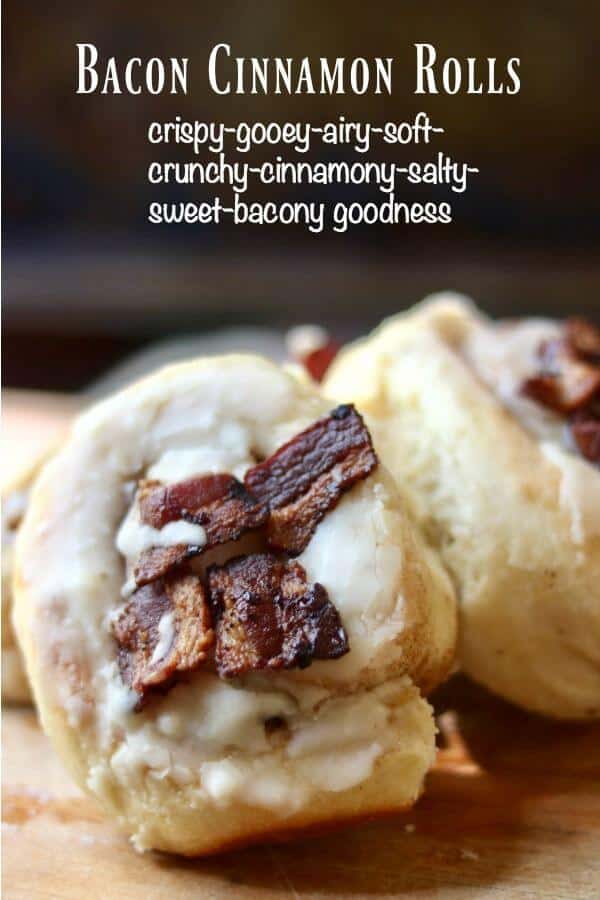 Father's Day is just around the corner. It's more or less the one day a year we get to spoil my husband almost as much as he spoils us the rest of the year. To say that he is adored by the kids, grandkids, and me?
Well that's an understatement.
He came late to the party, so to speak. He stepped in shortly after the ex stepped out - and took on the challenge of the 6 underage kids that were still at home and, maybe the biggest challenge of all -- me.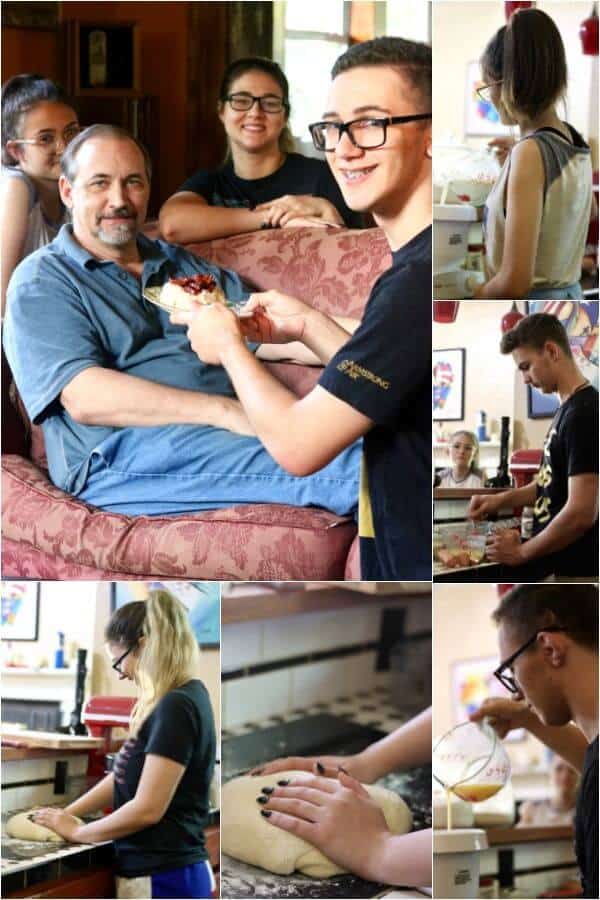 The man did what he always does. He looked at what needed to be done and he just did it. When I say he can fix anything I'm not lying. He's John Wayne, Gary Cooper, and that other guy all rolled into one pretty amazing package and he's made no secret of the fact that the whole package is just mine. I love that.
He's brought me a dozen roses once a week since we met. Sometimes a couple of dozen.
He's a Texas man through and through. He likes meat and potatoes -- and he is suspicious of anything that his food might have one time eaten. Most of the Texas men I've met acknowledge only three food groups - meat, bread, and sugar. When it can be washed down with a good bourbon?
It is so much the better.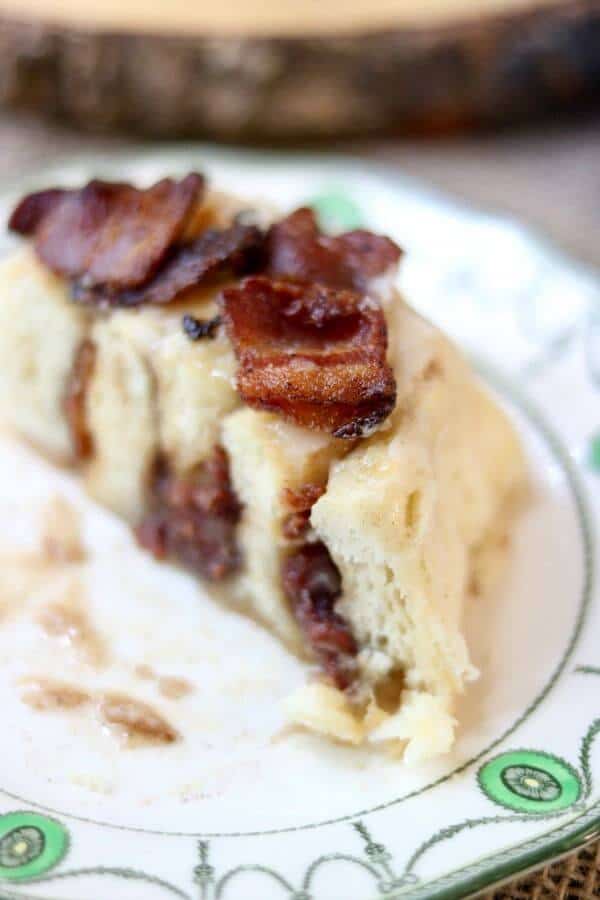 That's why these pillowy-soft Bacon Cinnamon Rolls are perfect for my Texas man for Father's Day. They hold all of those food groups - bacon, sweet dough, and cinnamon sugar. Not just any bacon, either -- good, old fashioned made-in-Texas bacon. Wright Brand Bacon has a Texas heritage - we like to call that "Texas Proud". It's made from thick slices of premium meat that's been naturally smoked and trimmed by hand. It has the bold, meaty taste that Texans love so when you stuff it inside these Texas-sized cinnamon rolls it doesn't get lost.
I'd say that sounds like something most men would like for breakfast, wouldn't you? Maybe even the non-Texans?
Deciding between the Applewood smoked and the hickory smoked varieties was tough. I kinda stood in front of the bacon display at my HEB store and shifted from foot to foot, thinking. The people at the store have helped me out more than you can imagine over the years and this recipe was no different.
"Need some help?"
"Just tryin' to decide between the hickory smoked and the Applewood for Father's Day."
A quick conversation about the merits of one flavor over another for cinnamon rolls ended in us agreeing that the hickory smoked would indeed be best AND me promising to bring in a sample of the finished product.
It's just the way we are around here. Everyone gets involved. 🙂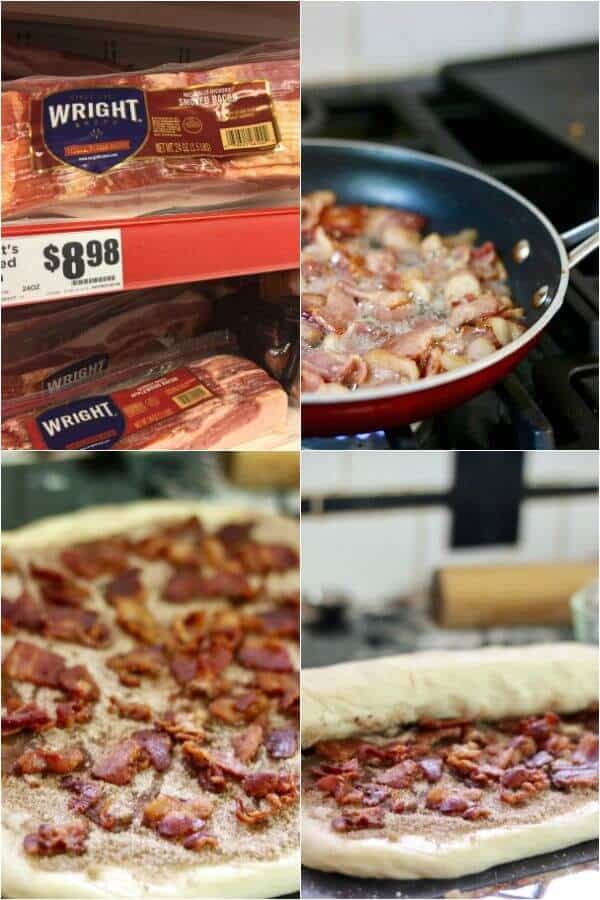 Now, I've seen bacon cinnamon rolls done a lot of ways but this is the way I like best. I like the crunch of nuts in my cinnamon rolls so I thought that simmering the bacon until crisp and adding big old pieces right in the filling would be the way to go. Basically I substituted the pecans in my regular cinnamon rolls with crispy bacon.
I wasn't wrong, y'all. The secret lies in slowly rendering off the fat - more about that later.
Then, since I wanted even more smoky bacon flavor I used a little of the bacon grease to brush over the surface of the dough before I added the cinnamon and sugar mixture. I greased the pan with the fat, and brushed it on the top. I wish you could smell the kitchen!
A decadent butter glaze is poured over the cinnamon rolls while they are still warm from the oven and then more crispy slices of salty bacon are sprinkled over the top. Omigosh, y'all, each soft, doughy bite is full of big, bold Texas flavor - salty, sweet, cinnamon-spicy, smoky... it's like eating the best churros you've ever had at a campfire in the middle of a clear West Texas night
Not gonna lie. It's worth every carb. Every last one.
How to Make the BEST Cinnamon Rolls with Bacon You've Ever Tasted
Start with thick slices of Wright Brand Hickory Smoked Bacon.
Render the fat slowly so that the bacon gets super crispy without scorching.
You can use whole slices of bacon in the filling - just lay them on top of the filling while still warm and pliable then roll up. I prefer cutting the bacon in 1-inch pieces and sprinkling more of the cooked pieces over the top of the dough.
If you want soft sides on your rolls place them close together in the pan - just barely touching. If you want crisper sides then place them so the sides won't touch during baking.
Let the dough rise until it is tall and fluffy.
During the last rise, which will take about 30 minutes, let the oven preheat to 375F.
Bake until golden on the top and firm when you touch them. If you stick an instaread thermometer inside the middle of a roll it will read 185F to 195F when done. Saying that, I usually only cook mine to 175F-180F because I like them a little softer.
Remove from the oven and pour the glaze over the hot rolls.
Sprinkle with more, crispy Wright Brand bacon.
Serve warm.
How to Render Off the Fat on Bacon
All bacon has fat - it's part of what gives it SO much flavor and makes it crispy. The Wright Brand Hickory Smoked Bacon is very lean as far as bacon goes -- one of the reasons I love it. You'll need to render the fat off to get the crispiest bacon without scorching it for these bacon cinnamon rolls. It isn't hard to do but it will take a little time. You can do this step up to two days ahead of time - just keep the bacon and rendered fat in separate covered containers in the refrigerator until you're ready to use.
Choose a pan that lets the bacon cook evenly without burning. I like cast iron.
Place the bacon in the cold pan - don't overcrowd it at all.
Cook over medium-low heat until the fat is released and the bacon is immersed in its own fat.
Continue to cook until the bacon is crispy and golden brown.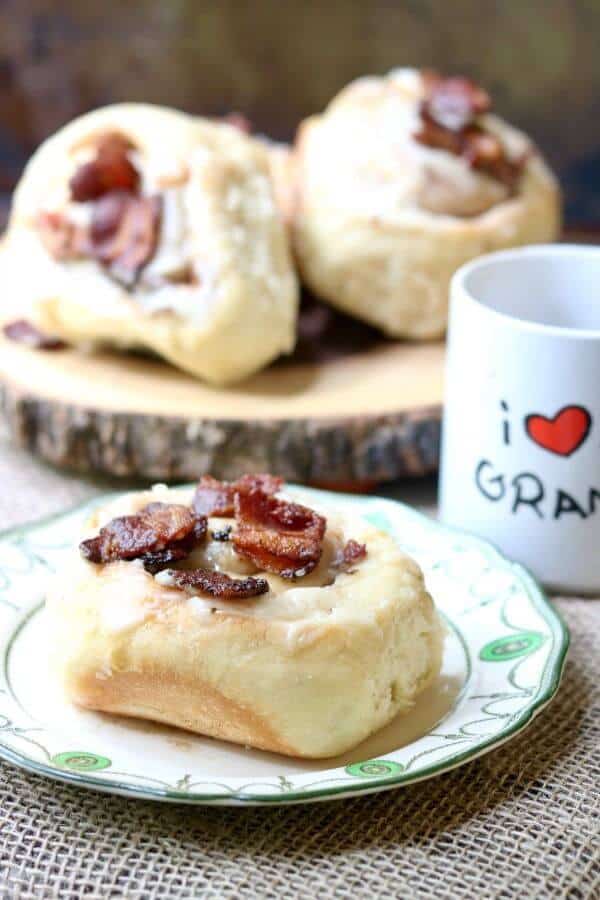 Homemade Bacon Cinnamon Rolls Recipe
Yep. You'll make these yummy Bacon Cinnamon Rolls for Father's Day but I'm betting you'll make them again... and again...and again. Once you get tired of these give my humongous cinnamon rolls a try!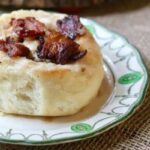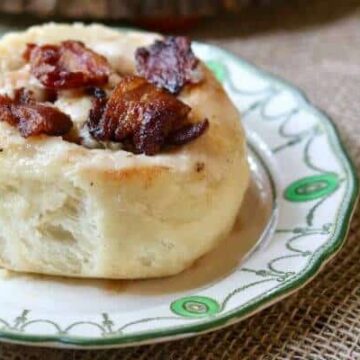 Bacon Cinnamon Rolls
Print
Save
Go to Collections
Homemade bacon cinnamon rolls! Thick cut,crispy bacon is rolled into the filling as well as sprinkled on the top of the decadent icing. Sweet-salty goodness
As an Amazon Associate I earn from qualifying purchases.
Ingredients
Cinnamon Roll Dough
1-½

tablespoons

active dry yeast

¼

cup

water

,

,110F

2

cups

milk

,

,whole

6-⅔

cups

flour,

,bread or all-purpose, may take a little more

1-½

teaspoon

salt

½

cup

butter

,

, melted

4

eggs

,

,room temperature, beaten

⅔

cup

sugar
Filling
12

ounces

Wright® Brand Bacon

,

,Naturally Hickory Smoked

1-½

cups

sugar

½

cup

brown sugar

2-½

tablespoons

cinnamon
Topping
2

tablespoons

bacon grease

6

tablespoons

butter

,

, melted

2

cups

Confectioner's sugar

2

teaspoons

vanilla extract

1

tablespoon

milk

,

, more as needed

12

ounces

Wright® Brand Bacon

,

,Naturally Hickory Smoked
Instructions
Bacon
You'll need a 24 ounce package of Wright® Brand Bacon. Cut the bacon into 1-inch squares.

Slowly cook over medium-low heat, stirring occasionally, until the bacon is crisp and the fat is rendered off.

Let cool until ready to use as directed in recipe. *NOTE - half the bacon will be used in the filling and half in the topping.
Dough
Place the yeast, warm water, and 1 tablespoon of the sugar in a bowl.

Stir and set aside for a couple of minutes.

Add one cup of the flour and the yeast mixture to the bowl of a stand mixer fitted with paddle attachment.

Add the salt, the butter, eggs, milk, and the remaining sugar.

Beat with the paddle until well mixed.

Add flour gradually, beating on low with the paddle attachment, until a soft dough forms.

Switch to dough hooks and continue to beat on low until the flour is incorporated and the dough pulls away from the sides of the bowl.

Knead for 5 minutes or according to manufacturers instructions.

Place the dough in a greased bowl, grease the top of the dough, cover, and place in a warm spot until doubled - about an hour.

Punch down and roll the dough into 16x 20-inch rectangle.

Brush with bacon fat or some melted butter.

Sprinkle with sugar mixture then the 12 ounces of cooked bacon pieces.

Starting with the shorter side, roll into a tight cylinder.

Slice the dough into 16 slices.

Lay cut side down in the prepared pan.

Let rise about 45 minutes to an hour.

Bake for 20 to 30 minutes, or until done.
Filling
Mix the cinnamon and sugar together in a bowl and set aside until ready to assemble the rolls.
Gooey Vanilla Icing
Mix the melted butter, vanilla, and bacon fat together in a bowl.

Add the Confectioner's sugar slowly, mixing constantly.

Add milk as needed to get a thick, pourable consistency.

Sprinkle the top with the remaining crispy bacon.
Nutrition Facts
Calories:
517
kcal
|
Carbohydrates:
50
g
|
Protein:
9
g
|
Fat:
30
g
|
Saturated Fat:
13
g
|
Cholesterol:
100
mg
|
Sodium:
477
mg
|
Potassium:
165
mg
|
Sugar:
37
g
|
Vitamin A:
435
IU
|
Calcium:
60
mg
|
Iron:
1.2
mg
Sign up for the emails and never miss another recipe!!
We'll never share your email or send you spam. Pinkie swear.