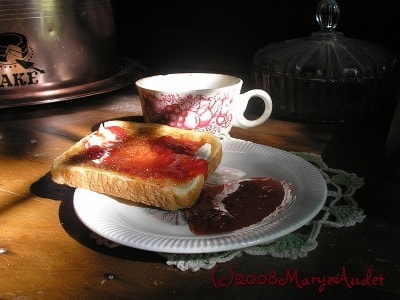 Strawberry, Rose & Key Lime Jam
2 qts strawberries, washed hulled, and crushed.
1 package Sure-Jell powdered pectin
1/4 c key lime juice
1 Tbs rose water
7 cups sugar
Combine crushed berries, juice, pectin, and rosewater in a large pan.
Bring to a boil stirring once in awhile to keep from sticking.
Add the sugar and stir until it dissolves.
Return it to a rolling boil and boil hard for one minute stirring constantly.
Remove from heat.
If there is any foam on top, skim it off and discard.
Ladle jam in hot jars, leaving 1/2 inch head space.

Adjust caps. Process 10 minutes in a boiling water bath.
4 pints jam.