I recently had the pleasure of staying overnight at the Amelia Hotel at the Beach on Amelia Island, Florida. It is located just across from the beach, definitely within walking distance. The hotel is beautiful with a very tropical 1920s Art Deco vibe. This review is purely my experience there -- it is not sponsored in any way by the hotel, nor did they give me any compensation, financial or otherwise.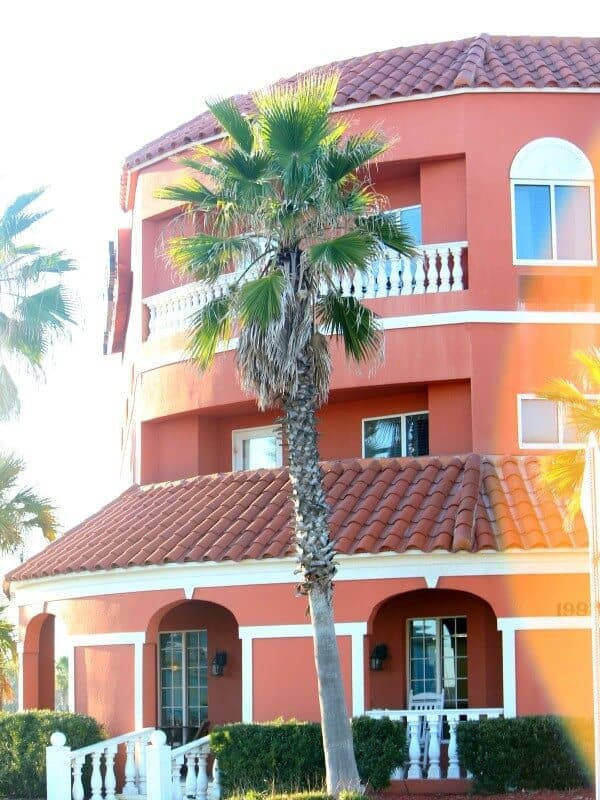 Just sharing my life, y'all.
Number four child went into the Navy in June. You have to understand that this is my third kiddo to go into the military and move far, far away and it just gets harder, not easier. As a matter of fact my daughter, child number five, is talking about it now. I am so proud of them but I have to tell ya, I really hate them moving away. Anyway, he is based in Jacksonville, Florida but, being in the Navy, is spending time on a ship for nine months. He decided to let his sister (child number five that I mentioned) drive his car while he was gone. That meant that she and I caught a plane at DFW Airport at 5 AM on a Sunday and he picked us up in Jacksonville just in time for lunch.
I decided that I wanted to make this special for my daughter - a little mother-daughter time - so instead of choosing a hotel near the base I chose the Amelia Hotel because of its close proximity to the beach and because, well take a look at it. It's beautiful!
Check in time is at four in the afternoon so we stopped at Green Papaya on the way to have lunch. OMG... If you like Asian cuisine it was just amazing. The plate was gorgeous.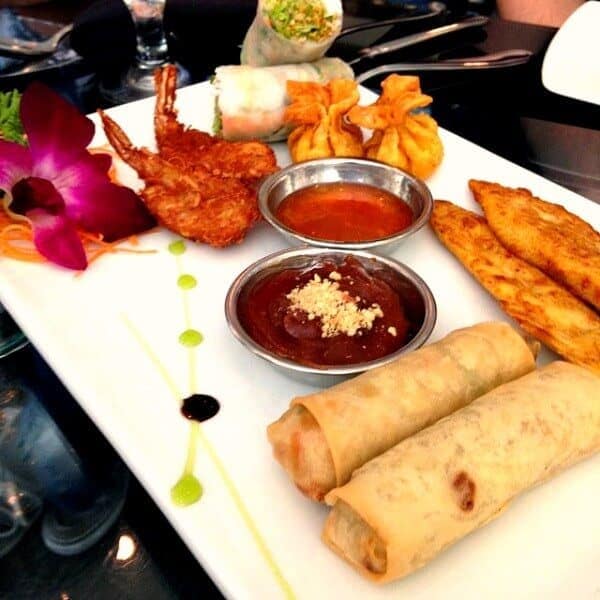 This is an image from my phone so it's not as gorgeous as the real thing. Trust me. Gorgeous.
Checking in was super easy. I had reserved the room and paid ahead of time so it was just a matter of getting the key and trying to keep my son and his friend from eating all of the warm chocolate chip cookies that are available in the afternoons. I was keeping him from eating them because I wanted to eat [undisclosed amount]. The lobby area is quite small but there is a seating area behind it that has windows that look out onto the street and across to the beach. This is where the breakfast is served. More about that in a minute.
We were on the third floor and found our room easily. I was a little disappointed at the lack of ambiance that the room had. After all, the exterior of the hotel was lovely, the sitting area by the lobby was nice, and I was hoping for that same F. Scott Fitzgerald feeling in the room. No such luck. It was very plain. Still, it was clean and the beds were heavenly. I use a Sleep Number on 25 and these beds just cuddled you when you stretched out on them. The bathroom was nice and large, too.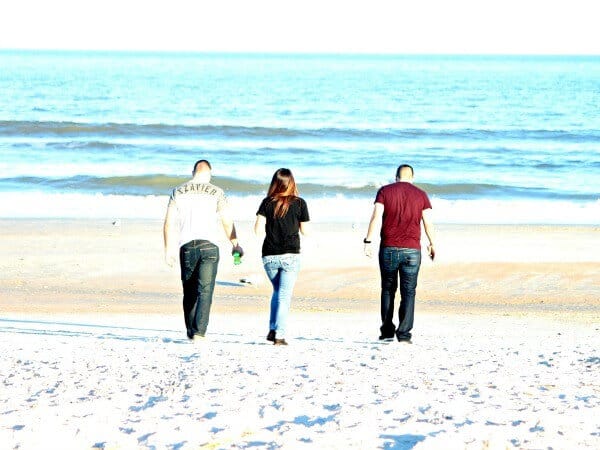 I wasn't letting a trip to Florida go by without walking on the beach so we headed over there despite the fact that it was a little chilly. I walked the beach and even waded in the icy water a little. There's something about the ocean that relaxes me - I have always loved it. Maybe someday I'll have a beach house, huh?
Of course being a Sunday in February the beach was largely deserted, which suited me just fine. My son decided to draw a huge SpongeBob in the sand but you couldn't really see it unless you were tall... or in a plane.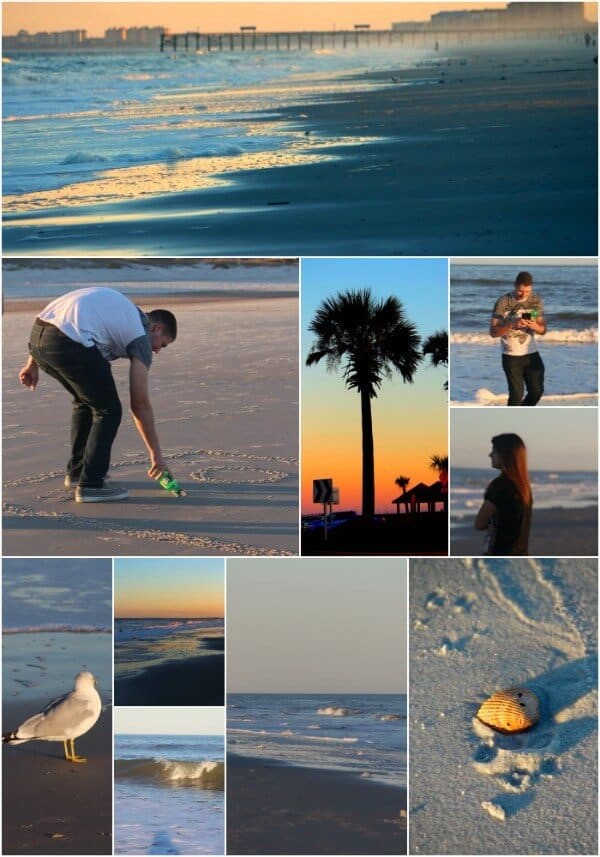 We decided to eat at Sliders, just across the street from the Amelia Hotel and right on the beach. It is very casual and the staff was upbeat and fun. I had the Pretzel Burger which was delicious - basically a burger with queso on a pretzel roll. I mean, this is not five star dining but it is good bar food, and very satisfying. I also had a drink called a fish tank. At least I think that's what it was called. All I remember was that it was blue, delicious, and had Swedish Fish candy floating round in it. If you show your room key you'll get something like 10 percent off your bill, by the way.
I slept really well. The hotel was very quiet, probably because it was off season, and I was exhausted.
The next morning we got breakfast in the eating area. It's basic stuff, really. Mini muffins, croissants, bagels, cream cheese, four kinds of cereal, two kinds of juice, eggs, sausage, biscuits, instant oatmeal, instant grits, coffee, tea, and milk. It is not incredibly delicious, nor is it extremely imaginative but it is complimentary, served in generous amounts, and it gets the job done.
My daughter and I left Amelia Island at 9:30 AM and hit our driveway in Dallas at 1:15 AM. I had no idea I still had it in me to drive like that. I cried my way out of Florida so my daughter drove a good part of the way.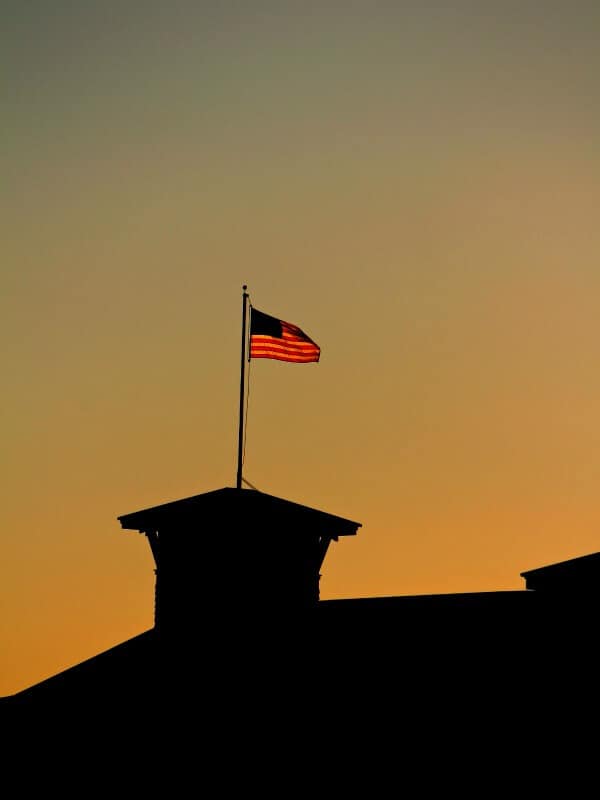 All in all, if you are planning a Florida vacation and aren't interested in doing the Disney thing then take a look at Amelia Island. I really wish I had more time to snoop around because it looked charming, quaint (ish), and like it could be the setting in a romance novel or cozy murder mystery -- take your pick. Being able to walk to the beach makes the Amelia Hotel the choicest one there, as far as I'm concerned.
The Amelia Hotel at the Beach Contact Information
1997 South Fletcher Avenue
Amelia Island, Florida 32034
Tel: (904) 206-5200
Toll Free: (877) 263-5428
Fax: (904) 261-9480
Email : info@ameliahotel.com
Have any of you been to Amelia Island? What did you think?
Do you have a bucket list? I sure do! Check out my Alaskan Cruise!