This vintage cake recipe has a delicate citrus flavor and a rich, velvety crumb. Your guests won't be confusing this with a boxed mix – that's for sure!
I posted this recipe back in 2008 but it is so good it needs to be pulled out of the archives and brought back. As you can see my photography has improved in the last 6 years and it's time for me to make it and get some good pictures!!
This cake has a lot of egg yolks in it. It's a great cake to make with the leftovers from angel food cake or meringues. The high number of egg yolks is what gives the cake its richness, moist texture, and gold color. I used to make it quite a lot when we had chickens because what else are you going to do with 2 dozen eggs a day?
This is a perfect all purpose cake. You can really put almost any frosting on it – I like this cream cheese frosting but anything will work great. This cake freezes well for up to three months, too.
Do you remember the first cake you ever made? I do. I mean the one you made by yourself. I wasn't allowed to use the kitchen because my mom didn't like messes. One day she left me alone with her old, 1940s Better Homes and Gardens cookbook. I wanted to do something special for her so I found tthe Hot Milk Cake recipe. It seemed perfect so I set about making it.
I don't remember what the kitchen looked like when she got home – I do vaguely remember that there was yelling and the cake ended up in the trash. I am pretty sure the kitchen looked like a demolition area and the cake was inedible…
I didn't cook again for years.
Here's my take-away. No matter how messy your kids are in the kitchen encourage them to make things, give them freedom to create, and let them work alongside you. It's a chance to create good memories and have quality time. Don't let your need for order get in the way of your child's need for love and affirmation.
What is you happiest kitchen memory?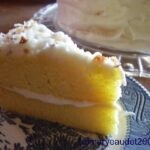 Orange Gold Cake
Print
Add to Collection
Go to Collections
A tender, rich cake with a velvety crumb and a delicate citrus flavor. It's a great way to use up egg yolks after making an angel food cake!
As an Amazon Associate I earn from qualifying purchases.
Ingredients
2 1/2

cup

cake flour

,

, sifted

1/2

teaspoon

baking soda

1/2

teaspoon

salt

12

egg yolks

,

, room temperature

3/4

cup

unsalted butter at room temperature

1

tablespoon

orange zest

2

teaspoon

orange extract

1

teaspoon

vanilla extract

1 1/2

cup

sugar

1

cup

buttermilk
Instructions
Preheat the oven to 350.

Grease and flour two (9 inch) layer cake pans.

Sift the flour with the salt and baking soda and set aside.

Beat the egg yolks for five minutes, or until thick and lemon colored and a ribbon forms when the beaters are lifted.

In another bowl beat the butter until creamy.

Add 1/4 c of sugar and flavorings, and beat well.

Continue to add the rest of the sugar slowly, beating well and scraping bowl often.

There should be no graininess to the butter when all of the sugar is incorporated.

Add 4 of the yolks and beat well.

Continue adding yolks, 3 or 4 at a time, beating well after each addition.

Add flour mixture alternately with the buttermilk, beginning and ending with the flour.

Mix just until blended.

Divide batter evenly between the pans and bake for 30 minutes.

Check cakes. When done they will be golden, and a toothpick inserted in center will come out clean.

Cool in the pans for 10 minutes, and then turn out to cool completely before frosting.

Use any frosting you like.
Sign up for the emails and never miss another recipe!!
We'll never share your email or send you spam. Pinkie swear.
If you like Amazing Orange Gold Vintage Cake Recipe you might also like…
Vanilla Triple Layer Cake Restless Chipotle
Banana Walnutt Cake Restless Chipotle