Author Marye Audet – Whitehas written a variety of books about entertaining and recipes – and hopes to write more. She's got an "amost finished" novel awaiting a long weekend with nothing to do… don't hold your breath.
~~~~~~~~~~~~~~~~~~~~~~~~~~~~~~~~~~~~~~~~~~~~~~~~~~~~~~~~~~~~~~~~~~~~~~~~~
I've written books under my own name for Adams Media, self published books, and ghost written as well as published under my own name for for Callisto Media. You'll find the links below. When you buy I do get a little royalty and/or commission that helps keep the blog up and running.
Do read the reviews – they can help you to make a good decision for you. 🙂
Love a GREAT Breakfast? Good Morning, Y'all! is free with newsletter sign up.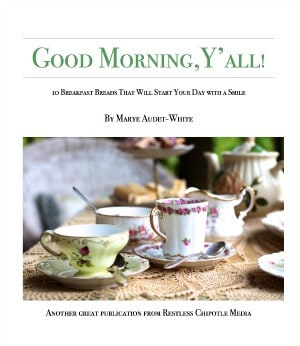 Sign up to get the Newsletter every week (we never share emails!) and get this free breakfast book to download – 10 recipes with gorgeous full color images AND lots of information and tips.

Free Download — Just sign up for the email newsletter in the space above.
The following are affiliate links. We are a participant in the Amazon Services LLC Associates Program, an affiliate advertising program designed to provide a means for us to earn fees by linking to Amazon.com and affiliated sites.
Thanks so much for being a part of Restless Chipotle!
Mexican Slow Cooker Cooking
Mexican food isn't hard to make once you understand the ingredients. Make it super easy with a slow cooker!
Everything Cookies and Brownies
This was my first book, commissioned by Adams Media, and published in 2009. If you are looking for a cookie recipe you'll find it right here.
Bread Boot Camp – Hard Copy
An incremental approach to baking bread. Go through this in order and you'll be baking billowy loaves of perfect bread in no time! Paperback.

Bread Boot Camp – eBook
Same as the above but with more images and in eBook form. You'll be baking tonight! Download Bread Boot Camp
Effortless Summer Entertaining – eBook
This book is a compilation of my secrets for making entertaining easy, no matter what else if going on in your life. How to schedule, recipes, themes… it's all here. And it's free.
Dump Cakes
An entire book of dump cake recipes plus make your own cake mixes. We're taking really fast stuff. I think I came up with some amazing stuff, here. You can page through book on Amazon if you click through the link. (This was ghost-written and does not include my name)
Absolute Best Mug Cakes Cookbook
All kinds of mug cakes to make in minutes in the microwave — I had fun with this one, y'all. (This was ghost-written and does not include my name)
Dump Dinners
Seriously, it doesn't get much easier than this. It's all convenience foods — not my normal recipe style but the client asked for it this way. If you need some quick to make meals that are yummy this is great. (This was ghost-written and does not include my name)