Earthy. Umami. Sophisticated... Recipes with truffle oil almost always seem gourmet. Whether you've bought a batch and are unsure how to use it or you've just made my homemade version and are in a hurry to try it these recipes are the perfect places to experiment.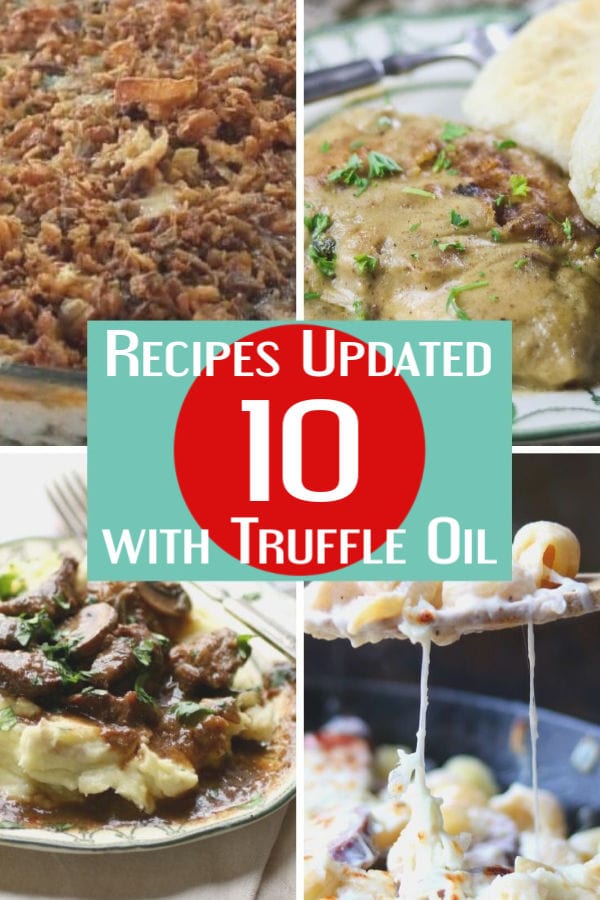 How to Use Truffle Oil
There are several ways to update recipes with truffle oil flavor!
Drizzle over the top just before serving
Substitute for a little of the oil or butter called for in the recipe
Saute vegetables in it
Add a few drops to the top of a savory cocktail like a Bloody Mary
Update Your Recipes with Truffle Oil
Here are a few recipes that I've used truffle with to inspire you and get you started. Most of them don't call for truffle oil in the actual ingredients - generally I like to just drizzle about a teaspoon on top of a dish before I serve it.
I'll make notes in the links how to add this amazing flavor to each recipe.
Macaroni and Cheese
Macaroni and cheese is classic! When I make the breadcrumbs for the top I like to replace about 1 teaspoon of the butter with truffle oil.
Old Fashioned Macaroni and Cheese
Creamy, gooey, mac and cheese topped with crispy, buttery breadcrumbs brings old fashioned goodness to your table whenever you need serious comfort food.
Check out this recipe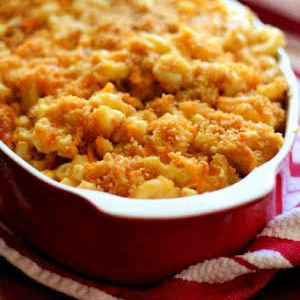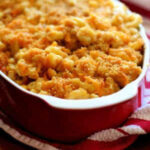 Easy Shepherd's Pie
This shepherd's pie is unique because it uses leftover roast beef instead of ground meat. Adding a teaspoon of truffle oil to the gravy makes it even more delicious!
Easy Shepherd's Pie with Leftover Pot Roast
Comfort food for a cold, rainy day - this shepherd's pie is made with leftover pot roast and plenty of mashed potatoes for an easy dinner the whole family will love. Easy beginner recipe.
Check out this recipe
Penne Pasta with Smoked Gouda
Oh my gosh, y'all. This is a great recipe with truffle oil!
The flavors. Smoky, rich, salty, piquant... and when you add a drizzle of truffle oil to the top just before serving?
Heaven.
Presto Pasta Smoked Gouda Penne
Smoky bacon and gouda paired with whole wheat penne pasta kick up this classic homemade macaroni and cheese recipe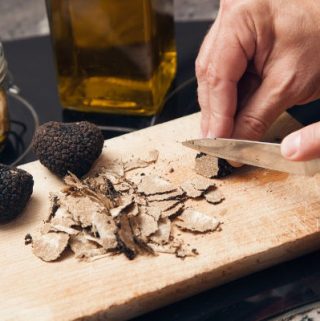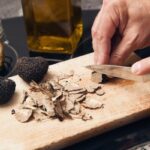 Green Bean Casserole Recipe with Truffle Oil
Take your classic green bean casserole and add a teaspoon or so of truffle oil to the sauce. All of a sudden it sings with flavor. Mom won't recognize it!
Easy Green Bean Casserole
Homemade, from scratch green bean casserole with no condensed soups or onions with weird ingredients. Creamy and delicious - maybe even better than Mom's. Shhh...don't tell.
Check out this recipe
Fried Potatoes
I think a good fried potatoes recipe is one of the most versatile dishes on the planet. They can be a side dish for ANY meal and, when you add a little protein to the pan, they can be a hearty main course. Sometimes I stir in a teaspoon of my homemade truffle oil just before removing the pan from the heat.
Fried Potatoes
Perfect, crispy pan fried potatoes every single time. The secret is in the two step process. It's easy and it only takes 40 minutes total.
Check out this recipe
Beef Tips and Gravy
When you are thinking about recipes with truffle oil this one should be on your list. You can either add the oil to the pan when sauteeing the vegetables or add it to the simmering sauce. Either way it's droolworthy.
Beef Tips in Gravy
Beef tips and gravy has been a comfort food favorite for decades. This version is updated with a generous amount of red wine, poblano pepper, and guijillo pepper - just as comforting but a lot more flavorful.
Check out this recipe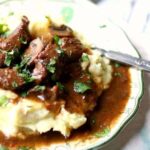 Level Up Your Meatloaf Recipes with Truffle Oil
Add a teaspoon of truffle oil to the glaze on this for a meatloaf everyone is going to be talking about for a long time -- in a good way!
Old Fashioned Meatloaf
Moist and tender meatloaf is old fashioned comfort food. This recipe makes 2 so freeze one for later if you wish.
Check out this recipe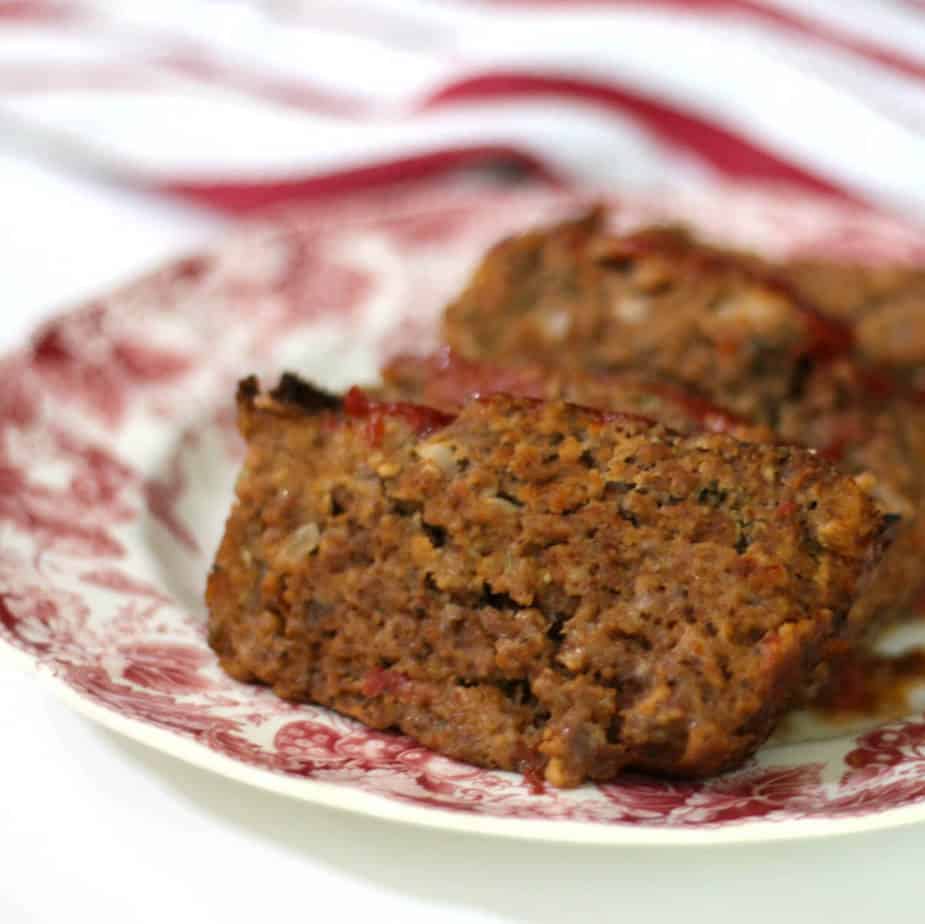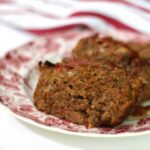 Smothered Chicken
The zing of truffle is unexpected here and I just LOVE it! Add a teaspoon or more to the gravy while simmering the chicken.
Smothered Chicken
Smothered Chicken is a classic southern recipe that is quick and easy. This golden brown chicken smothered in a savory chicken gravy will bring the neighbors to the door with plates in hand!
Check out this recipe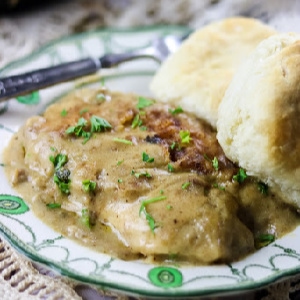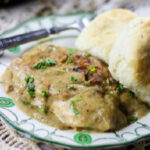 Hot Turkey Sandwich
This is one for those of you that remember good diner food and the Blue Plate Special! I love these old fashioned sandwiches because they are so quick and easy... a drizzle of truffle oil just before serving makes it gourmet.
Hot Turkey Sandwich
A hot, open-faced turkey sandwich is comfort food from way back. It's quick, it's easy, and there's just something about it that makes you feel like the world really is a great place to be.
Check out this recipe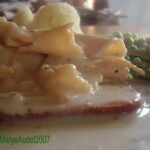 Garlic Knots
Adding truffle oil to the garlic butter for these garlic knots? Brilliant. Absolutely brilliant. You don't need much - just a few drops to your own taste.
Garlic Knot Rolls
Soft, buttery, garlic knots that have a blast of garlic flavor. The rolls are quick and easy to make – see the accompanying video for instructions on shaping the rolls.
Check out this recipe