Welcome to week 3 of our 8 weeks of Restless Chipotle gift guides. This week I've got 10 of the best gifts for cookbook collectors that you've even seen!
I'm a cookbook collector and have been for years. I have cookbooks that date from the late 1800s up through the new recipes for electric stoves and even one that talks about cooking well on food rations during World War II. I live in a 110 year old house and the ceilings are 10 feet tall. In my kitchen I have a floor to ceiling built in bookcase and it is full of cookbooks.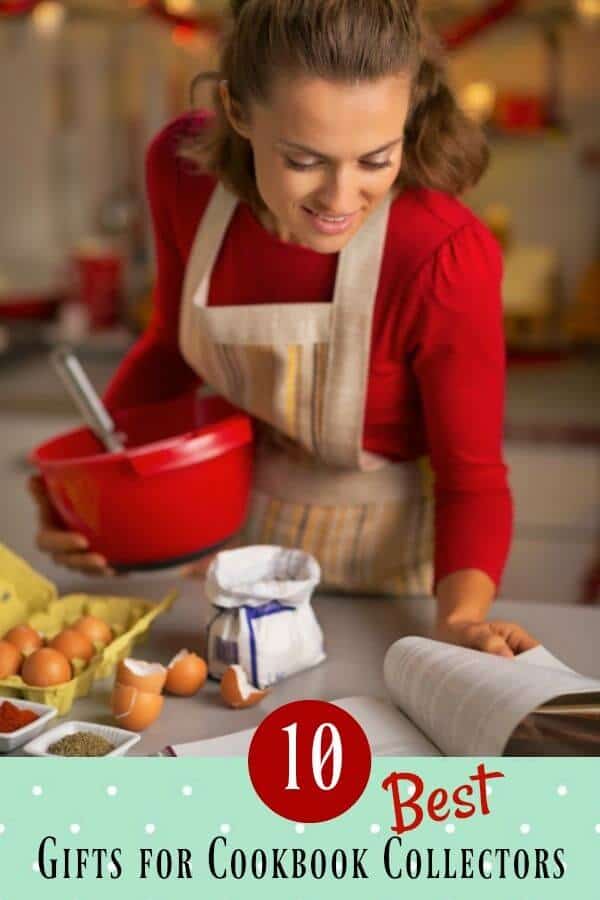 In fact, that's where a lot of my recipes that I share here on the blog get started. The ever popular Honey Buttermilk Bread was found in one of my oldest cookbooks. My Dutch Apple Pie  is from a mid 1950s regional cookbook. I LOVE my old cookbooks!
Whether you have shelves filled with cookbooks or are just starting a collection there's definitely something here in this list of the best gifts for cookbook collectors that you'll need for yourself, as well as your favorite cookbook collector!
The following are affiliate links. We are a participant in the Amazon Services LLC Associates Program, an affiliate advertising program designed to provide a means for us to earn fees by linking to Amazon.com and affiliated sites.
Thanks so much for being a part of Restless Chipotle!
List of the Best Gifts for Cookbook Collectors
There are few gifts a book lover loves more than books. I know that I don't feel like it's Christmas if I don't get a book of some kind. Here are some great ideas for the cookbook collector in your life... or yourself. I won't tell.
 
Cookbook Stand with Splatter Guard
I always gravitate toward the fancy Victorian wrought iron cookbook holders but when it comes down to it I don't need something pretty ... I need something useful. This acrylic cookbook holder with a splatter guard is perfect for my messy tendencies. Many of my cookbooks can't be replaced so I need something that will keep them from getting spotted and stained. I bet you do, too.

Cookbook Ornament
So cute! We have a tradition (started by  my parents with me) of giving family members a special ornament each year to mark a special occasion or event. When you move out to your own house you get all of your ornaments to start your own Christmas traditions with. Someone will love this cookbook ornament!

Around My French Table
Dorie Greenspan's Around My French Table is one of my favorite modern cookbooks.Nothing is complicated just mostly good French home cooking served with Dorie's friendly writing style. There are over 300 recipes in this book - but it's the techniques that I love. You can take what you learn about cooking and flavoring and apply it to everything you cook! This is a must for anyone that loves the idea of a cozy French farmhouse kitchen with a roast chicken on the table. Out of all of the books on my 10 Best Gifts for Cookbook Collectors list this is the one I'd buy... if I could only pick one... and they didn't all ready have it.

Mexican Slow Cooker Cookbook

Yep, this is one of my cookbooks and if you like Tex-Mex and slow cookers it's for you! I wrote Mexican Slow Cooker Cookbook for a client and they chose not to put many images in it but the recipes are all mine and you'll likely find a couple that you've seen here on Restless Chipotle - like the tequila lime chicken.

The Cottage Kitchen
Ah, I don't have this one but it's on my list of books to get. I love Marie's blog (My Cottage Kitchen) for the images, recipes, and her writing style that draws me in to her life. The Cottage Kitchen:Cozy Cooking in the English Countryside looks to be a hardcopy version with beautiful images, fabulous storytelling, and great recipes.

Sunday Suppers
Y'all know I'm a big proponent of family dinners, right? Well this cookbook is all about family dinners - especially what we think of as Sunday Suppers here in the South. Sunday Suppers, Simple Delicious Menus for Family Gatherings is perfect. You get full menus so you don't have to think about what to serve with what - it's all done for you. This is another one that's on my list but not on my shelf...yet.

Screen Doors and Sweet Tea
I love this book. I have it and I just like to page through it, read the stories, and look at the recipes sometimes. Not that I don't ever make them - I do. It's just that Screen Doors and Sweet Tea is as fun to look through as it sounds. This book is for Southerners and Southern wannabes. Classics like West Indies Salad (you can find it at most traditional bridesmaid's luncheons - you know - pearls, white gloves, hats...), homecooking like Pecan Smoked Catfish, and old fashioned favorites like Dewberry Dumplings.

The Baking Bible

This is another one from my shelves. The Baking Bible by Rose Levy Beranbaum is for you if you love baking and want to get better and better at it. This book is not for the person who occasionally makes a "from scratch" cake. You'll learn the techniques of classically trained pastry chefs, basics like paste sucree, and you'll definitely get used to using a balloon whisk properly. This is for you if you love to bake and you don't mind following a lot of steps. It's not for you if you want to bake a quick cake in 5 easy steps.

The New Cocktail Hour: Essential, Hand Crafted Drinks

Anyone who ever entertains, no matter how casually, needs a good cocktail book with few exceptions. I love the combination of modern and classic cocktails in The New Cocktail Hour. Plus there's great information on what kind of cocktail to serve with what, buiding a well stocked bar, and more. This would be a great addition to a gift basket with a good bourbon included. 🙂

The Beekman 1802 Heirloom Dessert Cookbook
Last but not least in our Best Gifts for Cookbook Collectors guide...By now you know the way to get me to buy a book is to have droolworthy images, right? I love the images in The Beekman 1802 Heirloom Dessert Cookbook- they are restful, simple, and beautiful. I love the style - lots of vintage crockery and stuff. I also love the recipes and have made quite a few, including the blondies with white chocolate and macadamia nuts. If you've got a sweet tooth you'll love this one.
[clickToTweet tweet="Love cookbooks?You'll love this gift guide for cookbook collectors from Restless Chipotle! #Christmas" quote="Love cookbooks?You'll love this gift guide for cookbook collectors from Restless Chipotle! "]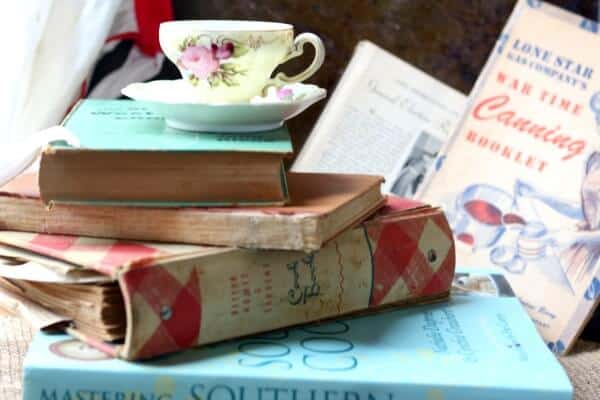 GIFT GUIDES
Week 1 Best Gifts for Bread Bakers
Week 2   Best Gifts for Beginning Cooks
Week 3 Best Gifts for Cookbook Collectors
Week 4 nothing because it was Thanksgiving
Week 5 Best Gifts for Coffee and Tea Lovers
Week 6 Best Gifts for Chocolate Lovers